I wish I had a really great story about how my yoga practice began. But, I don't. It's just really simple: I am a 200-hour certified yoga teacher and I absolutely love what I do! Yoga came into my life when I didn't know I needed it, and it unknowingly changed my life in the best way possible.
I took my first yoga class during my freshman year in high school. After that, I didn't have some "aha" moment where my life was instantly changed. I don't even think I took another yoga class for maybe 4 years after that. In college, my roommate and I started going to free classes through the University of Delaware Yoga Club. We started going just once a week, then before we knew it we were going every chance we could, and we even ended up becoming pretty good friends with the instructors! One winter, they were short on teachers and asked if I would be interested in having my own class, to which I obviously said YES! I did not have any formal training, but I dove into researching all about the postures and alignment and the body every chance I got. Something about putting together sequences and observing how the body effortlessly flowed in and out of postures with the breath was just fascinating to me. I loved it so much, and to this day I have not stopped teaching.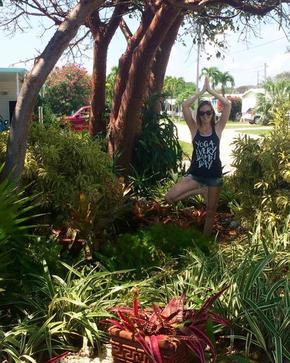 Once I graduated college, I had developed such a strong connection to teaching and knew that it was something I was meant to keep doing. But, I also knew that I needed some formal training in order for people to take me seriously. So, I booked a ticket to Costa Rica and attended my fist ever yoga teacher training at Marianne Wells Yoga School.
Coincidentally, I started working at Iron Hill Brewery in Newark, DE around the same time that I started teaching yoga at UD. Back then, I was just a busy college kid trying to figure my life out. But when I got back from Costa Rica, I wanted to teach anywhere and everywhere that I could. That's when the idea blossomed: BEER AND YOGA! It took some time to plan out how the event would work, but we finally had our first Beer and Yoga event in January 2017. And let me tell you… it was the MOST fun I have ever had teaching!
The number one thing I hear from people is, "I can't do yoga – I can't touch my toes." And I am here to tell you that that is wrong – everyone can do yoga, and touching your toes is in no way a prerequisite to coming to class! For these events, I teach an all-levels flow. So, if you're an experienced yogi you can do your thing, but if you've never done yoga before… no problem – that's what I'm here for! Beginners are not only welcome, but encouraged! Besides, what better way to reward yourself for trying something new than with a beer, right?
We have now held multiple classes across 5 of our locations. Every event has totally sold out, and everyone always has a blast! We do these events all year long, but summer is without a doubt the best season. Obviously, starting your weekend with a yoga class is amazing no matter what, but when you get to go drink great beer and eat delicious food on the patio in the sunshine… you really can't ask for anything better than that!
Our next Beer and Yoga event this summer will be held at Iron Hill Newark and we'd love for you to join us! The Newark event will be on Saturday, July 14th from 9:30-10:30am, with food and drinks to follow.
If you're on the fence about it, just remember: no one has EVER come out of a class and said, "man, I really wish I didn't do yoga today."
With 14 locations in Pennsylvania, Delaware, New Jersey and South Carolina, there's an Iron Hill Brewery & Restaurant near you. Each brewpub has their own craft kitchen and scratch brewery, allowing individual chefs and brewers the creativity to pair the freshest ingredients with the highest quality grains and hops. Monthly releases vary by location, so scout out our beers on tap and visit us soon.
This article was contributed by Tori Tilley. Tori is the Administrative Assistant at Iron Hill Headquarters.