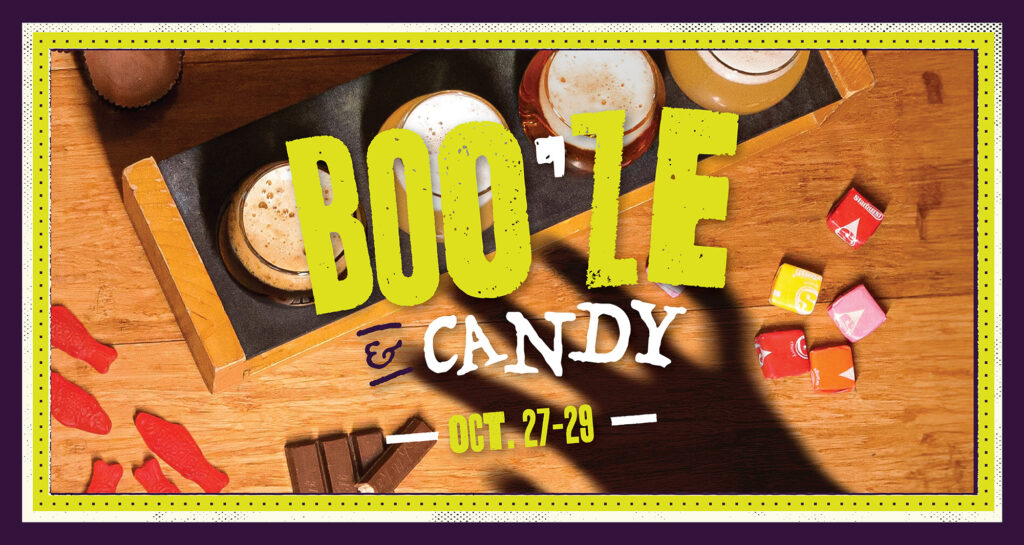 Double, double, toil and trouble,
candy sweets and beer with bubbles.
Gummies, chocolates, all your faves
with a flight of beers you'll sip and rave.
Pig Iron Porter and Reese's Cups
to get you toasty and butter you up.
Pumpkin Ale with Kit Kats galore
to sip and bite and start to soar.
Philly Phavorite IPA
and chewy Starbursts you're on your way.
Swedish Fish & Bramble Berry
will set you right and make you merry.
King of The Hill Members get an extra treat.
Little Red Wagon with Twizzlers to eat.
We're pairing Boo'ze & Candy at Iron Hill
all Halloween weekend, come by and chill
Stop by Halloween weekend, October 27 – 29 for a special beer and candy pairing! Featuring 4 beers and 4 candies for just $10.50, plus a special complimentary pairing for our King of the Hill Members.
Pig Iron Porter paired with Reese's PB Cup
Pumpkin Ale paired with Kit Kat
Philly Phavorite IPA paired with Starbursts
Brambleberry paired with Swedish Fish
King of the Hill members who purchase the flight get a complimentary 5th pairing:
Little Red Wagon paired with Twizzlers
Don't worry we didn't forget about the kids, grab a milk and candy pairing for just $3.
Our Kids Flight features one Reese's PB Cup, one Kit Kat and a glass of milk or chocolate milk!