During the first quarter of 2019, Iron Hill Brewery & Restaurant has continued their commitment to the communities they serve. This passion has been instilled in the organization since its humble beginnings in 1996 when it was founded by Kevin Finn, Mark Edelson and Kevin Davies. Donations made from Triple Chocolate Hill dessert sales to CureSearch for Children's Cancer and a designated local partner, along with Give 20 events that donate 20% of food sales on select nights to local organizations are staples of Iron Hill's effort to fundraise for worthy partners in each of their neighborhoods.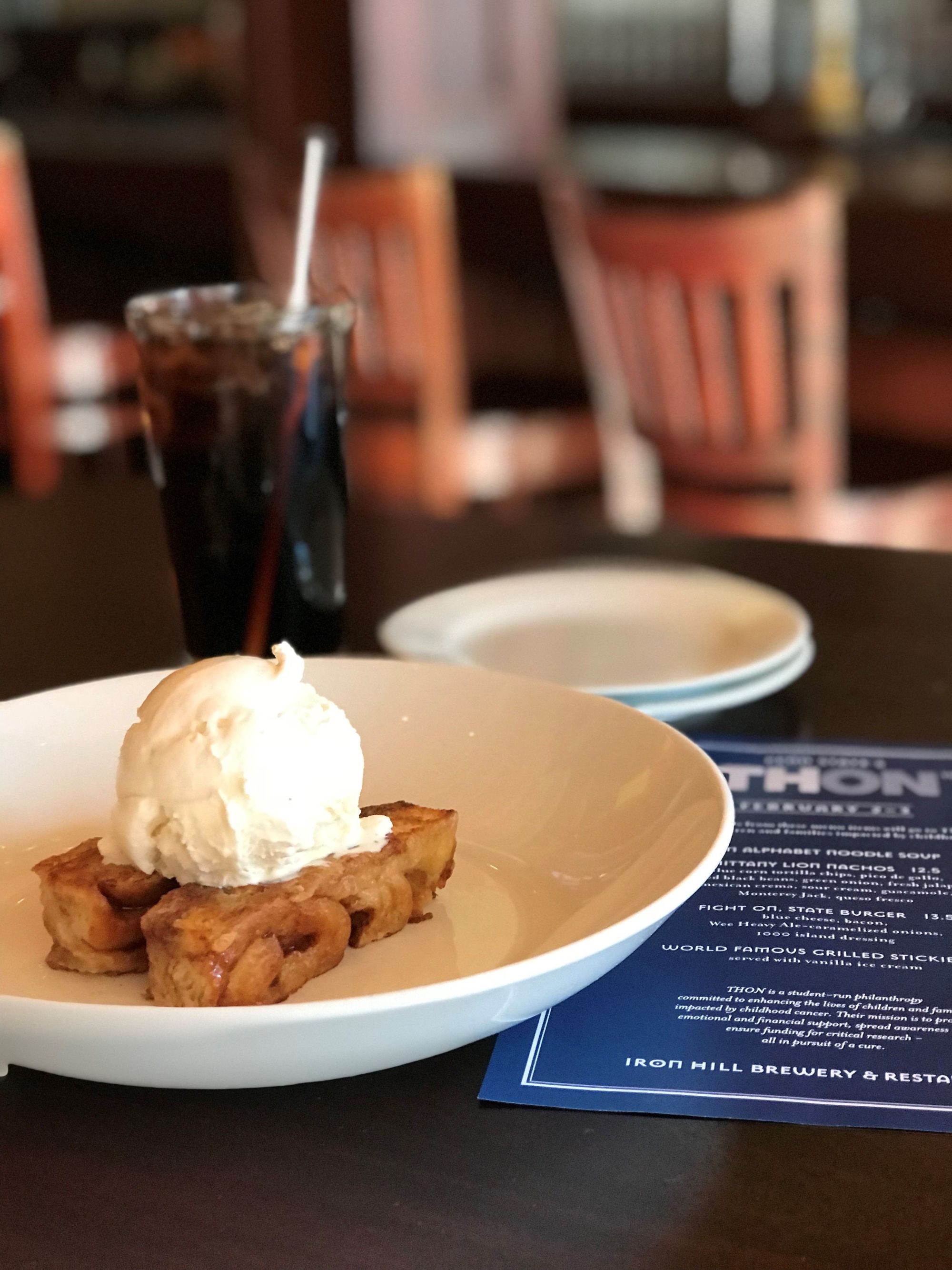 This commitment to support meaningful causes was never more evident than in early February when Iron Hill partnered with Penn State's THON Dance Marathon, the largest student-run philanthropy in the world, to assist in raising funds to help find a cure for pediatric cancer. Across all Iron Hill restaurants in Pennsylvania and New Jersey (twelve locations), a special menu was developed with a Penn State theme that connected with students, alumni and supporters of the cause across the region. The menu included a very personal nod to regulars of Penn State's main campus with the addition of the World Famous Grilled Stickies served with vanilla ice cream. Sourced directly from the Ye Olde College Diner, this item was the perfect dessert to wrap up a meal over the celebratory weekend. All profits from the four unique menu items were donated back to THON, and during the Dance Marathon celebration on February 16th, Iron Hill Brewery and Restaurant was proud to present a check for $21,000 to the event organizers (photo at top of page, from left: Lulu Hamm (THON Alumni Engagement Director); Katie Solomon (THON Development Director); and Joe Kopke (Iron Hill Brewery & Restaurant Director of Operations)).
"THON is proud to have Iron Hill as one of our newest partner's in the fight against childhood cancer. Their efforts not only help fund comprehensive and life-saving care at Penn State Children's Hospital, but is also supporting innovative research that will affect cancer treatments worldwide," said Katie Solomon, THON Development Director. "Their network is helping us to spread our fight and mission all across the northeast and we could not be more thankful for their commitment for turning childhood dreams into reality. We look forward for our partnership to grow in the years to come and for the day that we can together dance in celebration of a cure."
Iron Hill Brewery & Restaurant is excited to add new partners to their community partner programming each and every day across the communities that they serve, with 2019 promising to be a tremendous year of support for local organizations of all sizes.
To get more details on how you can set up a fundraising effort with Iron Hill, please contact the individual locations and request the Give 20 Coordinator for that site.
With 16 locations in Pennsylvania, Delaware, New Jersey and South Carolina, there's an Iron Hill Brewery & Restaurant near you. Each brewery/restaurant has their own craft kitchen and scratch brewery, allowing individual chefs and brewers the creativity to pair the freshest ingredients with the highest quality grains and hops. Monthly releases vary by location, so scout our beers on tap and visit us soon.