When Maureen Iannucci, Iron Hill's Head Chef in Chestnut Hill, was a child, cooking food for her family played a very important role in building the passion that she currently brings into the kitchen each and every day.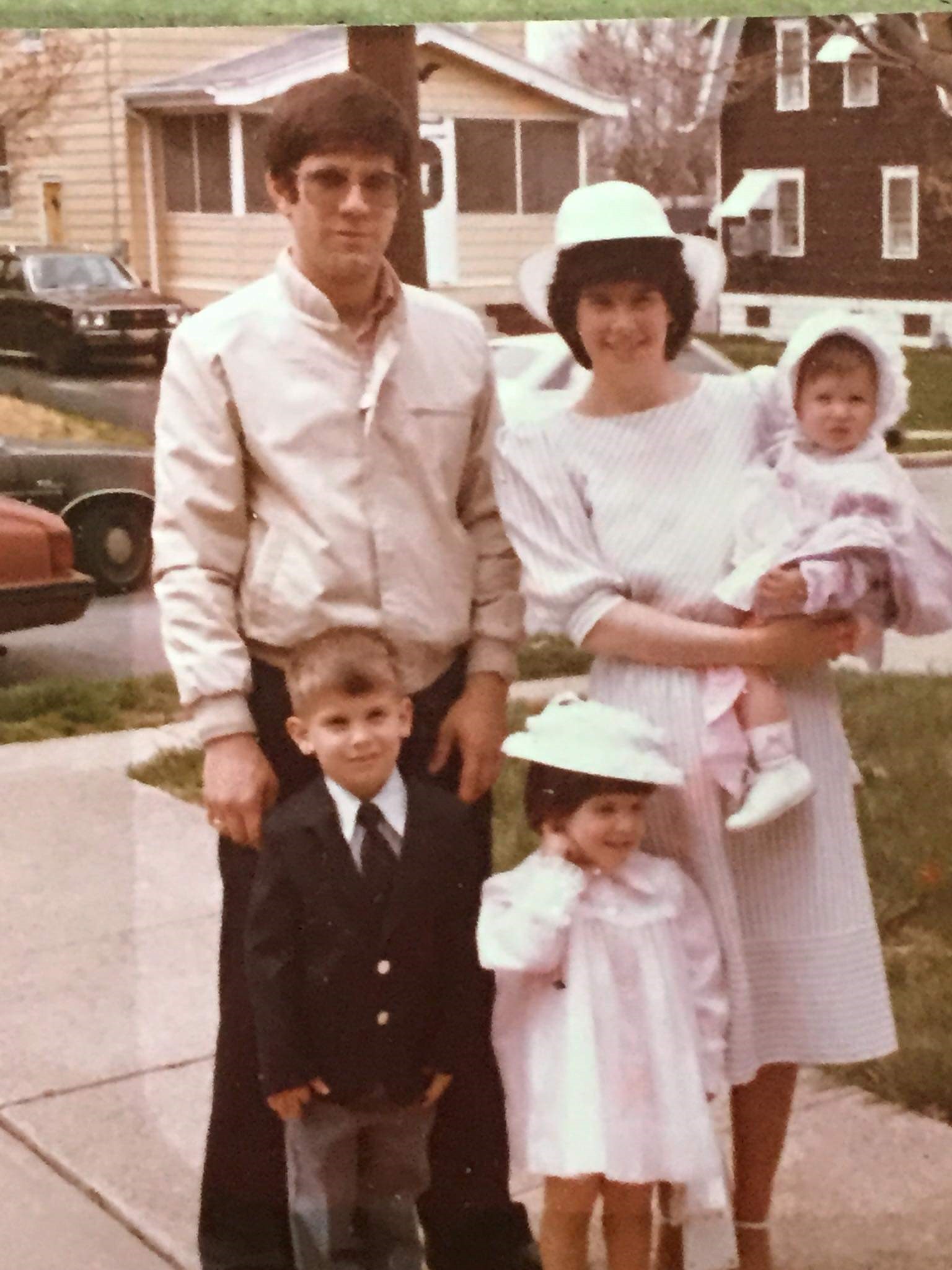 As a young child, Maureen's mother battled stage 4 lymphoma (non-Hodgkin) and making meals was something that gathered family and friends together. While her mom is in remission now, those early days were difficult. Her father worked long hours to support their family and take care of his wife, Maureen would look forward to opportunities to join with her brother and sister to make pasta from scratch or help him prepare breakfast as a group. These special moments will always be cherished by Maureen; creating a beautiful meal from scratch and bringing the family together through whatever ups or downs they were facing at that time are the memories she continues to hold on to.
Maureen herself has faced some similar battles with cancer and her passion for food remains a staple to get through difficult times. She believes that each meal prepared is an opportunity to create a dish and dining experience that will allow someone else to find hope when needed, love when it seems impossible to find, and create a memory that can last a lifetime. She always looks for ways to incorporate these ideals with her culinary team and work beside them to drive that spirit in every meal that is prepared.
Maureen likes to find creative ways to bring unique vegetarian options to the Chestnut Hill Chef's Table on a regular basis, exploring creative flavors and pairings with Iron Hill's award-winning beer offering. This recipe for Ported Stuffed Cheese Cake French Toast is sure to not disappoint and hopefully inspire some home chefs to find that same passion to bring people together and celebrate life through food. Bon Appetit!
Pig Iron Porter Stuffed Cheesecake French Toast
Ingredients:
Filling

2 loaves of brioche bread
3 lb. Cream Cheese
2 cups sugar
Lemon zest from ½ lemon
6 eggs
1 tsp Iron Hill Pig Iron Porter
1 tsp vanilla extract
Egg Mixture

1 teaspoon ground cinnamon
¼ teaspoon ground nutmeg
2 tablespoons sugar
4 tablespoons butter
4 eggs
¼ cup milk
½ teaspoon vanilla extract
1 cup sweetened cereal (your choice)
Syrup
12 oz Pig Iron Porter
1 ¾ cup white sugar
Cut cream cheese into cubes and cool them to room temperature. In a table top mixer process cream cheese with the paddle attachment for 2-3 minutes until it becomes fluffy. While the machine is off; add sugar and lemon zest; whisk for 1 minute. With the machine on low, add the eggs, one at a time (make sure each egg is fully mixed before adding the next egg).After the last egg has been added and incorporated, add the tsp of vanilla and tsp of Pig Iron Porter; beat for 30 seconds longer. Using two slices of bread, spread 4 oz. of above cream cheese mixture onto the bread and close like a sandwich.
In a small bowl, combine cinnamon, nutmeg, and sugar and set aside briefly. Combine beer and sugar in a saucepan over medium heat. Bring to a gentle simmer; cook, stirring occasionally and skimming off the foam, until reduced to a light syrup consistency, 30 to 45 minutes.
In a 10-inch or 12-inch skillet, melt butter over medium heat. Whisk together cinnamon mixture, eggs, milk, and vanilla and pour into a shallow container such as a pie plate. Dip bread in egg mixture, followed by dipping in crushed cereal. Pan sear in a non-stick skillet till golden brown, flip and repeat. Plate 2 each French toast and add 2 oz of hot Pig Iron Porter syrup.
Enjoy with family and friends!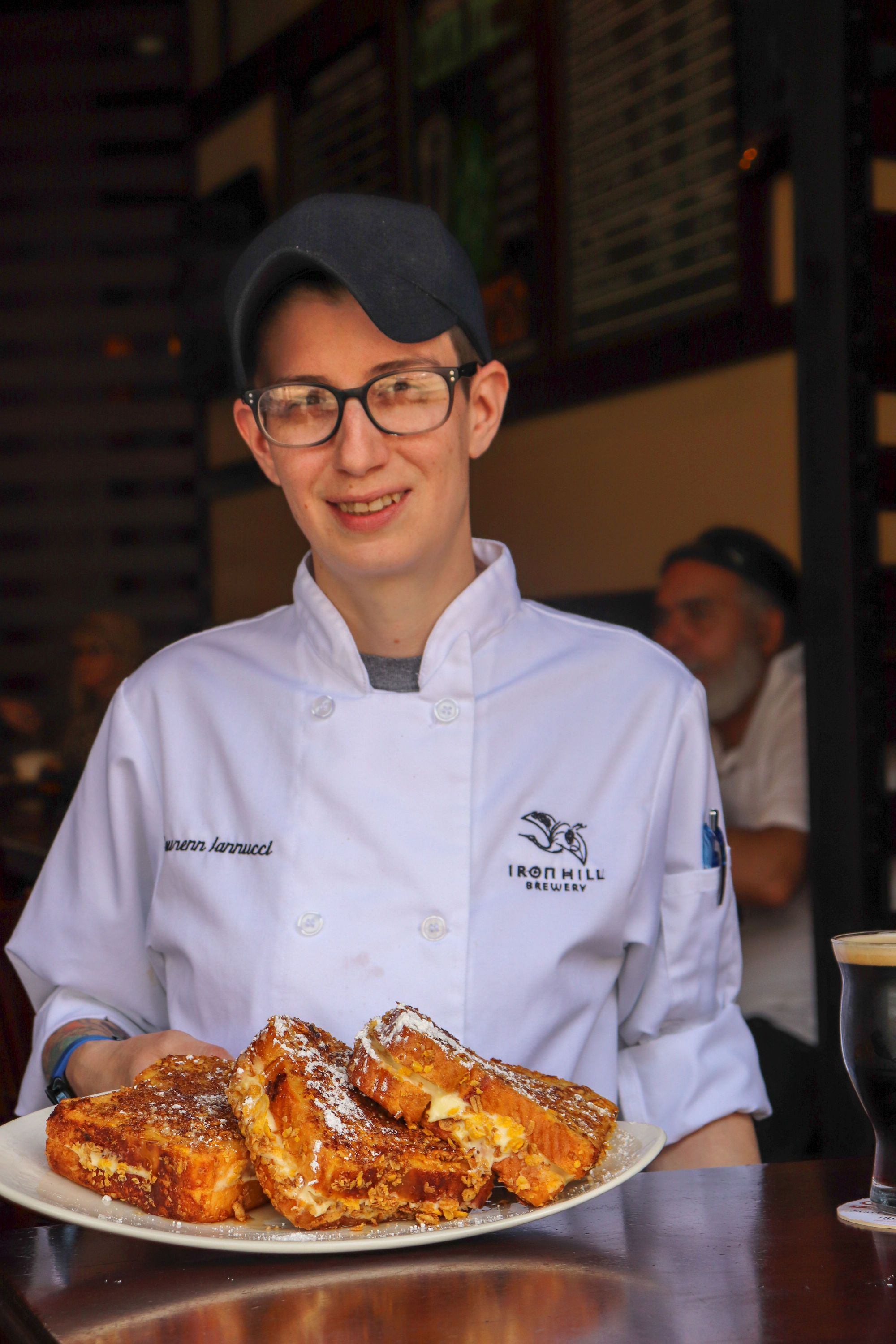 This recipe was provided by Maureen Iannucci. Maureen has been the Head Chef in Iron Hill's Chestnut Hill location since June 2018. Check out all of Maureen's Chef's Table creations here and make a reservation to dine in Chestnut Hill here!