The month of January is commonly used as a chance to reflect upon the year that has recently gone by, and to also re-energize for the year ahead. We wanted to take a few minutes, after allowing the dust to settle a bit, to celebrate the many accomplishments of our extremely talented team from 2018. It was a year that saw tremendous growth across all groups within Iron Hill Brewery & Restaurant.
The most obvious area of growth was the addition of four new locations to our brewery and restaurant family. We successfully opened new locations in Greenville (SC), Rehoboth Beach (DE), Center City (PA), and Hershey (PA); demonstrating our ability to bring the Iron Hill brand to new regions, booming downtown developments and tourist-centric communities. The four new locations continue our commitment to being strong community partners through local alliances with charitable partners, schools and various non-profit organizations. We are extremely proud of the work completed by our teams to educate and train new staff members and extend the elements of service that we hope set us apart from the competition.
The relaunch of our popular King of the Hill rewards club was a great opportunity to bring new life into the program with our most loyal of guests while also opening the program to many new members in each of our markets. We look forward to celebrating anniversary dates with each of our members, bringing great new beer and food pairing experiences to satisfy even the most sophisticated of palates and of course, sharing six additional ounces of your favorite beers in our signature ceramic mugs. Monthly King of the Hill Appreciation nights will continue into 2019 and are a great way to connect our local team to our guests.
It has happened so often that we sometimes fail to mention it, but we need to recognize the staff of Iron Hill brewers for bringing home medals at the Great American Beer Festival for the 22nd consecutive year and from the World Beer Cup event in 2018. Our award-winning beers are certainly no fluke and our talented staff in the brewery continue to churn out the best beers in the industry regardless of style. Look for some new cans added to the lineup this year and the return of your seasonal favorites.
This past year also proved to be a success within our corporate office, as it marked the 11th year in a row that we have been recognized as a Top Employer in the state of Delaware. The tireless work of our human resources team and all our business leaders continues to get noticed as best in class among our industry and in the regions that we operate; building a team that feels like a family and emphasizes a culture of learning and inclusiveness.
We used this year to further solidify our corporate structure and leadership team. We welcomed Kim Boerema to guide the organization as CEO this past summer; adding an industry veteran to provide even deeper insight and help us set the course for a successful 2019. Don't worry… Kevin, Kevin and Mark are not going anywhere; you can see them in our restaurants, kitchens and breweries every day sharing their expertise and passion.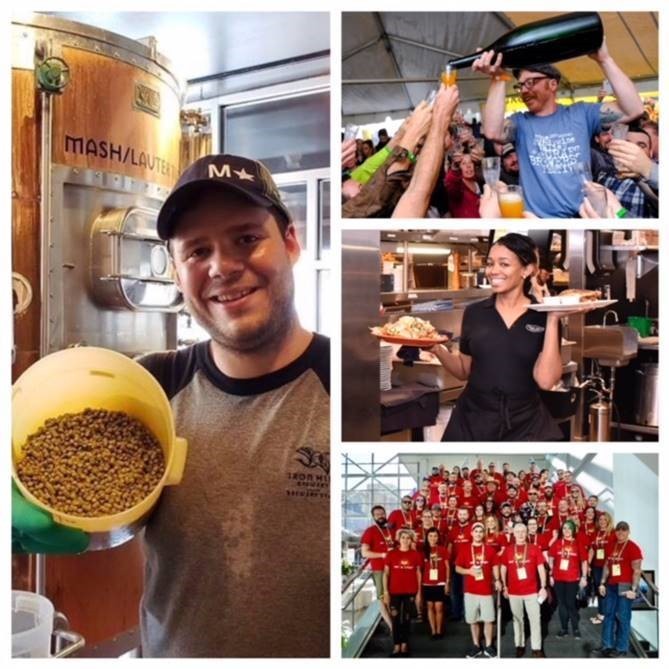 Finally, we want to publicly thank every member of the Iron Hill team for their contributions to our success this past year, it takes everybody working together for us to achieve great things and we have proven that the sky is the limit to how far we can take this amazing brand. We invite all our loyal guests to come in and see us again soon and to let us know how we are doing. We appreciate each of you; you are the reason we do what we do. Cheers to a great 2018, and an even better 2019!
With 16 locations in Pennsylvania, Delaware, New Jersey and South Carolina, there's an Iron Hill Brewery & Restaurant near you. Each brewery/restaurant has their own craft kitchen and scratch brewery, allowing individual chefs and brewers the creativity to pair the freshest ingredients with the highest quality grains and hops. Monthly releases vary by location, so scout our beers on tap and visit us soon.
This article was contributed by Kevin Finn. Kevin is an Iron Hill Co-Founder, Chairman of the Board and Director of Development.