As a female in the brewing industry, one of the most common things I hear is, "wow, there probably aren't a lot of women in your field…." Well, there are more than you think, and many of us are members of an organization called the Pink Boots Society.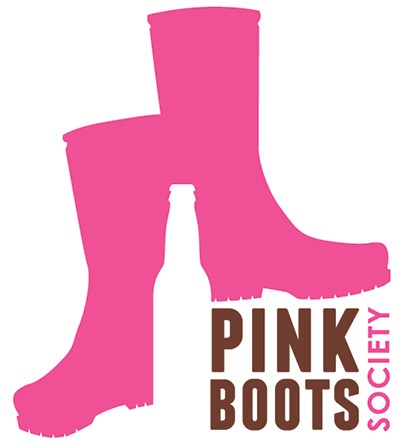 The Pink Boots Society (PBS) was founded by Teri Fahrendorf after a cross country trip to visit and brew at dozens of breweries when she realized there was a major need for a network for female brewers to be able to communicate with one another. Now, it has grown into an international organization that helps women further their brewing careers through educational opportunities and scholarships. I found my way into the organization after an afternoon chat with one of its original members, Whitney Thompson, who was working at Victory Brewing at the time. Now, almost 5 years later, I am one of the co-leaders working to get the very recently started Delaware chapter of PBS up and running.
One of the awesome things that PBS does each year is to organize a collaborative brew day to celebrate International Women's Day. Members all over the country (and around the world) team up for the day to brew a beer to help celebrate women in the beer industry. At the last count I saw for the 2018 collaboration, there were 234 registered brews around the world, and no doubt there are more than a few that weren't even on that list!
Last year, Nadine and I teamed up to brew a batch of Susan Brew Anthony for the 2017 edition of the Pink Boots Brew. We've happily added a few more women to the Iron Hill brewery department ranks since last year's brew and we now have myself in Wilmington, Nadine in West Chester, Whitney in Voorhees, Jes in Lancaster, and Piper in North Wales. We all got together for a brew day in Wilmington in early March to knock out this year's batch for the Pink Boots Brew, which we are calling Lady Liberty.
The beer features a specialty hop blend containing Palisade, Simcoe, Mosaic, Citra, and Loral hops, which was created by YCH Hops just for this year's edition of the Pink Boots Brew. Lady liberty will be a hazy New England-style IPA with big notes of citrus, tropical fruit, and apricot from the hops used and will come in at 6.8% ABV. $1 from each pint or King of the Hill mug of Lady Liberty that is sold will be donated to the Pink Boots Society to help fund those scholarships I mentioned earlier.
Lady Liberty will be pouring soon in the 5 locations that helped to make it happen – Wilmington, West Chester, Voorhees, Lancaster and North Wales. Check the website for your location to find out when to expect it to hit the taps.
With 12 locations in Pennsylvania, Delaware and New Jersey, there's an Iron Hill Brewery & Restaurant near you. Each brewpub has their own craft kitchen and scratch brewery, allowing individual chefs and brewers the creativity to pair the freshest ingredients with the highest quality grains and hops. Monthly releases vary by location, so scout out our beers on tap and visit us soon.
This article was contributed by Moriah Guise. Moriah is the Head Brewer at Iron Hill Wilmington.