National Peanut Butter Day pops up on foodie calendars on January 24. Over at Iron Hill Brewery & Restaurant's North Wales location, our light-hearted brewing team is paying homage to the humble spread by releasing a peanut butter infusion especially for the occasion.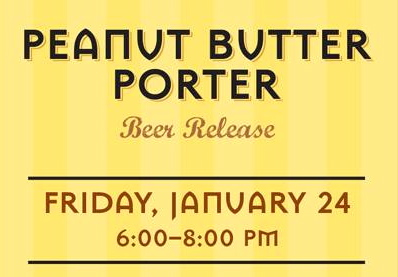 From 6–8 p.m., choosy moms and other enthusiasts can join our brewing masterminds of North Wales as they say cheers to the iconic nut butter. Newly appointed head brewer Doug Marchakitus and assistant brewer Chris Endrikat have modified a batch of Pig Iron Porter by aging it on peanut butter—which, they reveal, gives the 5.6% ABV beer "a rich, creamy texture" that pairs particularly well with the chocolate notes of the roasty beer.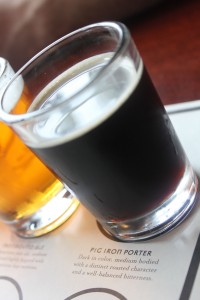 But, for those unfamiliar with the process of lacing beer with peanut butter, Marchakitus fills us in. "We did use actual peanut butter," he explains. "More specifically, it was a powdered product with the oil removed, but with all the flavor of a jar of Skippy. We already have an award-winning porter, so it was simply a matter of aging it on the peanut butter to pick up all the flavor."
Marchakitus, a self-proclaimed chunky—not creamy—kind of guy, also shared that adding the nutty spread to beer is becoming increasingly popular in the modern-day beer industry. Marchakitus recently rejoined us at Iron Hill in early January, after a short sabbatical with Manayunk Brewing Co., and this peanut butter porter was one of the first beers we asked him to oversee upon accepting the head brewer position. Of course, he didn't mind—he says he's always up for a tough challenge.
Marchakitus, who made his first public appearance with us at Iron Hill North Wales during this month's Grand Inquisitor (a Russian imperial stout) release, attributes several factors to his return to our brewery and restaurant group. "I like Iron Hill's approach to trying experimental ideas—like putting peanut butter in beer, and the craft beer culture that surrounds both the employees and the customers." He is also ecstatic that Iron Hill has a strong relationship with the local homebrew community. "Talking to those guys makes me feel like I'm getting back to my roots," he continued.
Not only will you be able to mingle with Iron Hill North Wales' brewing greats on National Peanut Butter Day—porter in hand—but head chef Michelle Wilson is also joining in for the party, baking up dozens of complimentary jelly-filled doughnuts with porter caramel sauce for King of the Hill members. She also reveals that she'll be presenting several other fitting P.B. Day-exclusive bites, all to be found on Friday evening's feature menu.
Find Iron Hill North Wales just in time for National Peanut Butter Day in The Shoppes at English Village at 1460 Bethlehem Pike. What else should you be saving the date for? "Lots of releases [are] coming up," concluded Marchakitus. "We already have an ESB [extra special bitter] and a chocolate stout in the tank, and we are brewing a saison this week. I'll try to always have something new on the horizon." More specifically, a beer and chocolate pairing special for pre-Valentine's Day is set to unfold Feb. 11, 6:30–8:30 p.m. Further details available here; reservations are required. To reserve your spot, call (267) 708–2000.
Content provided by Dish Works author Amy Strauss.