On his seventh day of work ever at Iron Hill Brewery & Restaurant of Wilmington, Jose Hernandez won the Iron Hill Iron Chef Competition.
The internal culinary competition, organized to pit Iron Hill's hourly cooks against one another in a vigorous, old-fashioned food battle, first starts in-house. Each of our ten locations welcomes its kitchen staff members to prepare and present original recipes to a panel of judges, in the hopes of claiming dominance and nabbing a slot in the final culinary challenge.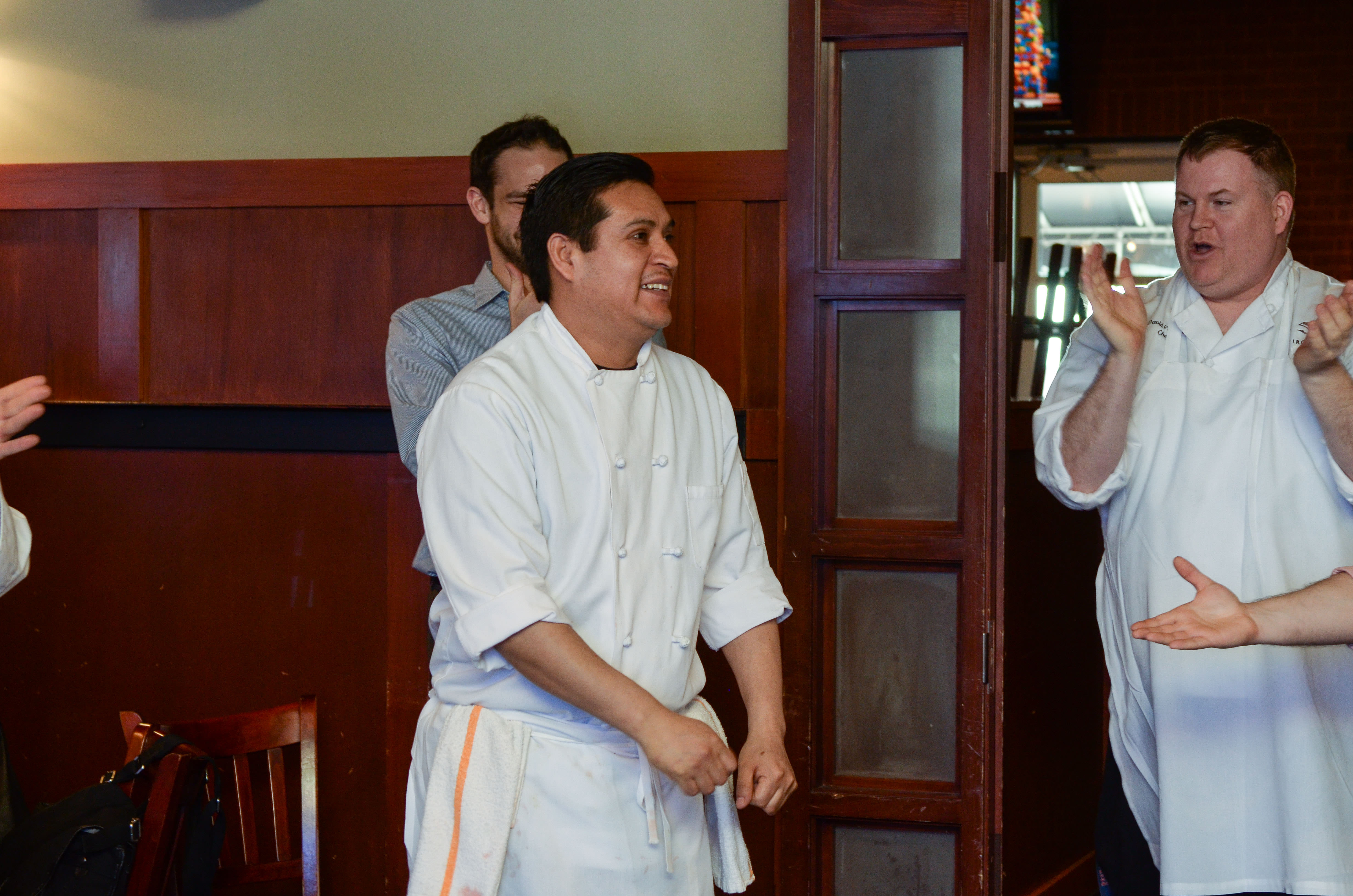 The chefs obliged, lining up throughout the month of February and into early March to flex their kitchen chops with creative compositions.
The aforementioned Jose, who on his second day of work spied the details of the cook-off and immediately signed up to compete, rivaled his fellow (new) Wilmington co-workers with a clever, flavor-packed rendition of shrimp ceviche. This citrus-cured, strawberry-accented seafood ultimately granted him one of ten spots in the final championship, which unfolded bright and early on March 5 at 8 a.m.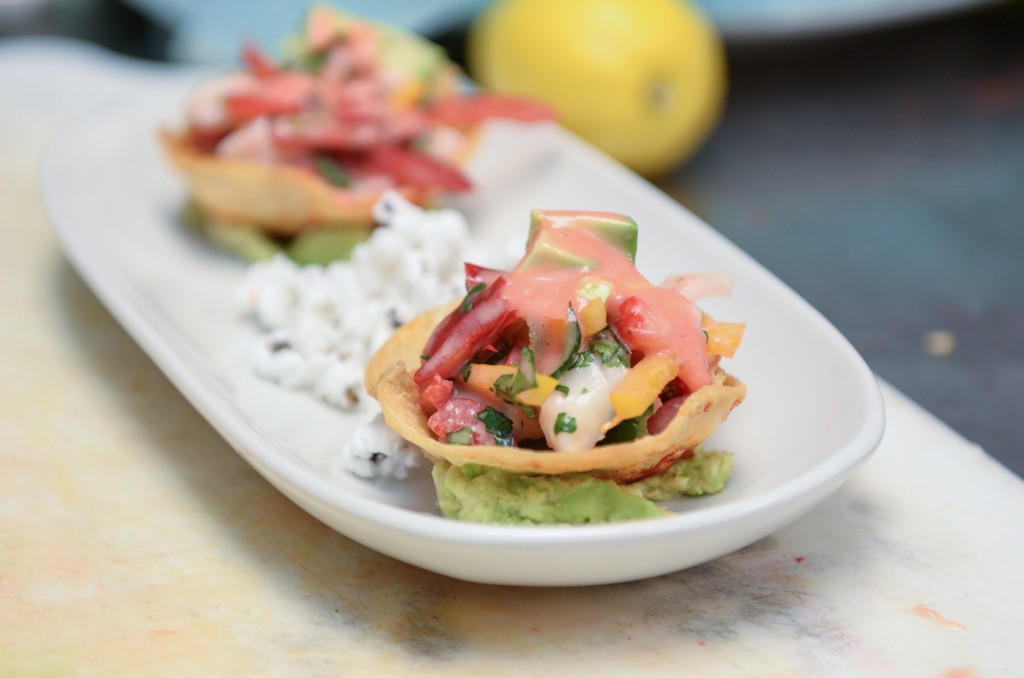 As Hernandez set up his cooking station in his home kitchen last Wednesday (the HQ of our culinary competition), beside him were nine of our locations' best cheftestants readying their mise en place, eager to compete with their best dishes. Iron Hill's head chefs flocked to the Delaware kitchen, too, rallying together to support their kitchen staffers.
As the clock struck 9 a.m., heated rounds of judging began, with Chef Dan Bethard, Iron Hill's Assistant Director of Culinary Operations, critiquing each composition's presentation, flavor and creativity, rounding out the panel beside Kevin Finn, CEO & President, and me.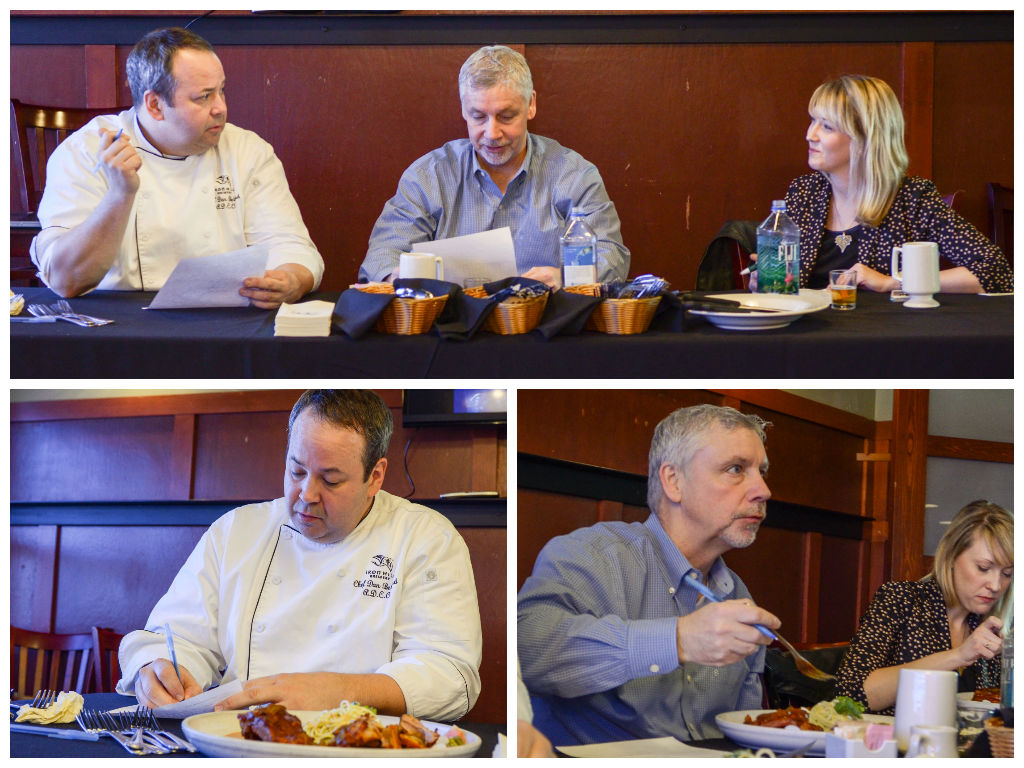 Dazzled by a remarkable range of international skill sets, flavor profiles and plating techniques, we three judges had a tough task ahead—to award just one best dish. From the punchy pork empanada duo courtesy of Chestnut Hill's Lauren Young elevated with apricot chutney and handcrafted hot sauce, to the vibrant mussel salad by Lancaster's Mick Kalata executed with a life-changing brown butter vinaigrette, we were quickly impressed by the caliber of culinary talent backing our kitchens.
We applauded Victor Aguilar of Maple Shade's creativity with his adobo ribs, where he opted to celebrate cactus multiple ways through a hearty platter of melt-in-your-mouth ribs and polenta cream pasta. Phoenixville's Eugeny Pronin threw the authentic flavors of Kung Pao chicken on a pedestal, one crafted much lighter and brighter than any rendition we've taste-tested. North Wales' Rich Krotee produced a mighty pan-seared salmon that celebrated his parents' past in Puerto Rico—one with perfectly prepared seafood crowning a mountain of Spanish rice and accented with a lively cilantro puree. And, we were instantly intrigued by Luis Melendez of Media's shrimp and chorizo-stuffed chicken roulade, which only became more interesting with its accompaniments of smoked Gouda, bacon rice cakes and avocado- and apple-spiked salad.
Kevin was vocal with his love Jason Thompson of Newark's chive basil sauce, which heightened the tasting experience of his Mediterranean-inspired salmon cakes, and Dan was particularly fond of the cranberry chutney that entertained his palate on Jason Kobilis of Voorhees' grilled flat iron steak. Captivating my tasting session were the bold, rich flavors of Romeo Jimenez of West Chester's pork shrimp stew, a New Orleans-inspired dish that he later revealed was a recipe he liked to surprise his wife with (lucky gal!).
But, after elaborately tasting each dish and deliberating over who should be crowned 2014's Iron Hill Iron Chef, we announced Hernandez's victory. The prize? A $1,000 prize pack of hand-selected, high-end kitchen gear. Our Iron Chef runner-ups, Chestnut Hill's Lauren Young and Lancaster's Mick Kalata, each earned recognition for their impressive creations—and cash prizes, too. Better yet, all participants were rewarded $25 for participating and bragging rights for placing in the final competition and representing each of their own stores.