Belgium Comes to West Chester, our biggest beer event of the year, returns Saturday, January 25, at 1 p.m., with King of the Hill Club members getting a special preview starting at noon. More than 200 craft beer lovers are expected to drink up the 31 different Belgian-style beers brewed by some of America's greatest craft breweries. Several local brewers will also be on hand to chat about their beers.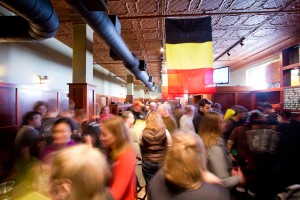 For those hoping to tackle the entire list, we recommend you arrive early. Based on our previous Belgium Comes to West Chester events, some of the beers have sold out in the first hour.
Iron Hill West Chester's head brewer Andrew Johnston is excited about the lineup for this year, which includes a mix of IPAs, pale ales and sour ales. He and the Iron Hill WC team will be offering all strengths, from sessionable singles and doubles to the boozier triples and quads. Andrew reveals that he is really looking forward to sampling Russian River Rejection Ale, a dark sour ale that he has only heard about. He also recommends trying the Special Belge, a collaborative beer brewed by Iron Hill and Brasserie Dupont.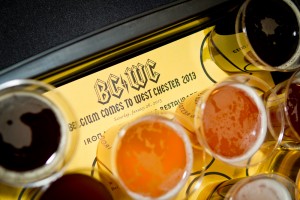 Belgium Comes to West Chester has become an Iron Hill tradition honoring the Belgian monks who started it all. "They used simple malts, simple yeast and they brewed these complex beers," Andrew explained.
Real Belgian beer lovers will want to try one of the three samplers being offered as part of the event. Each pay-as-you-go sampler consists of 10 different 4-oz. pours for $20. Order all three samplers and you'll have tried 30 of the 31 beers. What's the 31st beer, you ask? The aforementioned Special Belge collaboration beer—an extremely limited, hard-to-find release. Aside from the samplers, all beers will be served in 12 oz. glasses. Prices will vary.
Need food to take this Belgian-inspired experience to the next level? Our West Chester culinary team will unveil a signature European menu for the day featuring limited-edition dishes like open-faced croque monsieur sandwiches on toasted brioche, pan-roasted hanger steaks with red wine shallot sauce, and sea bass en croute crafted with potato stoemp, braised Belgian endive and beurre blanc.
Not a King of the Hill member yet? Stop in and sign up Thursday, January 23, for the member-exclusive launch party for our Chuck Norris Beard Belgian IPA and you'll be all set for the noon preview Saturday.
2014's participating brewery and beer list:
(participating breweries at time of printing)
1. Iron Hill Brewery, Maple Shade, NJ: Brett Saison
2. Stewart's Brewing Company, Bear, DE: Stumblin' Monk
3. Victory Brewing Company, Downingtown, PA: V-Twelve
4. Allagash Brewing Company, Portland, ME: Yakuza
5. Iron Hill Brewery, Newark, DE: Crazy Ivan Goes Belgian
6. Manayunk Brewing Company, Philadelphia, PA: Siembra Rouge
7. Dogfish Head Brewing Company, Lewes, DE: Red and White 2012 Vintage
8. Turkey Hill Brewing Company, Bloomsburg, PA: Babbo Natale
9. Saucony Creek Brewing Company, Kutztown, PA: Lord of Misrule
10. Devil's Backbone Brewing Company, Roseland, VA: Dark Abby
11. McKenzie Brew House, Glen Mills, PA: Saison Vautour du Bois
12. Brewers Art Brewing Company, Baltimore, MD: Ozzy
13. Iron Hill Brewery, Wilmington, DE: Commodus
14. Dock Street Brewery, Philadelphia, PA: Trappist IPA
15. Harpoon Brewery, Boston, MA: Wild Fermented Stout
16. Russian River Brewing Company, Santa Rosa, CA: Rejection
17. Cambridge Brewing Company, Cambridge, MA: Tripel Threat
18. Iron Hill Brewery, Voorhees, NJ: Starry Night
19. Shawnee Craft Brewing Company, Shawnee on Delaware, PA: Barrel-Aged Quad
20. Troegs Brewing Company, Hershey, PA: Scratch Abbey Ale
21. Peekskill Brewery, Peekskill, NY: Flavor Saver
22. Weyerbacher Brewing Company, Easton, PA: Merry Monks
23. Blue Jacket Brewing Company, Washington, DC: Cashmere
24. Yards Brewing Company, Philadelphia, PA: Bourbon Aged Grand Cru
25. Allagash Brewing Company, Portland, ME: Fluxus 2013
26. Third Wave Brewing Company, Delmar, DE: Sour Beach Raspberry Lambic
27. Sly Fox Brewing Company, Pottstown, PA: Incubus
28. Brooklyn Brewery, New York, NY: Sorachi Ace
29. Stewart's Brewing Company, Bear, DE: Obscurum
30. Iron Hill Brewery, Chestnut Hill, PA: The Golden Child
31. Brasserie Dupont, Tourpes, Belgium, Special Belge (not included on the samplers)
Find Iron Hill Brewery & Restaurant for BCWC at 3 W. Gay St. in West Chester. Need a designated driver? Call restaurant valet at (877) 721–6155.
Content provided by Dish Works author Jim Breslin.