We received this email from a Mug Club member a few weeks ago.
"My wife and I just purchased a summer cottage.  We decided to decorate our wall with our Iron Hill mugs collected since the first year of the mug club.  Thanks for your great food and beer."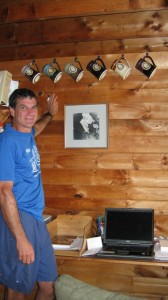 It really got me thinking. I've got friends who are mug club members who have a whole area of their kitchen dedicated to their coveted Mug Club collection. This weekend I attended a Oktoberfest party of a friend and one of their guests walked up to introduce himself with an Iron Hill Mug Club Mug in his hand. He brought his own mug to the party! I couldn't believe it.
I had just left our New Jersey location and the launch of the Imperial Pumpkin Ale. I was taken back by the sheer number of beautifully carved "Iron Hill" themed pumpkins that were brought in by customers and continued to arrive through the afternoon as I was on my way out.
I am often in awe of the ways that people help us to wave the Iron Hill flag and personally it makes me feel like I'm a part of something really special that so many people have such a connection and love for what we do here every day.
Do you have a special place for your Mug Club mugs?
BTW, a big congratulations to Paul and his wife on your new cottage! Thank you for your support, loyalty and for sharing your photo with us : )