For sports fans, March is one of the most important seasons of the year. March Madness basketball championships come in like a lion, with only meager teams leaving the courts like lambs. Brackets are cause for both joy and grief, and office pools quickly turn friends into foes.
There are others, though, who partake in a different kind of madness. A madness that is the brain-child of the genius chefs of Iron Hill Brewery & Restaurant. A tasty madness that has a deep smoky flavor (and goes surprisingly well with chocolate).
Enter Bacon Madness
Dan Bethard, Executive Chef of Iron Hill Brewery & Restaurant, shares that the method behind the (bacon) madness is a fun foodie play on March Madness. "We were in a meeting thinking of fun promotions that would create a buzz and drive guests into the restaurants," Dan explains. "Since I'm a huge sports geek, I threw out 'Bacon Madness.' It's an obvious play on March Madness that I knew most people, whether sports fans or not, had heard of. The bacon part was in homage to my third love (my family and sports being one and two). Who doesn't love bacon?!"
Exclusive Bacon-Infused Menus Unveiled at All Iron Hills
From Thursday, March 20, until Sunday, March 23, each Iron Hill Brewery & Restaurant will offer a unique bacon-themed menu created specifically for its location. Some will even be hosting exclusive events, such as the already sold-out Six Degrees of Bacon Beer Dinner in Wilmington (Kevin Bacon not included). From appetizers and main dishes to sweet-yet-savory desserts, there will be enough bacon to make Ron Swanson giggle with delight. Guests can try BLT bisque in Newark, lobster and bacon mac-n-cheese in Lancaster and bacon bourbon pecan pie in Chestnut Hill.
Double the Bacon Pleasure at Iron Hill West Chester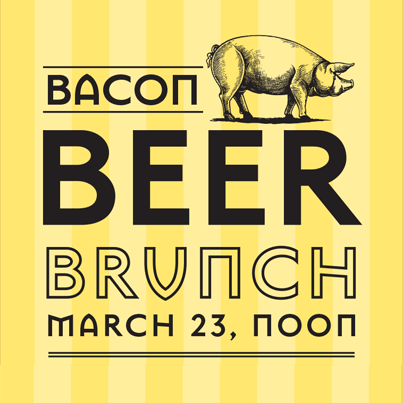 Chef Josh Jastrzembski of West Chester is featuring double the pleasure bacon menus. Along with the featured bacon menu, the West Chester location will be hosting a Bacon Beer Brunch at noon on Sunday, March 23. This event is the beautiful marriage between two of food's most glorious creations. Start the brunch with rosemary blinis topped with smoked bacon and goat cheese butter, and pair them with a rosemary-infused Hefeweizen. Don't forget to leave room for dessert, as the event ends with a candied bacon tart paired with Russian Imperial Stout. Reservations are required; secure your spot by calling (610) 738–9600.
Iron Hill Media Specializes in Bacon Desserts
In Media, chef Jeremy Heckman begs the question, "What's not good with bacon?" As bacon continues to be a popular food trend, we will see it being used in more unique ways, like desserts. Jeremy's goal was to create a menu that was a little more traditional and that he knew Iron Hill customers would enjoy. His favorite Bacon Madness menu item is the candied bacon cannoli. "I tend to have a sweet tooth for desserts," Jeremy explains. "I also think the sweetness is going to go great with the saltiness of the bacon. This was the idea of one of our waitresses, so it is always fun to turn someone's idea into the real thing."
The meaty madness hits all Iron Hill locations on Thursday, March 20. Click here to devour our ten unique, bacon-infused menus. All Iron Hill bacon events are chef-tested and Ron Swanson-approved.
Content provided by Dish Works author Stephanie Anderson.