It's time to reconsider craft beer's flavor spectrum. From punchy IPAs to sultry stouts, there's no better tablemate for a holiday feast than award-winning suds.
At Iron Hill Brewery & Restaurant, one of our strongest relationships is between our brewers and chefs, perpetually partnering up to construct a true craft beer lover's paradise—celebrating beer, new culinary experiences, and most importantly, the infinite playground that exists between the two.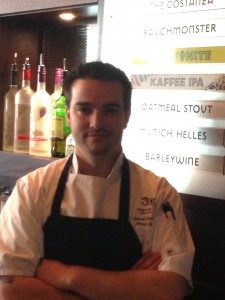 Over at our Chestnut Hill location, one of our key pairing pacesetters is head chef Jared Cannon, who got together with head brewer Paul Rutherford to challenge the cliches found with standard pairings, and now institutes fine-tuned beer and food marriages unlike any devoured before.
Our two-year Iron Hill chef suggests that beer is a natural fit to food because its ingredients are food itself (water, barley, hops). Cast aside all beer-pairing intimidation, follow these easy basics from Cannon, and discover how you can host the savviest beer-infused feast of your life.
Tips for Pairing Craft Beer with Food:
When in doubt, stick to saison.
"Saisons pretty much go with anything—they're the chameleon of beer pairings," recommended Jared. "They have the yeasty characteristic, but it's on the medium level, so it's like a crossover wine, a Chardonnay or Pinot Noir."
Consider flavor profiles and their intensities.
"Match the intensity—if beer is super intense like an IPA or bourbon aged, you want to make sure you are matching that intensity, versus something that is mellow. For example, if you pair with our Light Lager, you will have to pair it with something that is subtle, mellowed down in flavor."
Build up to bold flavors; create a flavor crescendo.
"Typically what we want to do with pairing menus is make sure that the progression builds you in. You start lighter and build up to the heaviest. This is definitely a focus of ours when we plan our beer pairing menus."
Think outside the box.
"A cool thing we are doing at Iron Hill is the familiarity pairing. Think about a roasty—almost toasty, bready beer, maybe like a brown ale, and pair that with a buttery, creamy cheese, like a Morbier. When you eat the cheese and swish the beer in your mouth, all of a sudden you think grilled cheese. You have the breadiness, the butter and the cheese, and all of the sudden, the flavors become something different, something familiar.
Similarly, if you take fruity and creamy, like a yeasty, fruit beer and pair something creamy with it, all of a sudden you get almost like an ice cream."
Get creative.
"For a recent beer dinner, I was most excited about the mole course. I have roots in Mexican [cuisine], I spent several weeks in Mexico City studying the cuisine. Mole is a complex sauce, made with 23 ingredients and takes four hours to cook. It really speaks to fruitiness in the yeast of its beer pairing, the Weizenbock, that features clove, banana, chocolate roastiness—which is all perfect when you are talking mole. As soon as I was planning the menu, I knew we had to do the mole."
Beginners, alert—these classics always work.
If you want to talk beer-pairing classics, these are the pairing that will always work:
chocolate with any kind of stout (Bottled Reserve Rec: Russian Imperial Stout)
anything hoppy—pale ales, American IPAs—with spicy dishes
IPA with blue cheese
an acidic Italian dish, like a piccata, with a dubbel (Bottled Reserve Rec: Abbey Dubbel)
grassy/funky goat cheese with wild ales (Bottled Reserve Rec: Saison)
Pull a chef's move.
"I'm partial to barleywine with crème brûlée. Crème brûlée is easier than you think and this pairing always works."
Reproduce Cannon's recommendations by grabbing your share of Iron Hill's bottled reserves or growler fills at a location near you. Find head chef Jared Cannon at Iron Hill Brewery & Restaurant in Chestnut Hill at 8400 Germantown Ave. in Philadelphia, and be sure to keep his upcoming beer dinners on your radar to officially catch his pairing techniques in action.
Content provided by Dish Works author Amy Strauss.