Take note: there apparently is no bad way to transport your precious growler of Iron Hill Brewery & Restaurant beer, unless the method exposes beer to light. That's why we love to see our beer going out the door in our carefully constructed growlers.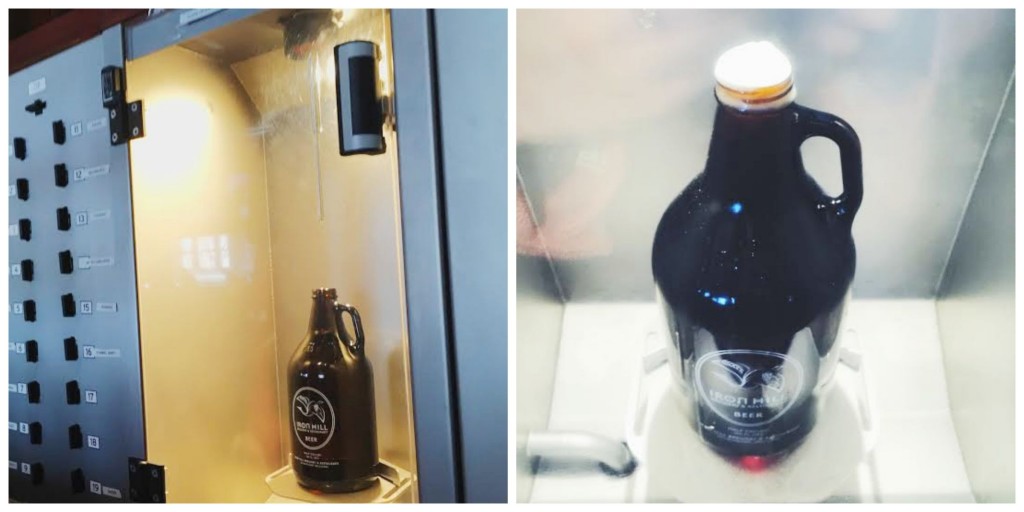 Still, the super-cautious go one step further with another layer of protection. From the humble paper bag to the snug tote and even the sophisticated bicycle cage, growler transport is serious business for many beer drinkers.
We asked some of our fans and some of our own how they ensure their growlers are tap-fresh when they crack 'em open. Check these top tips and up your growler transport game.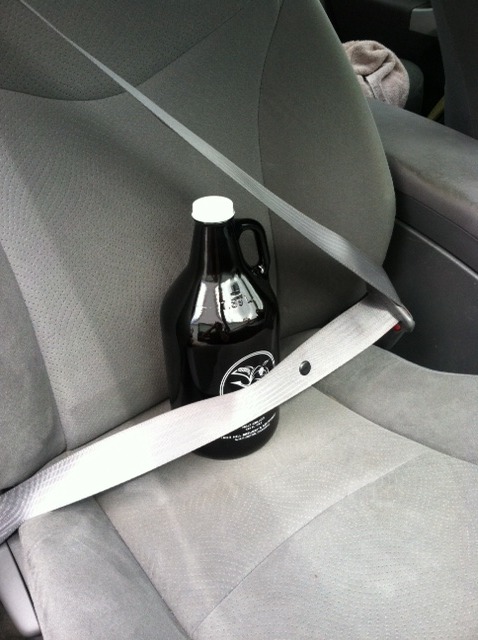 We started with our own brewers—who better to safeguard the products they conceive and create? West Chester Senior Head Brewer Tim Stumpf favors the growler tote, which can be simple or elaborately decorated to suit your mood. He adds, "Without one of these, it's still best to put them into some kind of bag. Brown glass is better than green or clear, but it still lets in a little sunlight, which hurts beer very quickly. I usually use my special grocery store bags since they are strong enough and don't let light in."
Media Senior Head Brewer Andrew Johnston is a fan of the most popular method we discovered during our informal survey: securing the growler in the passenger seat with a seatbelt. In a pinch—say you have a pesky passenger in shotgun—he's been known to cushion the growler's ride by wrapping it in his gym towel and stowing it in his gym bag.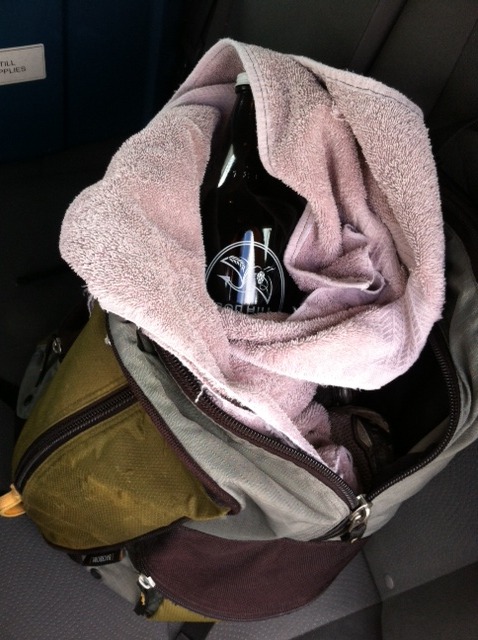 Speaking of exercise and growlers, Chestnut Hill Senior Head Brewer Chris LaPierre earns his after-work beer by bicycling 13 1/2 miles to and from work. This commitment spawned an invention: a special growler cage attached to his bike. Our friends at Philly Beer Scene recently shared the full story.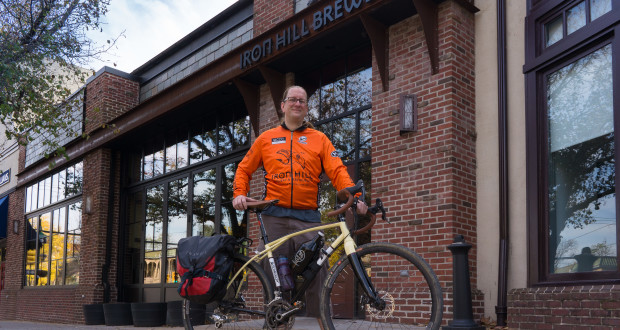 Since our King of the Hill Rewards Club members (KOTH) tend to live close to their favorite Iron Hill, most—like Stephanie Anderson—favor the seatbelt method.
KOTH member Bob Henry put his engineering degree to good work by fashioning safe passage with towels, cargo nets and bungee cords. Despite the secure trunk transport, he also took the added step of defending against light with the paper-bag method.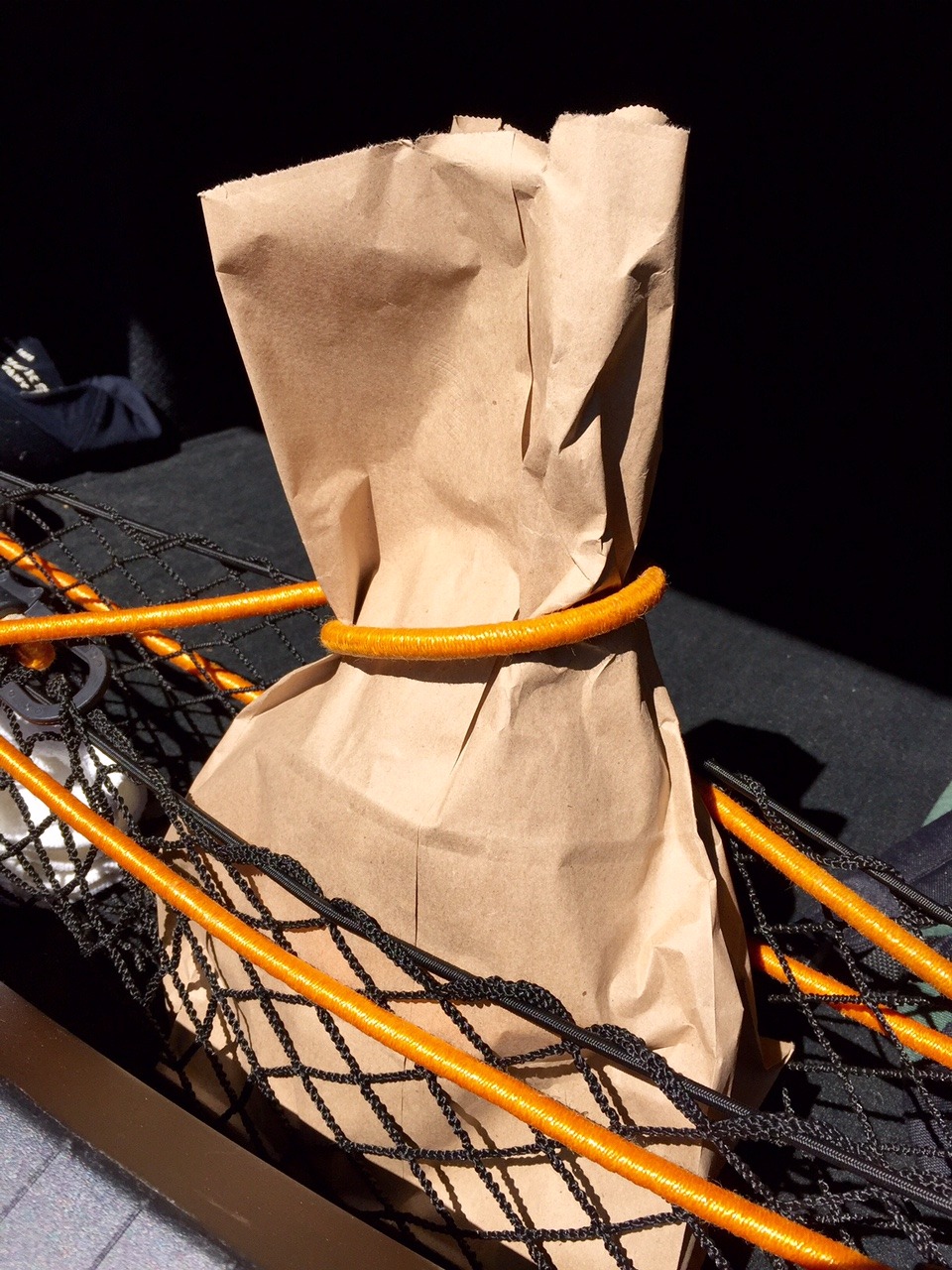 When Ronna Dewey uses her KOTH membership to snag a growler, she makes good use of one of the least-used features in most cars: the built-in pocket on the back of the front seats. One growler fits snugly in each pocket.
Iron Hill fan Kristen Kwiatkowski favors the seatbelt method, but she goes one step further with some cushioning. She repurposed plastic grocery store bags for the growler's comfort.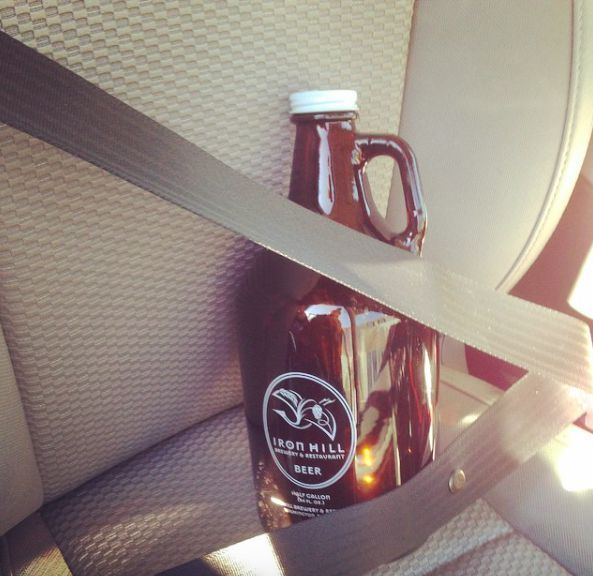 We also tapped beer aficionado Arne Morin. Beer writer Arne's favorite transport method was one he wasn't willing to photograph, but which we can respect: safety first! He says, "I just rearrange the pile of mess on the floor in the back of my car into a protective growler nest. This way I can nestle my growler into the nest and it will stay safe without rolling around the floor the whole drive."
Another method of transport, from anonymous: "I bring my kid's car seat and strap it in there."
Our president and CEO Kevin Finn delights the members of his soccer team with Iron Hill beer after pretty much every game. In fact, he's starting to draw a crowd.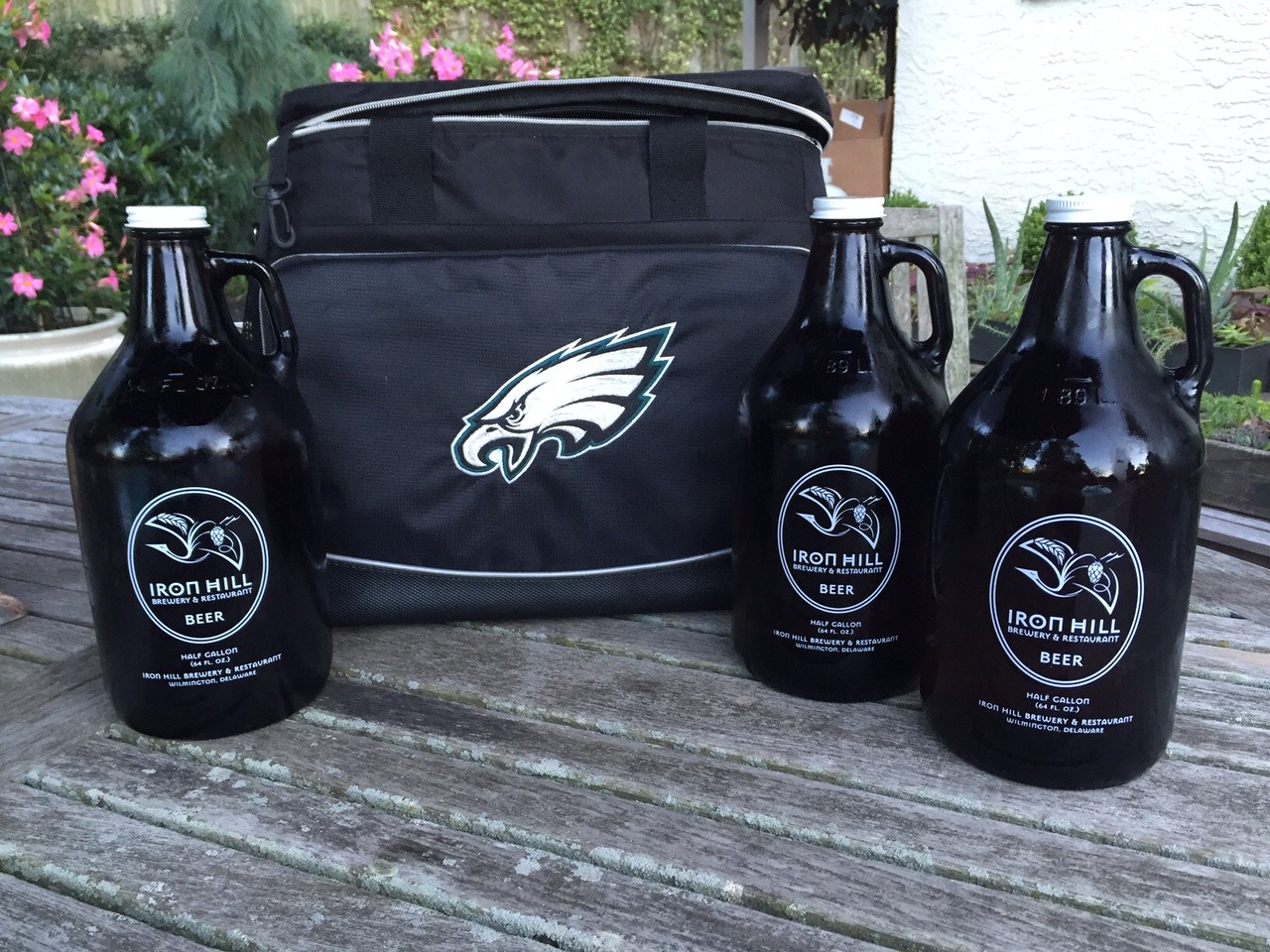 "I have this 'soft' cooler I got from the Philadelphia Eagles a few years ago. Three growlers fit perfectly into the cooler and I usually bring it to the games. It is usually just enough beer for the team after a game, but lately some of the other teams have been stopping by so I might bring more so I can share," he said.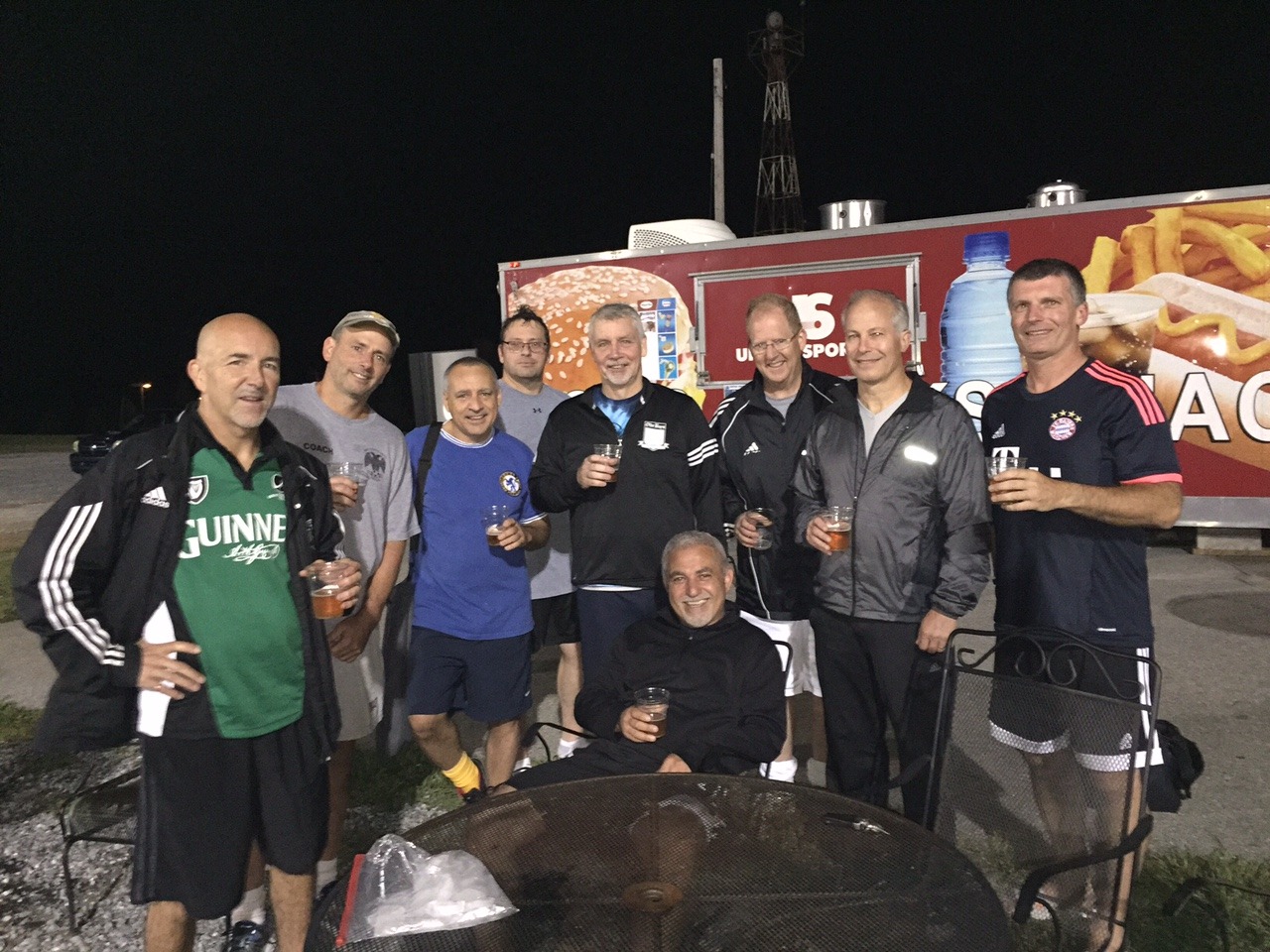 Internationally acclaimed artist Jeff Schaller—who just happens to have done the murals for all our locations—has perhaps the best "transport" method: "I usually invite Kevin Finn over for a party and he brings them."
Genius.
You don't have to know anyone at Iron Hill Brewery & Restaurant to grab a growler fill, but now you know clever ways to get that growler safely to its destination! And, if you need a little intel on how long our beer stay fresh in the growler or how to clean the glass itself, swing over to our Growler 101 blog.
Note: This blog entry originally appeared in September 2015 and has been updated to include the most current information. Thank you for your continued support of Iron Hill Brewery & Restaurant.
With 12 locations in Pennsylvania, Delaware and New Jersey, there's an Iron Hill Brewery & Restaurant near you. We specialize in handcrafted beers and fresh, from-scratch New American cuisine. Monthly releases vary by location, so scout out our beers on tap and visit us soon.