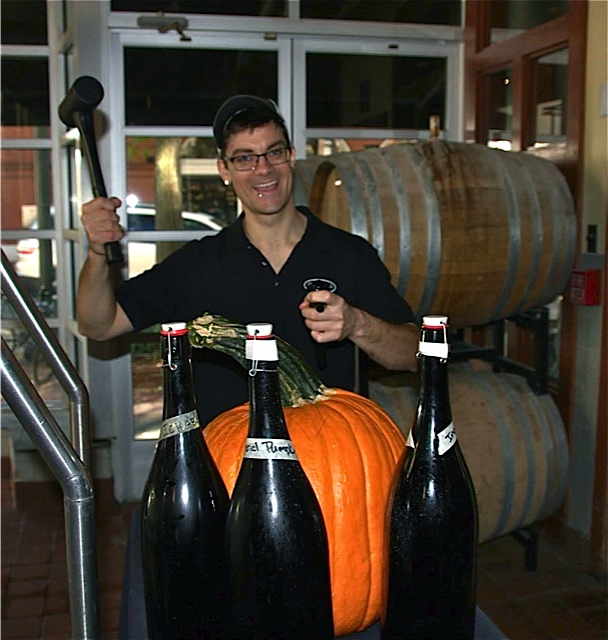 You know the great gourd of goodness as a spooky jack-o'-lantern and everyone's favorite fall-inspired pie. As Iron Hill Brewery & Restaurant fans, you've also filled your growlers and bellied up to the bar for our pumpkin beer—lots of different beers, from ales to imperial stouts and everything in between. So why not serve up seasonal pumpkin beer directly from the great gourd itself?
A few of our brewers do just that. We caught up with Iron Hill North Wales head brewer Doug Marchakitus and Iron Hill Media head brewer Andrew Johnston to give us the inside scoop on prepping a perfect pumpkin tap.
Where do you snag such a huge pumpkin?
Doug: Our pumpkin this year was provided by Merrymead Farm in Lansdale. They were not only willing to find a big pumpkin for us but were also extremely excited for what we had planned for it.
Andrew: I usually ask one of the chefs to place an order with their produce guys—American Beauty—for an extremely ridiculous-sized pumpkin. This year for "Brewhouse of Horrors" in Media I had a pumpkin that could hold up to 8 gallons of beer, which is a good cask amount. In the past, during "Gathering of the Gourds" in West Chester, I've brought in pumpkins that could hold up to 15 gallons of beer—that's an entire keg.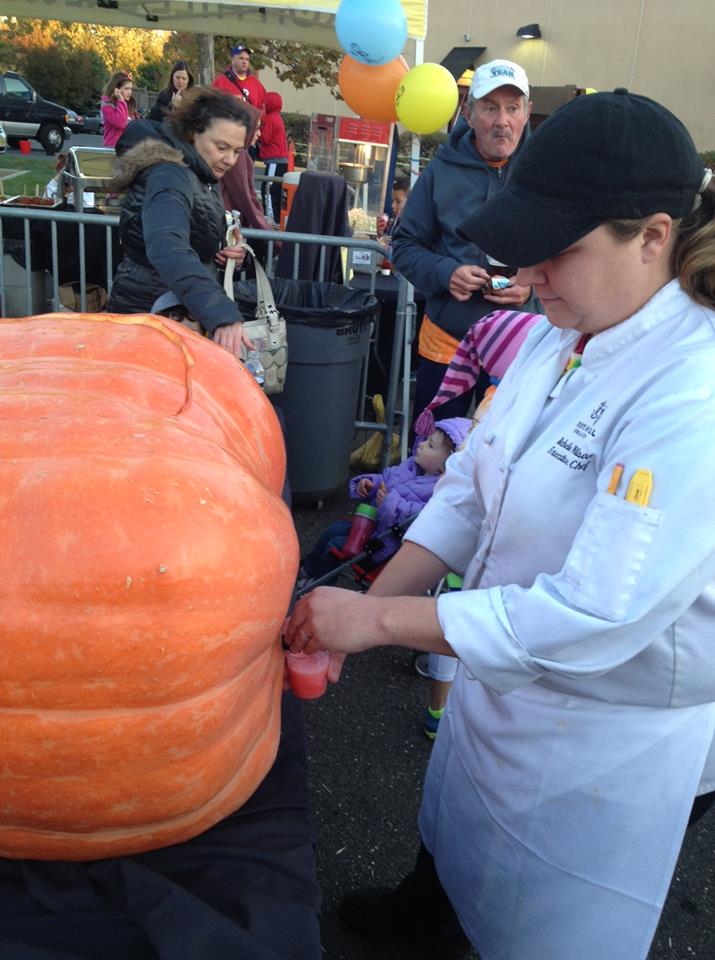 How do you carve it so it can dispense delicious beer?
Doug: There's nothing too complicated about preparing it: cut the top off of it and scoop out the insides. Of course we don't like to waste anything. We toast the pepitas (seeds) and when all the beer is finished we use the meat of the pumpkin. Last year our kitchen made a pumpkin bisque that was the highlight of the dinner specials that night. I usually carve out a little spot—not all the way through of course—for the tap to go through with ease. I use a simple firkin tap that we use for cask-conditioned beers. Just line it up and hammer it in. The great thing about the pumpkin is that is seems to naturally create a seal around the tap.
Andrew: Big pumpkins are pretty hollow on the inside, not much guts to them. And, the seeds are about the size of a nickel, so they're easy to handle. I typically rest the pumpkin on a cart covered with a tablecloth so that it lays nicely—you don't want it to roll away! Then I just cut off a bit from the top, making sure to mark it clearly so I can place the top back on well aligned. From there I get to scoopin'! One thing you want to do so you don't wind up with a cracked pumpkin and beer all over your pant leg is to score the front bottom outside of the pumpkin where you're going to tap it and carve away a little of the outside hard flesh in sort of a circle. This should give you a clean tapping and also gives you a target to aim for. I always like to draw on the outside of my pumpkin. Give it a face for the big show!
Obviously Iron Hill beer is the best beer to put in your pumpkin—what's your favorite?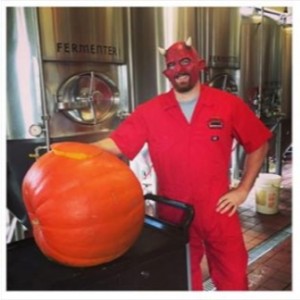 Doug: My beer of choice is, of course, our Pumpkin Ale. We use pumpkin in the mash, but serving it in a fresh pumpkin really highlights that pumpkin flavor. One thing that you hear many people say is that pumpkin doesn't have any flavor and you're really tasting the spices. I challenge anyone to say that after drinking straight out of the pumpkin.
Many beers other than a traditional pumpkin ale work surprisingly well with pumpkin. My beer of choice in North Wales right now is our Pumpkin Coffee Stout. I knew that pumpkin and coffee would blend well together. After all, I blame a certain coffee company that will remain unnamed for starting the pumpkin spice craze. For me, coffee beans from Backyard Beans Coffee Company in Lansdale and the roasty flavor of a stout blend better together than anything I've ever had in a cup. Another soon-to-be-favorite beer of mine is our barrel-aged Ichabod. Ichabod was a strong Belgian pumpkin ale from last year, but we put it in an oak barrel with various strains of wild yeast and bacteria to create a funky, sour, pumpkin ale. When you think pumpkin you think sweet, but the tart flavor of wild ales works great with pumpkin.
Andrew: Obviously our Pumpkin Ale is a must-serve out of your pumpkin cask, but we do have a delicious Belgian pumpkin ale on tap right now, Ichabod Imperial Pumpkin Ale, that would work too. To spice it up a bit I always add some honey, cinnamon sticks and cloves to my pumpkin cask. That takes the beer to a whole other level. And, you want to fill your pumpkin a few hours before tapping so the flavors soak into the beer.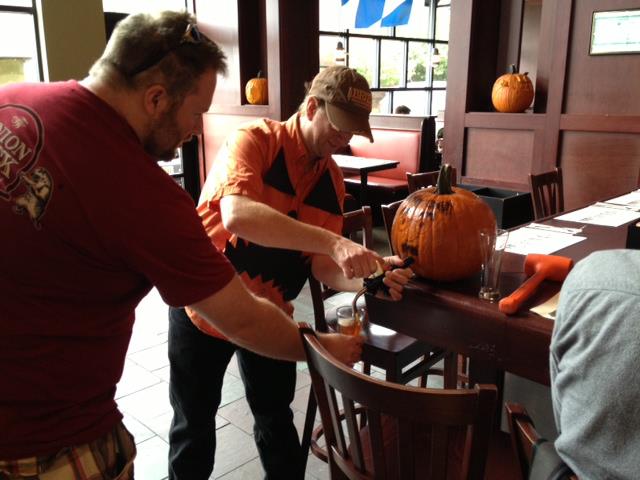 How do the folks at home snag the right equipment to tap it?
Doug: I recommend a firkin tap, which you can get at most brewing supply stores or online.
Andrew: Really all you'll need to tap your pumpkin cask, besides the pumpkin and beer, are a heavy mallet (we use rubber) and a gravity-dispensing tap. I like to order mine from UK Brewing Supplies.
Any advice—or funny stories—for a first-time pumpkin tapper?
Doug: No Halloween horror stories yet, but I'll admit I kind of dread tapping it every year. I have yet to have a disaster! I think the anticipation is part of the fun, but I think I'm due to make a mess.
Andrew: Oh, you have to see this video. It was my first year doing "Gathering of the Gourds" in West Chester and I'd never tapped a pumpkin cask in my life. Needless to say I didn't prepare my pumpkin right and ended up getting beer all over myself.
All I can say is that you need to approach your pumpkin with a delicate hand when it finally comes time to drive that tap into it. You must be gentle but make every hammer count. If you're not, you might end up with a whole lot of beer all over you.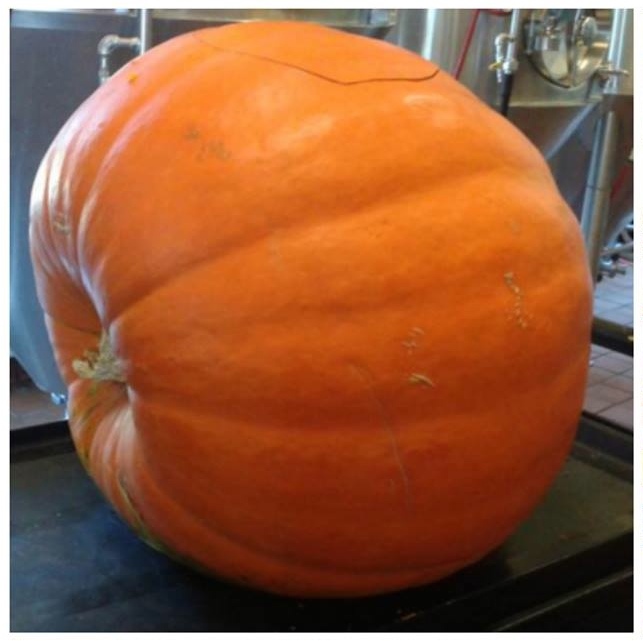 The Fine Print
Our professional brewers have handled taps almost since birth, so they do make it look easy. Andrew's beer bath shows even the best can end up with a mishap. So if you're going to try this at home, you've been warned. Now go get a massive pumpkin, growlers full of your favorite Iron Hill pumpkin beer, a tap and mallet—and perhaps a small tub and lots of towels—as standard equipment for at-home attempts. Remember, visiting ghouls and goblins will have their cell phones set to "video," so make it a great show no matter what.
With 11 locations in Pennsylvania, Delaware and New Jersey, there's an Iron Hill Brewery & Restaurant near you. We specialize in handcrafted beers and fresh, from-scratch New American cuisine. Monthly releases vary by location, so scout out our beers on tap and visit us soon.