I have just returned from the 2013 Great American Beer Festival (GABF) and what a weekend! This year's competition was the most competitive ever, with over 4,800 beers entered into the judging, representing the best beers in America.
Once again, Iron Hill brought home a silver medal at the GABF! Bob "the medal machine" Barrar won for his Russian Imperial Stout in the ;Imperial Stout category.  This was Bob's 16th medal and the 6th time Bob has won for his Imperial Stout. What a great job! Iron Hill also kept its 17 year streak of winning medals alive and has now won 39 medals at the GABF.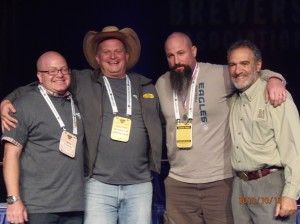 Larry Horwitz (Regional Brewer), Mark Edelson (Director of Brewery Operations), Bob Barrar (Head Brewer, Media) and Charlie Papazian.
This year, the competition was more competitive than ever with 732 breweries, including 230 first time participants. There are 84 beer
categories, and 252 medals in total were awarded in 2013. There were many new winners, but it once again was a great showing from the Philadelphia area breweries, highlighting that Philadelphia is a truly great craft beer city.
But at Iron Hill, our annual pilgrimage to the GABF is more than just medals; it is our celebration of being a part of something wonderful, the craft brewing industry. This year almost over 50 people went to the GABF with Iron Hill, both employees and customers. One of my favorite things to do is walk the floor with a few of our employees who have never attended the festival, and this year was no different. Since I usually get there Friday after the first session, I also like to tag along with one of our brewers who will recommend one of their favorite beers that they have tasted.
One of my favorite things to do is to walk behind the "Mid-Atlantic" regions booths and visit with my friends from other area
breweries. I got to see Rik from Stewart's, Tom from Yard's, the Troegs brothers as well as Sam from Dogfish. Congratulations to all of them for
winning medals at this year's competition.
Overall, it was a wonderful trip on many fronts: Iron Hill won their 39th medal and kept our 17 year streak alive, our staff
got to see what it means to be a part of the craft brewing industry and we all got to visit some of the wonderful craft breweries. I can't wait for next year!
Cheers.