This Saturday afternoon, January 26, at 1pm Iron Hill Brewery in West Chester hosts one of my favorite events of the year, Belgium Comes to West Chester. I love this event for a variety of reasons, but the best is that you will most likely never find the same variety and quality of American brewed, Belgian style beers in one place outside of Ommegang.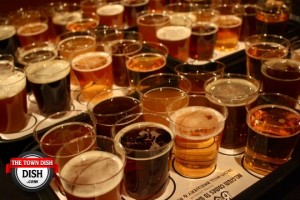 The event features 30 different beers from over two dozen breweries. Some of the beers I am looking forward to drinking include: Spéciale Belge, a collaborative beer brewed by Iron Hill's Chris LaPierre and Brasserie Dupont, a smoked interpretation of a classic Belgian beer style known as a "Spéciale"; Oak-Aged Quad which is a full-bodied Belgian-style dark Abbey ale aged in oak wine barrels that was brewed at Iron Hill Wilmington by my brother Brian; and Trois Pistoles from Unibrou, an Abbey Style Strong Dark Ale.
It is also one of those events where I get to see plenty of friends from West Chester, where I live not far from the restaurant. A few years ago, just as the event was really starting to take off, a huge snow storm (really a blizzard) hit West Chester and we came very close to cancelling the event. After being snow bound for a couple days the Blizzard of 2010 ended on Friday, and by Saturday the streets were plowed enough for West Chester's locals to walk up to town to eat and drink. And what a surprise! For many of them this was the first time they tasted a sour ale or an oak aged quad, and ever since it has become a West Chester tradition.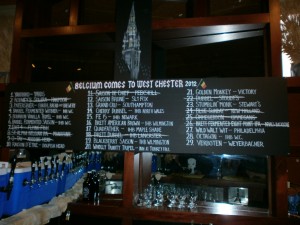 But here is some advice, arrive early if you have any desire to drink the entire list. The event is open to the public at 1:00pm (King of the Hill members get a special preview starting at noon). I can guarantee that you won't get some of the beers if you aren't there in the first hour or so.
So I hope to see you this Saturday at Iron Hill West Chester. Stop by and say hi and enjoy some of the best Belgian style beers in America! Here's the full list:
Iron Hill Chestnut Hill: F.Red, a Flemish-style red ale with light caramel sweetness and a quenching sourness
Iron Hill Lancaster: Smokin' Blonde, a Belgian-style blonde ale with subtle sweet smoke flavor from the use of smoked malts; Smokin' Brunette, a sweet, lightly chocolate malt with subtle fruit and spice from Belgian yeast and moderate cherrywood smoke character
Iron Hill West Chester: Fe10, a rich, dark, malt-y, complex, full-bodied beer; Belgian Tripel, a traditional Belgian-style golden ale with complex aroma and flavor of plums, spice and bananas; West Chester Reserve, an unfiltered, Belgian-style sour ale aged in oak barrels for one year; Abbey Dubbel, brewed in the original style of a Belgian monastery; Biere de Garde, a classic French-style farmhouse beer
Iron Hill Wilmington: Blackberry Saison, a Belgian-style Saison aged with blackberries in a lambic barrel; Oak-Aged Quad, a full-bodied Belgian-style dark Abbey ale aged in oak wine barrels
Iron Hill Maple Shade:  Madeira-Aged Abbey Beer, mahogany-colored blend of Belgian-style strong ales aged in a used Madeira wine barrel
Iron Hill Media:  Dark Humor, a collaboration porter fermented with 100% Brett for luxuriously chocolate-y and earthy sour character (brewed with Ithaca Beer Co.)
Iron Hill North Wales:  Framboise, an unfiltered, Belgian-style limbic made with wild yeast and bacteria
Iron Hill and Brasserie Dupont: Spéciale Belge from, brewed for Philly Beer Week 2012
Dock Street Brewing Company: Sexy Beast Chocolate Stout
Stewart's Brewing Company : Wry George
Sly Fox Brewing Company: Saison Brune
Third Wave Brewing Company: Sandstorm Belgian Tripel
Victory Brewing Company: Helios
Tired Hands Brewing Company: Farm Hands Saison
Ommegang: Three Philosophers
Devil's Backbone Brewing Company: Dark Abbey
Bluejacket Brewing Company: Sidewalk Saison
Unibroue: Trois Pistoles
Chimay: Tripel Cinq Cents
River Horse Brewing Company: Belgian Freeze
Flying Fish: Grand Cru
Brasserie De Koninck: Winter
Dogfish Head: Red and White
Brooklyn Brewery: Sorachi Ace