One of the best gigs in town this week is the day before Valentine's Day at Iron Hill Brewery & Restaurant, Newark. A seductive chocolate-coconut stout will be released to the thirsty masses plus exclusive sweets and surprise prizes for King of the Hill Rewards Club members.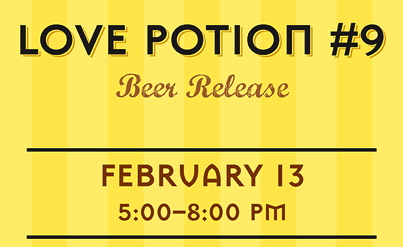 Love Potion #9 (ABV 6%) will hit the taps at 5 p.m. on Thursday, Feb. 13. Head Brewer Justin Sproul says you'll taste distinct chocolate notes throughout and impressive coconut in the finish.
"We used a malt pale chocolate—and plenty of it—in production, but while it was boiling we melted in real baker's chocolate, too," he explained. "Then at the end, right before fermentation, we added shredded toasted coconut, and let it sit for a good long time. It went to fermentation after it had plenty of time to pick up great coconut flavor."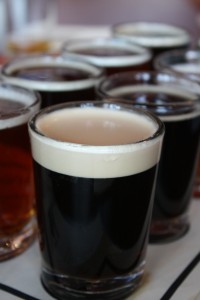 Justin toasted the coconut himself to make sure it was just right. His vision is a happy marriage between malty and sweet English-style stout, rich chocolate and toasty coconut. He wanted to do something different, just in time for Valentine's Day, from Iron Hill's trademark IPAs and hoppier beers. He also noticed women in the brewpub really enjoying maltier options like stouts and porters. Smart man.
King of the Hill Rewards Club members' hearts will swell during the release party as they fall in love with a complimentary small plate dessert with their first pint. Justin expects that to be a coconut chocolate truffle, but there could be some surprises. King of the Hill cardholders also will have the chance to win prizes every hour during the 5 to 8 p.m. release party. Sweethearts will swoon to learn that could include a gift pack of Justin's favorites…but, he teases, "you'll have to show up to find out."
Not yet a King of the Hill Rewards Club member? No worries, as you can join on the spot and receive the benefits during the Love Potion #9 release and for a full year. It's just $25 per year, and you grab 150 free points at sign-up and renewal, not to mention a treasure trove of other exclusive perks. Learn more here.
More good news: the love affair doesn't have to end. Iron Hill Newark will serve up a tasty Valentine's Day Menu from 5 to 10 p.m. on Friday, Feb. 14, and Saturday, Feb. 15. Mark your calendar for all our monthly events and our seasonal releases so you never miss anything that unfolds at Iron Hill Brewery & Restaurant.
Content provided by Dish Works author Nina Malone.