Iron Hill Brewery & Restaurant's exceptional company culture is well-admired in the industry.
It's no simple task to create and maintain an atmosphere that excels in customer service while also delivering consistent, expertly executed cuisine and award-winning beers. Behind our impressive company foundation is a remarkable leadership team and an HR expert that (in addition to training, hiring and leading the team) ensures that our entire Iron Hill family remembers to keep "safety first." Lorraine Serva, Director of Human Resources, talks with us about why safety is important for our company culture and how it's being celebrated company-wide.
The "Year of Safety" award is given each year to an exemplary Iron Hill team. While 5 out of our 10 locations achieved their safety goals for 2013, our Newark location stood out by having zero time-loss accidents for the entire year. Lorraine explains that "this is an incredible achievement because it means that they had no serious accidents for an entire year. It takes the entire team working together to make this happen."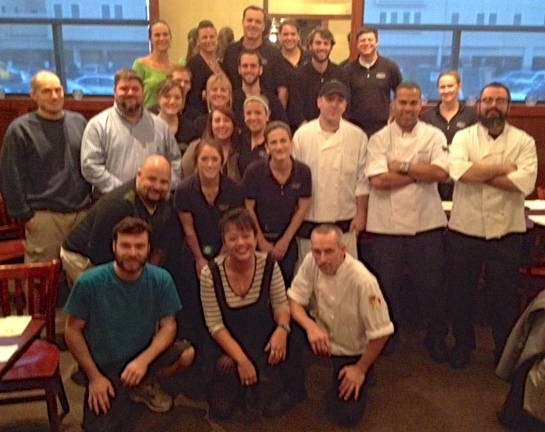 While Newark took the cake (literally, they got a cake for reaching this milestone), four other restaurants (West Chester, North Wales, Lancaster and Maple Shade) also achieved their goals of reducing the number of accidents in their restaurant compared to 2012. In addition to bragging rights, each Newark employee won a $25 comp card and a spiffy Iron Hill Brewery & Restaurant jacket. The four other restaurants were recognized for their success with $500 to spend on an employee event or outing.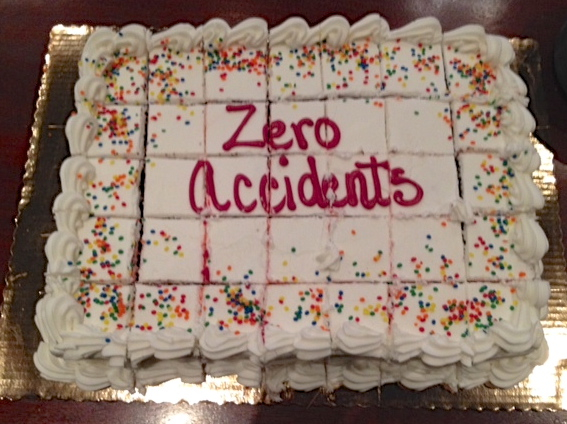 Why is safety so important? "We want our employees to go home in the same condition they came to work in," says Lorraine. "Serious accidents hurt the employee's entire family if they are unable to do the activities that they normally enjoy. For example, if one of our team members were to fall and hurt their back they wouldn't be able to play softball or pick up their kids." Another reason safety is crucial to the company is that accidents can be costly. With incredible talent at each location, the staff is lean. Having even one employee out as a result of an accident can put stress on other team members, which could result in others working overtime or unplanned training to fill that position.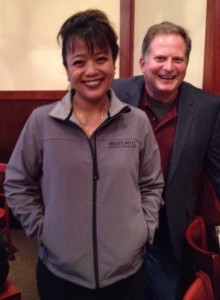 Having such a solid safety record is not easy and takes plenty of teamwork and support. "It's incredibly difficult but clearly achievable," says Lorraine. "It takes every single employee working safely every time in order to achieve what Newark did." One aspect of Lorraine's job is to create safety incentives. "We encourage safe behavior with ongoing incentives including a drawing for a prize every month; also, when we observe employees working safely they receive a 'Thanks for Working Safely' card that we put into a box and draw for prizes like $50 gift cards, team jackets, etc."
These have proven to be effective, but sometimes the monitoring and rewards for safety don't work out as planned. Lorraine shared that she once had a safety incentive gone bad. "I had the idea a few years ago to get employees thinking more about safety by sending us cellphone photos that showed what to do or what not to do in the restaurants. The safety committee would then decide who would win the prize. Unfortunately, this resulted in employees acting out unsafe conditions in order to get a funny photo so they could win. In the end I guess they were still thinking about safety, but they were performing unsafe acts for the camera, which clearly was not our goal!"
By setting goals for each location and rewarding the locations that reach those goals, we strive to continue cultivating a safe environment heading into a new year. "We set safety goals every single year and 2014 is no exception," says Lorraine. Reducing slip-and-fall incidents is on the list this year, among many other goals. While Lorraine jokes "I know, very exciting stuff, right?", it's this type of attention to detail that makes our company stand out in the industry.
After many recent inspections by State of Delaware representatives and various insurance company experts (to quote for workers' comp and liability insurance), Lorraine is thrilled to report that "we received feedback from all of them that we are doing the right things. Our programs follow the best practices in the safety industry. Safety experts were surprised to see how advanced our safety programs are, and they told us that they are not used to restaurants being so knowledgeable and compliant with all the standards and regulations."
Not only are these standards being met, they are being exceeded. "One safety consultant asked for additional information on one of our programs so he can recommend it to other clients. And, the safety expert who worked for our insurance company in 2013 said we had the best, most engaged and committed Safety Committee of any he has seen in his experience."
Kudos to you, Newark, and to our four other locations that met their safety goals in 2013. Special thanks goes to our own HR superstar, Lorraine Serva, for continuing to create such an excellent (and safe) place to work.
Content provided by Dish Works author Mary Bigham.