Jean & Greg are two of Iron Hill's beloved beer geeks. Jean works in our Lancaster location, you may recognize her smiling face from the host stand. Jean & Greg have been traveling all over the world on a quest to uncover great beer and we love hearing their stories. Their journey reached a special milestone this year with their 500th brewery tour at Stone Brewing Company in California.
We thought this would be a great excuse to introduce you to two of our favorite people. Here's a special guest post from our friends Jean & Greg.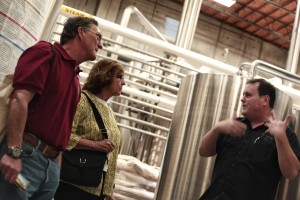 Greg & I like beer. Many years ago we discovered we preferred microbrewed or craft beer to the yellow beers of the world (Bud, Miller, Michelob, etc). 
In 1987 we visited our first microbrewery, Stoudt's in Adamstown, PA. It took 11 years before we visited our 50th microbrewery/brewpub. Our desire to visit different craft breweries only grew as we traveled around the country and discovered the infinite tastes associated with a good microbrewed beer. Our rules are simple: visit the brewery or brewpub and sample the beer. Beerfests don't count.
 In 1999 we visited our 100th brewery, Rt 66 in Albuquerque. Number 200 came in 2002 at Uptown Brewery By Streets of  New York in Tempe, AZ. 2006 saw No. 300, our first foreign brewery, Beer House Brewery in Tallinn, Estonia while on a cruise of the Baltic Sea. We visited No. 400 in 2008 while attending the Great American Beer Festival in Denver, Dillon Dam Brewery in Dillon, CO. 
In November 2007 I got a part time job at the new Iron Hill Brewery in Lancaster, PA. It soon became a well-known fact that when we tripped around the country on our mountain climbing vacations we'd seek out new brewpubs or microbreweries to visit.
At first we both liked ales, pale ales and IPAs. The hoppier the better. Greg still prefers a good hoppy beer. I still like hops, too, but a couple years ago Head Brewer Paul Rutherford brought a bottle of Rodenbach sour beer to one of our hodge podge beer tastings at Iron Hill and from then on I started to like the sour stuff. 
In November 2011 we took a 2-week trip to the San Diego area to visit the microbreweries of Southern CA. We decided to make Stone Brewing in Escondido our 500th brewery. When I told Mark Edelson of our plans he arranged for the head brewer of Stone, Mitch Steele, to give us a private tour. We were in for quite a surprise.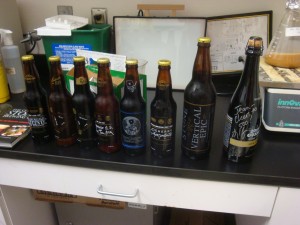 On November 15th at 12:10 PM we entered our 500th brewery and met Mitch a few minutes later. Not only did we get an extended private tour, we were presented with a six-pack of specialty beers, a bottle of Vertical Epic (brewed with Anaheim chilies and cinnamon), a signed bottle ("Cheers to #500" and signatures) of 2010 Old Guardian Barleywine Ale and a signed copy of "The Craft of Stone Brewing Company". We had our picture taken with Mitch and the brewers and bottlers. Lunch on the patio was compliments of Mitch. For dessert Chef Tausha presented us with a fudge masterpiece and written on the plate in chocolate was "Happy 500th". As we were ready to leave photographer Jacob came by and presented us with a 2×3-foot poster of Mitch, Greg and me taken upon our arrival only 2 hours earlier. 
Iron Hill Brewery is well known to most of the breweries in Southern CA and those that didn't recognize the name certainly do now. All of the microbreweries had a tasting area and many of the larger microbreweries had a food truck stop by offering a good selection of local cuisine. 
But records are meant to be broken. By the time we left San Diego 3 days later we had visited 11 more breweries and as of this writing have 511 under our belts and a total of 36 for the trip. 
We're already looking forward to our next milestone. Will it be 600? How about 750? Or maybe 1000? And where? Maybe in Alaska. Time will tell.
Jean & Greg
Next time you stop in Iron Hill Lancaster, visit Jean and ask about her latest adventure – we're sure she'll have a great story to share!