Guys, don your lederhosen and ladies your dirndl: the most German festival-inspired time of the year is upon us and we've got just what you're hungry and thirsty for during Oktoberfest 2015.
Our popular beer will begin to pour Thursday, September 24, and will pair up with some mighty delicious specials through Sunday, October 11. Iron Hill Restaurant & Brewery's Oktoberfest is a traditional German festival beer that's a medium-bodied lager with a sweet, malty and bready aroma and a firm malt flavor. It's balanced with mild bitterness and a clean, dry finish. Grab one—or more—for just $6.25 per pint.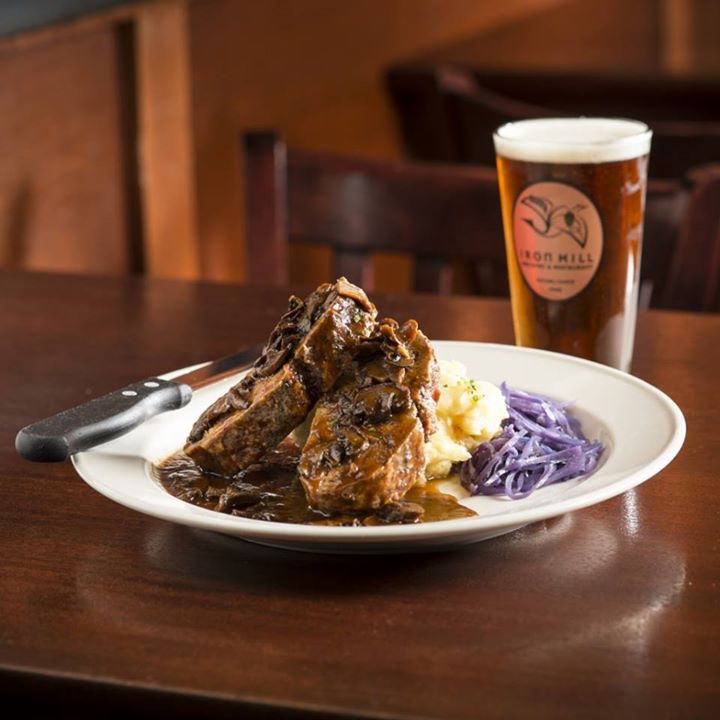 Raise your bierkrug—your King of the Hill Rewards Club (KOTH) beer stein—to our Oktoberfest menu featuring tasty twists on the traditional and created to pair perfectly with our seasonal beer:
Apple and Butternut Squash Soup with spiced crème fraîche—$4.50 per cup, $5.95 per bowl

Warm Goat Cheese Salad, mesclun greens with pickled golden beets, dried cranberries and apple-honey vinaigrette—$9.95

Oktoberfest Egg Rolls stuffed with bratwurst, sauerkraut, cheddar, green onion and stone-ground mustard sauce—$10.95

Black Forest Meatballs with exotic mushrooms, crispy fried onions and sour cream sauce—$8.50

Grilled Alsatian Flatbread topped with applewood-smoked bacon, caramelized onions, gruyere and horseradish sauce—$7.95

Schlachtplatte, a grilled butcher's plate with bratwurst, garlic sausage, smoked pork loin, roasted fingerling potatoes, sauerkraut and stone-ground mustard sauce—$18.95

Hackbraten, German-style meatloaf with smashed Yukon gold potatoes, beer-braised red cabbage and hunter sauce—$16.50

Sauerbraten Pot Roast marinated in red wine, with beer-braised red cabbage, spaetzle and gingersnap gravy—$23.95

Mustard Crusted Salmon scallion smashed yukon gold potatoes, buttery asparagus spears and roasted mushroom sauce—$22.95

Huhner Schnitzel, pan-fried chicken cutlets with haricots verts and almonds, buttered egg noodles and lemon-herb sauce—$17.50

Birnenkuchen, German pear cake with raspberry sauce—$5.95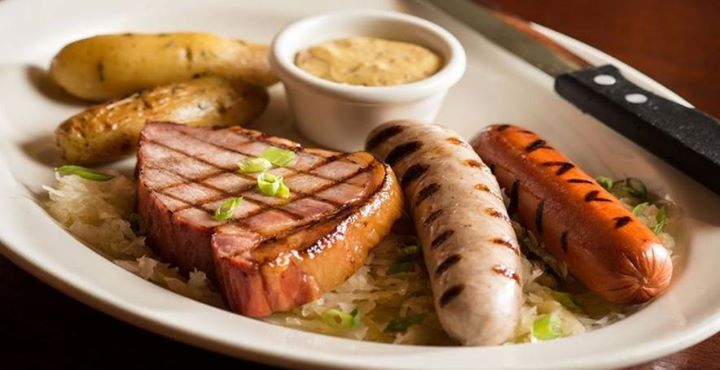 Out Lancaster-way on Saturday, September 26? It's worth the trip: stop in to Iron Hill Brewery & Restaurant from noon to 3 p.m. for our Prost! festival, where you'll find classic Bavarian fare and eight Oktoberfest-themed beers to go with it: Munich Helles, Berliner Weisse, Kölsch, Oktoberfest, Rauchtoberfest, Schwarzbier, Munich Dunkel and German Pilsner. KOTH members can belly up at 11 a.m. and also grab small bite butter cookies.
Not a King of the Hill Rewards Club member yet? No worries; join on the spot and nab your small bite in Lancaster during Prost! Bonus: you'll also enjoy a full year of special benefits at all of our locations. It's just $25 per year, and you snag 150 free points at sign-up and renewal, not to mention a treasure chest of other exclusive perks.
Might we bust out additional events in honor of one of our favorite times of the year? Stay in the loop by keeping a close eye our events and be the first to know. Your friends at Iron Hill Brewery & Restaurant can't wait to see you.
With 11 locations in Pennsylvania, Delaware and New Jersey, there's an Iron Hill Brewery & Restaurant near you. We specialize in handcrafted beers and fresh, from-scratch New American cuisine. Monthly releases vary by location, so scout out our beers on tap and visit us soon.