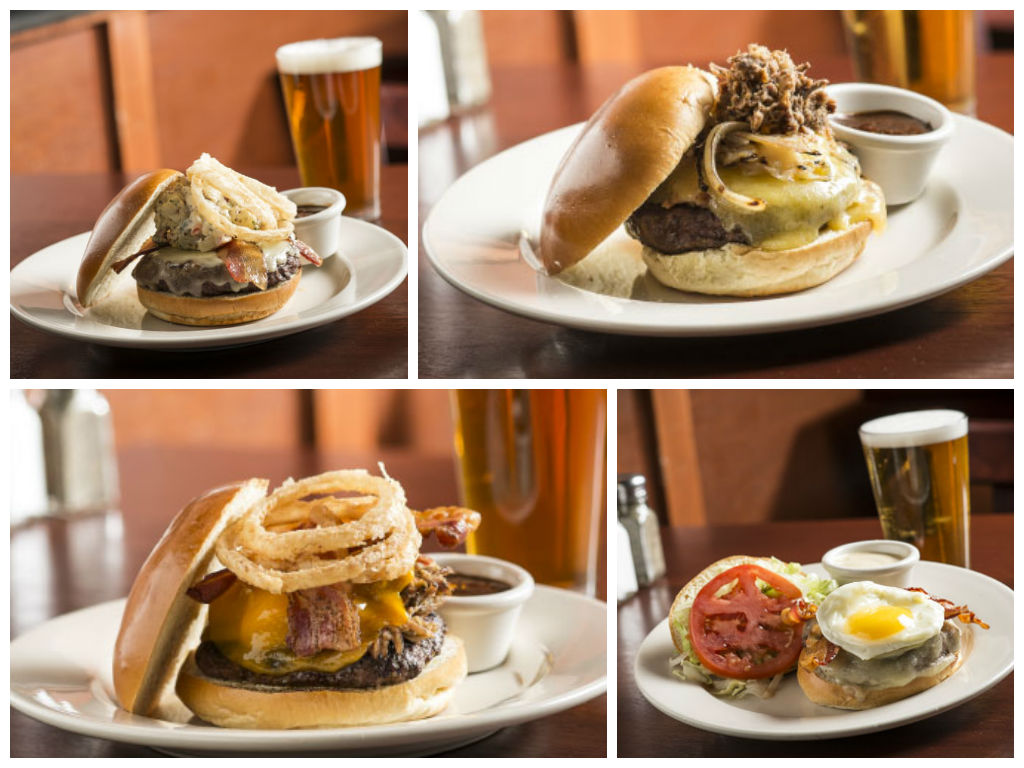 Love the soft warm bun? Juicy beef? All the fixins? How about 31 different burger combos to celebrate every delicious day in May?
We've got you covered with a burger a day during National Hamburger Month, and May 1 can't come fast enough at Iron Hill Brewery & Restaurant, even for our chefs. Like them, we know you'll be hooked the second you sink your teeth into these succulent creations. Bonus: You'll be rewarded for making return trips anytime between May 1–31. Nosh any five during the month of May and you'll get $15 off your next purchase.
Need more reasons to stop by? We tapped a few of our chefs to share their favorite burgers of this special month.
4 Iron Hill Chefs Name Top Burgers:
The Chef: Mike Petrilla
of Newark
Chef's Pick: The Czar Barrar Burger (available May 1)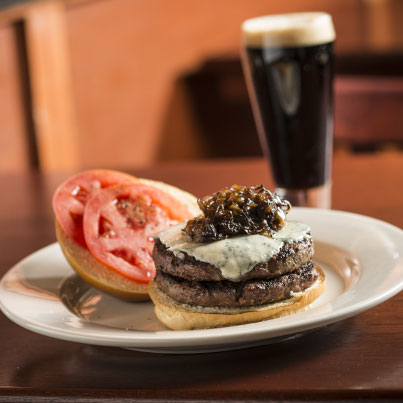 "Twin patties spiced with Cajun seasonings, a thin layer of Maytag blue and Russian Imperial Stout braised onions and tomato. What's not to like?," said Mike. "I love eating a stack of burgers, so this one instantly appeals to me. Cajun or blackening spices go great on burgers because they lend a little bit of heat. It's never too much, but it adds a depth to how the burger eats, which is a nice change from the norm.
"Maytag is a big, creamy and assertive blue that also helps cut and mingle with the heat from the spice. I would allow this cheese to be melted on my face. Russian Imperial Stout braised onions—need I say more? My favorite beer is lending that roasty, malty character to sweetly caramelized onions and a nice, crisp refreshing tomato. Salty, spicy, savory, creamy, pungent … SOLD!
"Add to that the fact that the burger is named after one of our brewmasters and a friend of mine, and it's a done deal."
The Chef: Scott Seher
of Voorhees
Chef's Pick: The Black Sabbath Burger (available May 25)
"Big flavors here with blackening spice, chorizo chili, fried egg, pepper jack and red onion," said Scott.
"Not only is it named for the most influential heavy metal band of all time, but what better than a burger spiced with chilies and seasoned perfectly? Add chili made with chorizo sausage, a little pepper jack and onion and top it off with a fried egg. Amazing. I'll take mine to go with a side of Ozzy and a growler."
The Chef: Michelle Wilson
of North Wales
Chef's Pick: Jersey Diner Burger (available May 18)
"Taylor pork roll, fried egg, cheddar and ketchup—this burger brings me back to great childhood memories," shared Michelle. "My mom's favorite breakfast to make us was pork roll and egg sandwiches!"
The Chef: David Foster
of Wilmington
Chef's Pick: Bacon Lover's Burger (available May 10)
"I love the Hangover Burger and the Souvlaki Burger, and it would be hard to choose just one," said David. "But, being the chef who does an all-bacon beer dinner each spring that we call '6 Degrees of Bacon,' I have to choose the Bacon Lover's Burger as my favorite because you need to go all in, all the time. This burger starts on a brioche bun and then is layered with tomato-bacon jam, smoked cheddar cheese and two strips of black pepper bacon and finished with a bacon aioli on the top bun. It's just overindulgence at its best."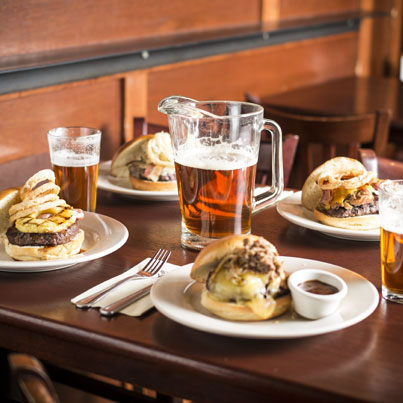 Counting the days? We are, too. Mark your calendar and come hungry! But, in the meantime, start plotting your National Hamburger Month attack by exploring all 31 burger options here.
Get more bang from your burger buck and join our King of the Hill Rewards Club. You can join on the spot and receive the benefits right away. It's just $25 per year, and you grab 150 free points at sign-up and renewal, not to mention a treasure trove of other exclusive perks.
On a related burger note, it's our first year competing in the Philadelphia Burger Brawl. Working the grill on our behalf will be Chestnut Hill head chef Jared Cannon, who'll craft a special burger for this occasion. Proceeds from the charity event fund and develop functional ways to teach literacy through technology for Philadelphia's public elementary schools.
With 10 locations in Pennsylvania, Delaware and New Jersey, there's an Iron Hill Brewery & Restaurant near you. We specialize in handcrafted beers and fresh, from-scratch New American cuisine. Monthly releases vary by location, so scout them out and visit us soon.
Content provided by Dish Works author Nina Malone.