Just how dark is your dark side? Saturday, February 22, from 3–7 p.m., hop-heads who salivate over dark beers will be able to converge upon our brewery in Wilmington for The Dark Side, our 5th Annual Brewers' Reserve. This multi-tap event showcases a great assembly of "dark" themed beers from Iron Hill Brewery & Restaurant as well as other guest breweries. Guests will even have a chance to rub shoulders with Darth Vader, who'll be serving and available for photo ops.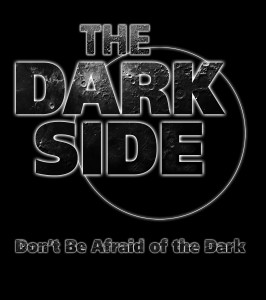 Brian Finn, our Head Brewer at Wilmington, shared how the Dark Side Party came to life. "The idea came about when we brewed a beer that is not necessarily a style. I always thought Dunkel (dark lager) was not dark enough and Schwarzbier (black lager) was not strong enough for my taste. I quickly realized I had a brewery at my disposal and brewed what ended up being a 9% alcohol, very dark lager. Being a fan of Star Wars and Pink Floyd and the beer being so dark, I decided to call it The Dark Side. We then decided that we could celebrate all dark beers by releasing it at a 'Dark Side' party."
The rest is dark history!
This will be our General Manager Jordan DeMaio's first year being involved. Jordan started at the Wilmington Iron Hill Brewery in 2007, when the Dark Side event was not even a thought in Brian Finn's brilliant, craft-brewing mind. Now that Jordan is GM, he is delighted to see how the Dark Side party will evolve. "Coming back as the General Manager in the place where my career started with Iron Hill has been an exciting experience for me, and this event has become a great one that I'm certain we're going to advance further this year," Jordan shared. "There is no event like this one in this area. You simply won't find a collection of beers like these all in one place at one time."
And Brian has truly outdone himself this year. Guests will have the opportunity to sample 10 of the beers on tap. After sampling a broad range, participants can then narrow down to one or two favorites that they can order in a full-sized serving. One of the beers that Brian is proud to be showcasing is Dark Helmet, the creation of his roommate and head brewer of Stewart's Brewing Company in Bear, DE. This beer is a dark lager at around 7.5% ABV. Brian said, "We have taken to calling the style 'Delaware-style Imperial Schwarzbier.'" Other guest breweries and the beers they'll be serving will include Green Flash Brewing Company's Double Stout, Magic Hat Brewing Company's Heart of Darkness Stout, Uinta Brewing Company's Dubhe Imperial Black, and Allagash Brewing Company's Allagash Black IPA.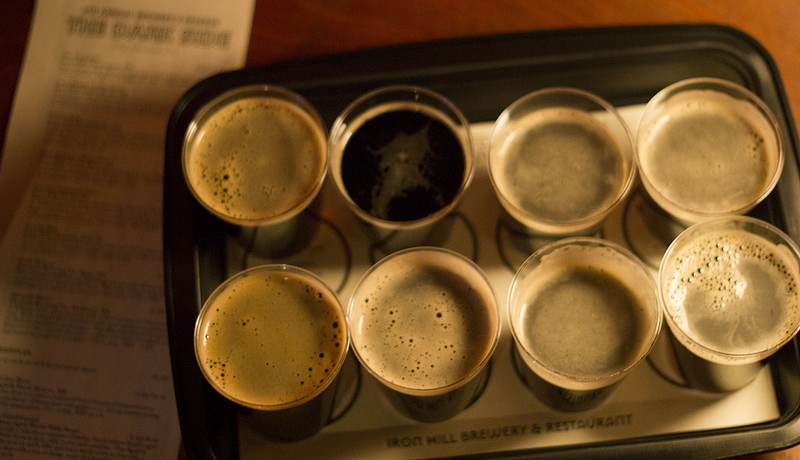 Iron Hill fans will, of course, be able to sample some of our fantastic dark beers crafted in-house. The Dark Side will be available, as well as Luco Brazzi Coffee Stout. This recipe was formulated by the winners of our Iron Brewer competition. For those who love malty beers with high-roasted character, IHB's highly awarded Russian Imperial Stout will be on tap. It has been a Great American Beer Festival winner for several years. And we can't forget our Oompa Loompa Chocolate Stout, brewed with 22 pounds of Belgian bittersweet chocolate and aged with 10 pounds of cocoa nibs. Last will be the Shokolad Stout, a full-bodied Imperial Stout brewed with 44 pounds of chocolate and aged with fresh cocoa nibs and whole vanilla beans.
One of the event's crowning jewels will be Goose Island's Bourbon County Stout. This is an incredibly rare and hard-to-get beer of which we'll only have a small sampling. It is a 14% Russian Stout, aged in Buffalo Trace Bourbon barrels for a year and released annually on Black Friday. This is when membership has its privileges, especially with us! Brian explained, "We are releasing this to our King of the Hill Loyalty Club members at 2 p.m., along with a preview of the rest of the beers before we release them to the general public."
Will you be embracing your Dark Side this weekend? The fun begins at 3 p.m. at Iron Hill Brewery and Restaurant in Wilmington. Beer enthusiasm required; light sabers optional. Click here for more information about Saturday's event, or for details on other upcoming events coming to our Wilmington location.
Content provided by Dish Works author Stephanie Anderson.