Winners of recent Iron Hill homebrew competition teamed up with the brewers of Iron Hill Lancaster to create one mighty beer—to be released this week.
They may have different personalities and musical picks, but two friends, colleagues and—most importantly—local homebrewing enthusiasts used what makes each unique to win the Lancaster Iron Brewer Homebrew Competition at Iron Hill Brewery & Restaurant of Lancaster.
Keith Hartman and Mike Frederick ruled our recent beer contest, a collaboration between Iron Hill Brewery & Restaurant and Lancaster Homebrew, with a style they never brewed before. Their winning beer, Hippie vs. Punk, is an Imperial Black IPA with an assertive citrus/herbal hop character balanced by a firm, dark malt backbone. And, lucky for you, you'll be able to try it this week—a batch made with Lancaster's very own brewing team, Chad Rieker and Mike Ross.
Hippie vs. Punk Beer Facts
Hippie vs. Punk is a big IPA: 9.5% ABV. Lancaster Head Brewer Chad Rieker said it bested 200 other entries and won not only the contest but also the Brewer's Pick. He's confident it will be popular with customers, too.
"IPAs are huge right now. Our customers are very vocal about how much they love, need and want their IPA," he added.
Iron Hill's Ties with Local Homebrew Community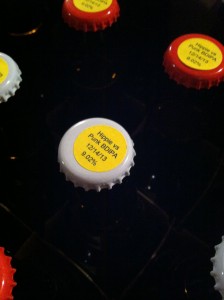 Chad was named our head brewer in Lancaster last January and began a relationship with the local homebrew community. The homebrew contest started as a way to bolster and bring attention to homebrewing in the area. Last year, it was all word of mouth and the contest far exceeded expectations. This year's 200+ entries were tasted and rated by professional judges.
"We underestimated the lure to brew on a big system," said Chad, who started as a homebrewer. "Keith and Mike can be really proud because they were selected by professionals from the BJCP—the Beer Judge Certification Program. I'm certified, and I can tell you it's one of the most rigorous and difficult programs to pass."
But, what does a hippie or a punk care about what "the man" thinks? Plenty when you get to brew at Iron Hill. And they seriously appreciate it.
"We want to thank Iron Hill and Lancaster Homebrew for hosting, and especially Iron Hill for showing us the ropes on their system," Mike said.
Meet the Winning Homebrewers: the Punk & the Hippie
Keith, the punk, describes himself as "a grumpy kind of guy who listens to punk" and is a Belgian-style person at heart. Mike, the hippie, says he's "laid back and listens to jam music" and is a sucker for an IPA.
"We were striving for very fresh with a hoppy in-your-face character," Keith revealed. "You're going to get nice aromas [with Hippie vs. Punk], really smell the hop character, before you even take one sip."
"The bigger, the better," Mike chimed in. "Keith's a mad scientist and can usually pick out what's missing. That's the beauty of brewing: people take the same style and come up with something really different."
Attend This Week's Beer Release
Soon the people will speak: you can see how Keith and Mike did during the Hippie vs. Punk Beer Release this Friday, March 28, from 5 to 9 pm. Nosh the special Pixie Punk Wings, chicken wings with a spicy orange-chili sauce, a perfect match to the hoppy goodness. King of the Hill Rewards Club members get a complimentary plate. Not a King of the Hill Rewards Club member yet? No worries; join on the spot and receive the benefits during the Hippie vs. Punk release. It's just $25 per year, and you grab 150 free points at sign-up and renewal, not to mention a treasure chest of other exclusive perks. Explore all of the King of the Hill perks here.
Are you a hippie? A punk? Neither? No matter: come see us this Friday and give this winner a sip. Or two.
With ten locations in Pennsylvania, Delaware and New Jersey, Iron Hill Brewery & Restaurant specializes in handcrafted beers and fresh, from-scratch New American cuisine. Make your online reservations to Friday's event and in the meantime, start scouting Lancaster's current beer list.
Content provided by Dish Works author Nina Malone.