We are so excited about launching our new menu in all of our 9 (soon to be 10) locations. I personally believe its the best Iron Hill Brewery menu ever (I could be a little biased though).  What's new about the menu, you ask? Well, we added two new menu categories and improved our dinner entrees by adding some great seafood and steak dishes.  Now guests who dine at Iron Hill Brewery have many more choices that provide a great range of culinary flavors along with price points that cater to all budgets.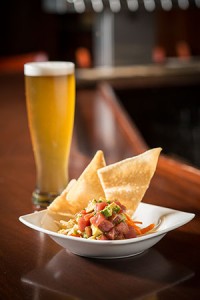 Recently, we secured a fresh supply of really beautiful yellow fin tuna and created three new seafood  dishes. My favorites are the Ahi Tuna Poke Bowl appetizer and the Hawaiian Spiced Tuna entrée. Guests should also consider some of the tasty new steak entrees we added. I would recommend the Pan Roasted New York Strip Steak, served with our new wedge fries, sautéed spinach, grilled crimini mushrooms and shallot-herb butter. I would also recommend that guests sample some of our new dishes from our small plates and taco sections. Our Cornmeal Fried Catfish taco has been a recent favorite during our menu testing in our West Chester location over the last two months.
Our small plates and tacos provide opportunities for someone to sample a variety of flavors in one dining experience.
Come in and try our new menu items, we hope you enjoy! Click here to view our new menu.
]