Think you have to skimp to keep an eye on your intake? Not when you sample the generous Healthy Selections menu at an Iron Hill Brewery & Restaurant near you. This creative menu means you can think hearty and tasty.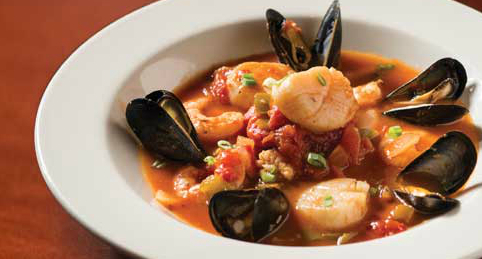 Think great choices. Think about getting into your car and heading over to Iron Hill to try these popular, classic combos:
Moroccan Salmon – $18.95
red onion jam, parsnip-potato mash, broccoli, scallion sauce and lemon
Pan Seared Beef Tenderloin Medallions – $22.95
parsnip-potato mash, asparagus spears and madeira wine sauce
Fisherman's Stew – $19.95
shrimp, scallops, mussels and market fish simmered in a garlicky tomato-white wine broth
Teriyaki Grilled Chicken Breast – $15.95
wasabi vinaigrette-dressed greens, sesame glazed asparagus spears, roasted red peppers and white rice
Clearly, these aren't your gramma's "diet" plates: each dish offers an impressive portion. Maple Shade Head Chef Mike Casciello promises you won't leave hungry.
"These are big tastes in just 600 calories—or less," Mike said. "We're talking a substantial size with unique and delicious sides."
It's the little touches that create the bold flavors featured in the Healthy Selections menu.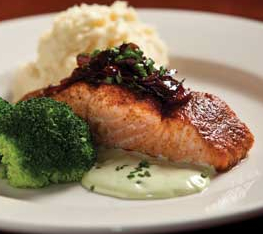 Moroccan spices kick up salmon that's topped with red onion jam. Parsnips bring a touch of sweetness to the potato mash. A rich Madeira wine sauce kisses beef tenderloin medallions. Seafood and fish simmer in pungent garlic, tomato and white wine. Asian influences like teriyaki, wasabi and sesame elevate chicken to a new level.
"Our Healthy Selections menu includes styles you're not going to get anywhere else," Mike added. "Our culinary team developed these dishes because people watching their calories are dreaming about being able to eat this kind of food. And the price is right, too."
But, what's a meal at Iron Hill without an award-winning fresh beer? The calorie-conscious need not worry about that, either. Mike recommends pairing your Healthy Selections entrée with a Light Lager or Raspberry Wheat. And talk about getting lucky: In March, the classic Irish Dry Stout will appear in time for St. Patrick's Day. Toasty and malty, this big beer also is low in calories.
The Healthy Selections menu and house beers noted above are available at all 10 Iron Hill Brewery & Restaurant locations. So go ahead: get your delicious low-cal on in the new year…and beyond.
Content provided by Dish Works author Nina Malone.