Tasty times await New Year's Eve revelers at Iron Hill Brewery & Restaurant in Phoenixville thanks to Head Chef Tim Andrews, who has put together a tantalizing menu for a special evening.
Just as tempting about that evening: no set seating, so those hungry to ring in the New Year in style may do so at a time that best suits them. But take heed: reservations at Iron Hill will fill quickly for this holiday feast.
"All Iron Hills will offer a specialty menu for New Year's Eve, so if you live near any of our other nine restaurants, check them out," Tim noted. "At Phoenixville, we bring in some higher-end items for this important celebration."
Higher-end as in a 24-oz. dry-aged beef porterhouse, thank you very much. Tim is a self-professed "steak guy," and this is what he would want for a night out. It will be char-grilled with a black garlic steak sauce and accompanied by salt and vinegar shoestring potatoes and broccoli au gratin. Come hungry for that one.
Looking for something a little more traditional? Tim's got you covered with a pan-roasted filet mignon kissed with a hazelnut demi-glace and joined by lobster mashed potatoes and butternut squash slaw. Festive and filling.
Non-beef eaters will find two fabulous fishes on the New Year's Eve menu. Choose from pan-seared grouper in a cider beurre blanc dressed up with applewood smoked bacon, sweet potato risotto and sautéed spinach or mirin-poached black sea bass decked with an orange reduction and paired with a fried carrot-ginger rice cake and baby bok choy. Fresh options for a fun night.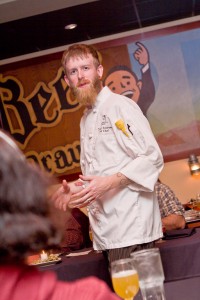 "New Year's Eve dishes typically are on the rich and savory side, so I like to add little pops of fresh things to brighten the palate and the plate," Tim explained.
The full menu includes a mouthwatering array of choices including special soup, salad, appetizers and two sinful desserts.
Iron Hill is known for its freshly made, award-winning craft beers, but it also offers a full bar. Champagne certainly is an option on New Year's Eve, yet those who prefer a beer or a specialty cocktail with their dinner will not be disappointed. Seasonal beers and old favorites will be on tap, and the Candy Cane Crush and Pomegranate Poinsettia cocktails will be mixed up all night long.
Tim is a seasoned Iron Hill chef and has been with the growing brewery and restaurant empire for almost nine years. The past two years he's been directing the dishes in Phoenixville and has high praise for the staff.
"I worked at a lot of places before Iron Hill," said Tim, who credits the "school of hard knocks" for his culinary education. "I started washing dishes, developed a passion for food and decided this was for me. Iron Hill is a great place to work, and I work with a lot of great people."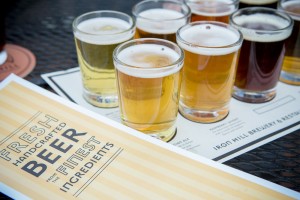 So, what's in store at Phoenixville in 2014? Tim isn't showing his whole hand, but he did hint at a growing number of special events that pair beer with food. And, in some cases, beer and another libation with food.
"We're kicking off 2014 with a January beer and whiskey tasting," Tim said. "I'm just putting the finishing touches on the menu, but it will be three courses, three beers and three unusual whiskies. I'm considering one from Japan, a sweeter option and then one that isn't stereotypically smoky. We're a brewery, but we're not afraid to try other things that also pair well with food."
Tim is eyeing the end of January for that dynamic dinner, so keep an eye on the website and make reservations fast.
Find Iron Hill Brewery & Restaurant at 130 E. Bridge St. in Phoenixville. Make your New Year's Eve reservations today by calling (610) 983-9333 or reserve a table online here.
Content provided by Dish Works author Nina Malone.