I originally homebrewed Lemon Cerveza for my wedding in 2010. Lisa and I were planning to get married on the beach in Cancun, Mexico and I knew I wanted our friends and family to enjoy a crisp and refreshing beer while celebrating with us. So, I started working on a recipe using a Mexican Lager yeast that would make the beer extra clean, just like the crystal-clear turquoise waters of the Gulf. Inspired by the sunshine and the sand, I thought adding a kiss of lemon would make this lager the perfect outdoor drinking beer. Thus, Lemon Cerveza was born. And, needless to say, the wedding was pretty perfect too.
I brought this recipe to Iron Hill years ago, and it returns to taps seasonally when the warm weather rolls in (and just in time for my anniversary). When I found out that, this year, we were going to be putting Lemon Cerveza in cans for the first time, I was thrilled and honored to share the backstory of the beer with the artists designing the can.
The can features a quiet beach scene that transports you to exactly where you would love to be drinking a Lemon Cerveza: in a lounge chair by the calm water, with sailboats gliding by. And yet, my favorite part of the design is the simple beach towel that's draped over the chair, with a pink rose pattern. It matches the dress my wife wore on that very special day in 2010, and takes me back to my homebrewing days. The start of so many great things to come, in marriage and in beer.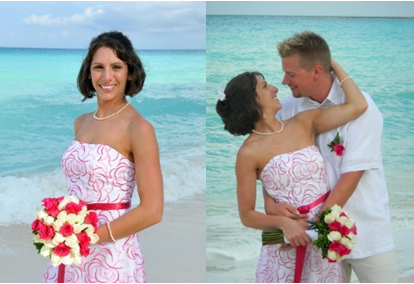 This article was contributed by Pete Corbett, Senior Head Brewer at Iron Hill Brewery in Pennsylvania.
Happy Anniversary, Pete & Lisa!