With Super Bowl XLVIII just days away, it's time to start prepping your beer cooler's starting lineup. From kickoff to the final play, Iron Hill Brewery & Restaurant is here to guarantee that you and your guests are sipping our latest releases, which are perfectly primed for game-day drinking.
In honor of the biggest football game of the year, all ten of our locations are rallying together to participate in the Big Game Growler Grab. From Sat., Feb. 1–Sun., Feb. 2, pop by one of our bar and restaurants and bottle up your share of our freshest releases in growlers. To up the ante on our growler grab, we'll be surprising select guests who are grabbing Iron Hill for game day with our custom-made growler suits (think koozie for your growler).
But, to build hype for our largest growler-fill days of the year, we're serving up pointers and recommendations to make your Super Bowl bash the best one yet!
Iron Hill's Top Tips & Recs for Super Bowl XLVIII:
1. Stick to sessionable beers, those that are easy sippers, as Super Bowl parties entail several hours of drinking. Chef Jared Cannon of Iron Hill Brewery & Restaurant of Chestnut Hill reveals he'll be stocking Ironbound Ale (available at all Iron Hill locations) at his party, which successfully pairs with many classic Super Bowl snacks (buffalo chicken, cheeses and crackers, etc.). This house, medium-bodied Pale Ale arrives at a slim 5.1% ABV, while packing a significant hop backbone thanks to the additions of Cascade, Columbus, Centennial and Chinook hops.
2. Keep it interesting—offer your guests something new. Head brewer Paul Rutherford, also of Iron Hill Chestnut Hill, just released his first double IPA of 2014, one spiked with 60 pounds of local honey. This golden beauty, which he's stocking at his Super Bowl shindig, is coined Hopstinger IPA, was crafted in the West Coast style and features what he reveals as "tons of hop flavor and aroma."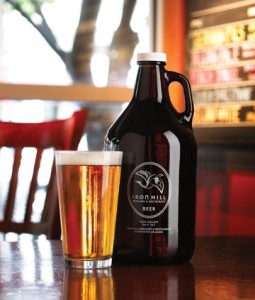 3. Select beers that complement your gametime grub. Rutherford also recommends you snag a growler or two of German Pilsner, which couples remarkably well with chips and guacamole. "The spicy German hops in this beer cut through the jalapeno and garlic in the guacamole," he reveals.
4. When in doubt, go Belgian. Iron Hill Brewery & Restaurant's brewing style lends to Belgian influences, so much so that we always have a traditional Belgian ale on tap. Currently, Chestnut Hill and North Wales are pouring Belgian Pale Ale, Phoenixville and West Chester are highlighting Abbey Dubbel, Wilmington's sticking with Belgian IPA and Maple Shade's celebrating the season with the sour-forward Caprice. Current Belgian releases detailed here.
5. Take advantage of our takeout features. If looking to amp up your Super Bowl party contributions, consider us your one-stop-shop. Mon.–Fri. until 11 p.m. and Sun. until 10 p.m., we feature a pizza and growler special for $25. Select your choice of two takeout pizzas and one growler, and you have yourself a deal. Growler fills of seasonal and Belgian beers are available at an additional price. Trust us, your friends will love you!
Good luck to the Seattle Seahawks and the Denver Broncos—may the best team win! For more information on the Big Growler Grab Game or current location releases, visit ironhillbrewery.com.
Content provided by Dish Works author Amy Strauss.