As of April 24, Iron Hill Brewery & Restaurant is on a mission to redefine your post-work imbibing experience. Whether you're up against a demanding deadline or just sat through back-to-back meetings, happy hour is calling and you deserve a drink.
Our new happy hour experience, exclusive to social butterflies hitting our bar and cocktail areas, now runs Monday–Friday, 4–6 p.m. in all our locations. Not only are we slicing the cost of just-tapped craft beers, but we also are hosting a brand-new, affordable small plate menu. From $2 off drafts, to $4–$6 wines, spirits and appetizers, the price is right with Iron Hill to affordably "get happy."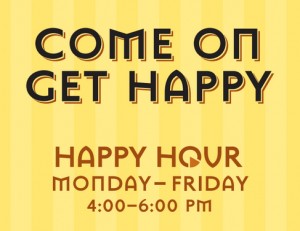 Intrigued by the idea of more happy hour experiences with our Iron Hill teams? To sweeten the deal on our new weekday offerings, we tapped our executive chef Dan Bethard to fill us in on the top 5 reasons you must be joining us each and every weekday—stat.
Reason 1: More Options Equal a Better Happy Hour
How is this happy hour experience so much different than before? "We were doing beverage promotions on Thursday and Friday, and wanted to ramp that up a bit," revealed Bethard. "We decided to extend that program to Monday through Friday, while adding a food menu to it."
Reason 2: 10 Appetizers $6 and Under
"I think the food offerings will set us apart," Dan continued. "We have ten great offerings that will add to the experience."
And, he's right—our new happy hour menu features an enticing mix of $4–$6 small plates that will perfectly fulfill your post-work hunger cravings. From flavor-packed and utterly affordable $4 nibbles like fried brussels sprouts and asparagus tempura to hearty crowd-pleasing plates of cheesesteak egg rolls, bruschetta and nachos, our snackables are already calling your name.
But wait—there's more. For just $6, we're also offering bar bites like decadent Brie-stuffed mushrooms accented with pistachios and balsamic syrup and beef brisket flatbreads crowned with Vermont white cheddar and horseradish cream. Fried Rhode Island calamari dancing with poblano peppers, cilantro aioli and lime zest are joining the happy hour food ranks too, as are mozzarella and tomato sauce-topped pizzas and made-to-order bowls of guacamole and chips.
Reason 3: Beer Prices Are Sliced
Dying to try Phoenixville head brewer Tim Stumpf's new bock? Or, itching to get your paws on a pint of Chestnut Hill head brewer Paul Rutherford's new extra-hopped IPA? No matter which of our brewers is your favorite, each and every Iron Hill will throw house and seasonal releases on special ($2 off!) during happy hour. Now that's a reason to get "happy"!
Reason 4: It's Not Just for Beer Lovers
While we specialize in handcrafted, house-brewed beers, we get it—not every palate is keen on the hops. With non-beer-drinking friends in mind, we're adding wine and spirits into our happy hour mix.
Cocktails shaken and stirred with Captain Morgan, Cuervo Gold, Absolut, Tanqueray and Jack Daniels with be thrown into $4 spotlight, while manhattans and martinis will tap out at a cool $6.
Oenophiles are in luck too! A sharp $4–$6 list of whites (Stone Cellars' Chardonnay, Donna Sol's White Zin, Bollini's Pinot Grigio, Babich Sauv Blanc, etc.) and a punchy roster of reds (Stone Cellars' Cab Sauvignon, Penfolds' Shiraz, Clydes Gladiator's Merlot, Alta Vista's Malbec, etc.) are joining the early evening party too.
Reason 5: Happy Hour's the Best Way to Socialize with Friends & Colleagues
Rough work week? Need to decompress with good company and great food and drink? We suspect you'll say "yes," and "yes" again. In honor of us all needing some more happy hour sessions in our lives, we asked our leading kitchen crusader what he thinks is the ultimate happy hour experience. Warning: you may want to follow his lead!
"My ultimate happy hour experience is always when a large group of friends and colleagues get together after a long day or week," Dan shared. "It's a time when we catch up about things outside work. You never know where and when the night would end! There was usually a memorable story that comes out of happy hour. Sharing food and drink with people you enjoy is always a great time."
We couldn't agree more, chef!
Happy hour is available Monday–Friday at all 10 Iron Hill Brewery & Restaurant locations starting April 24. Happy hour is only offered in our bar and cocktail areas. Learn more about Iron Hill Brewery & Restaurant and its exclusive King of the Hill Rewards Club too.
Content provided by Dish Works author Amy Strauss.