Once a year, Iron Hill Brewery & Restaurant's head chefs line up to be crowned the annual Iron Chef. The contest, which hosts regionalized preliminary cook-offs and one seriously competitive finale, allows our company-wide chefs to break out of bounds and illustrate their talents through original recipes and creative preparations.
Of course, we keep things interesting by throwing in challenges along the way, like secret ingredients and timed rounds. After a series of preliminary challenges featuring all 11 Iron Hill head chefs, 3 deserving competitors moved on to the final championship.
The Competing Chefs and Their Challenge …
With the pressure on, three head chefs, Lancaster's Damion Kamarauskas, North Wales' Jon Wabs and Voorhees' Tiffany Giove, stepped up to the chopping block on Thursday, August 8, at 8 a.m. sharp at our neutral Ardmore location, in hopes of being named 2015's Iron Chef.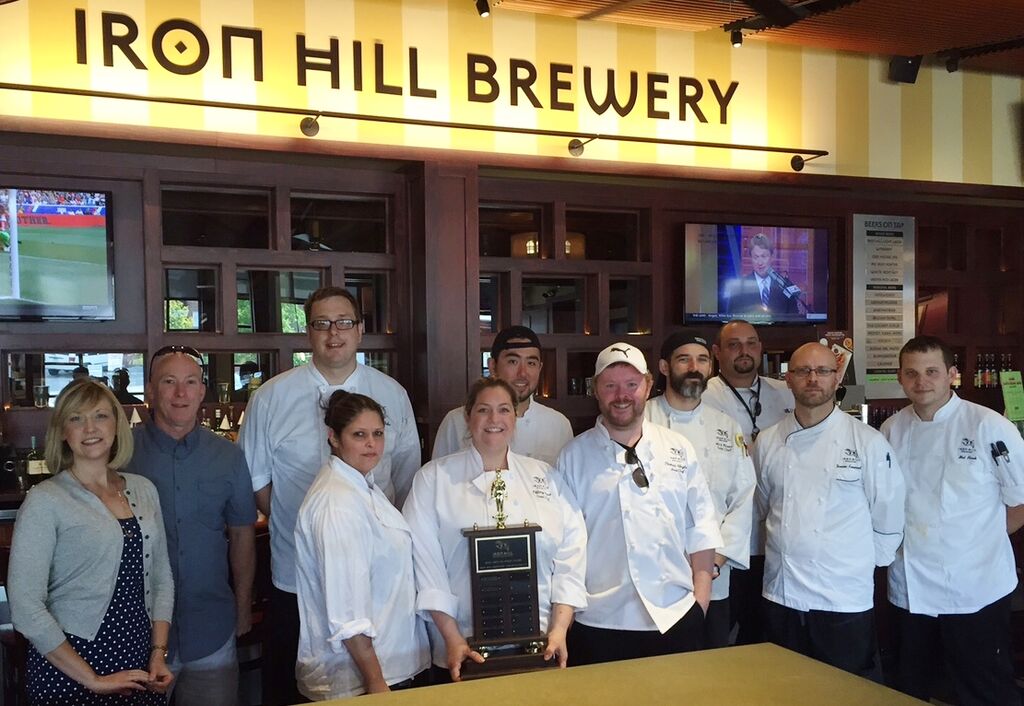 The final challenge? To prepare three unique courses, two appetizers and an entree, all of which had to make use of fresh whole cobia sourced from Mattes Seafood. (Yes, that meant they had to illustrate their skills of butchering, deboning and filleting the full-format fish, too!)
Round One …
Tiffany kicked off the competition with speck-wrapped cobia that was terrifically crispy on its exterior and gracing a delicate lemon-chive nage. The dish was executed with utmost refinement and elegance, and the judges were eager to see what she'd concoct next.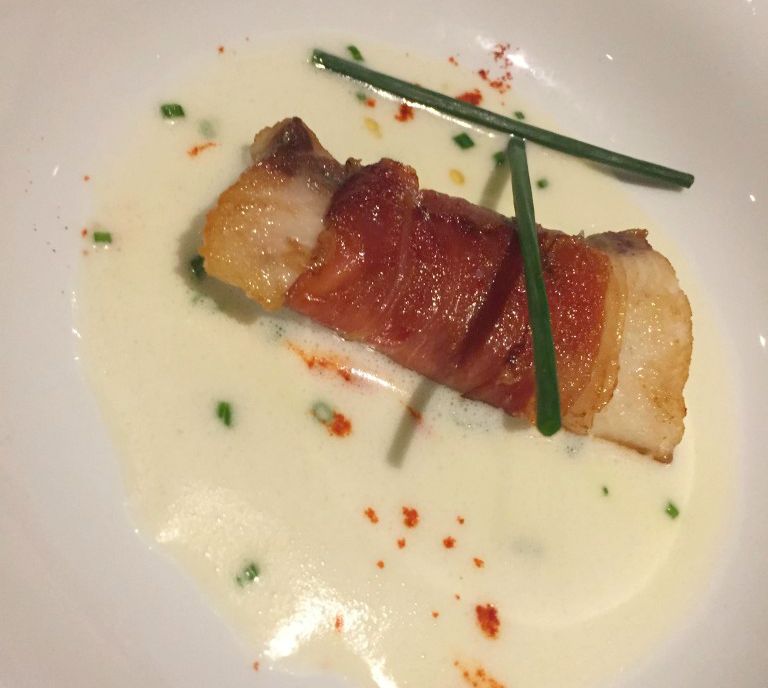 Jon followed with what became one of the favorite dishes of the day. The creative mastermind developed a wonton taco that was loaded with varying textural and multi-dimensional components—apple-cabbage slaw, pan-seared cobia and wasabi aioli. If this item ever ends up on the Iron Hill menu, you'll want to order it every single time.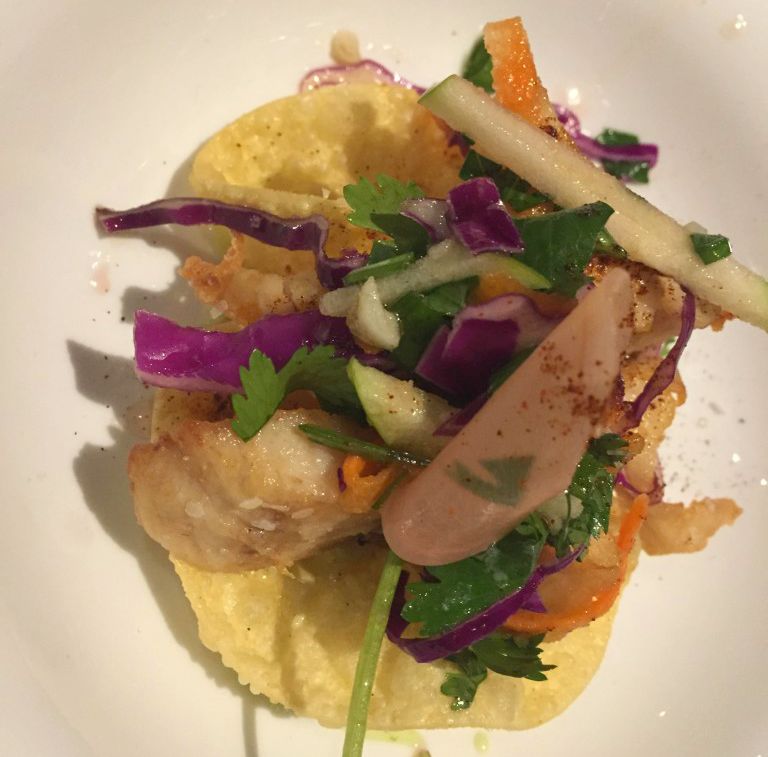 Damion opted to pan-sear the cobia to start, nesting it atop an unforgettable pool of bold and beautiful cantaloupe purée. The judges were immediately attracted to his creativity and smart use of accompaniments.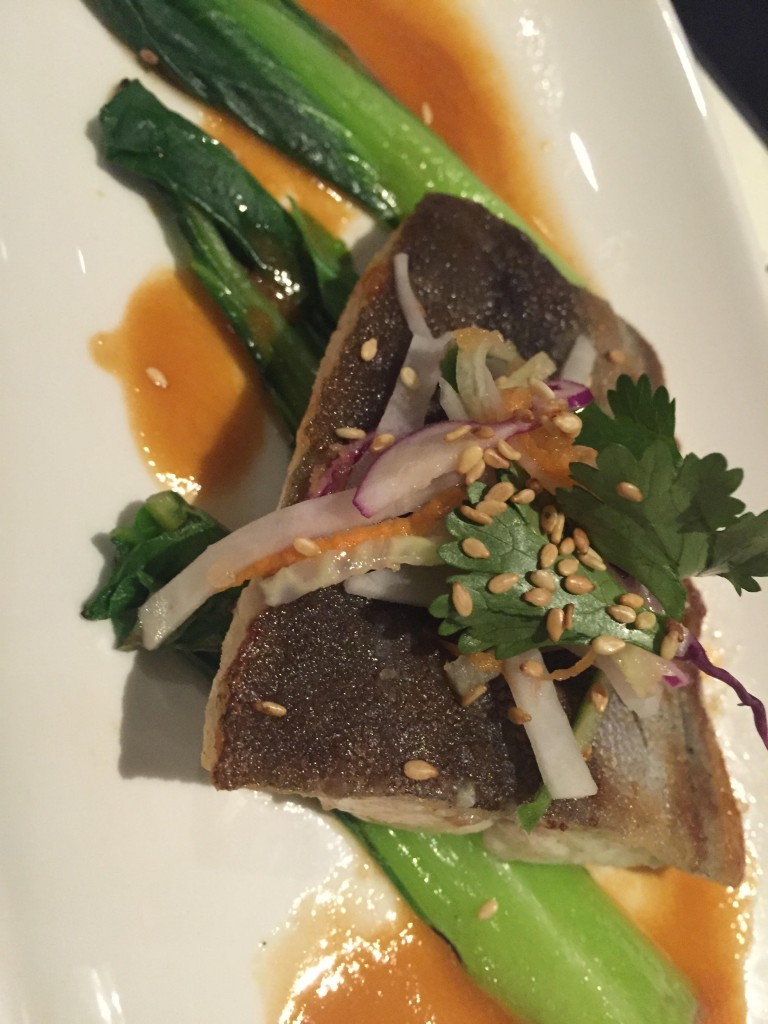 Round Two …
Jon took his inventiveness to the Nth level with his second competing dish, crafting an intriguing cobia-pumped sausage paired with polenta and a white truffle drizzle. This thought-provoking and vibrant offering was indicative of the creative ideas this chef was letting loose in the competition.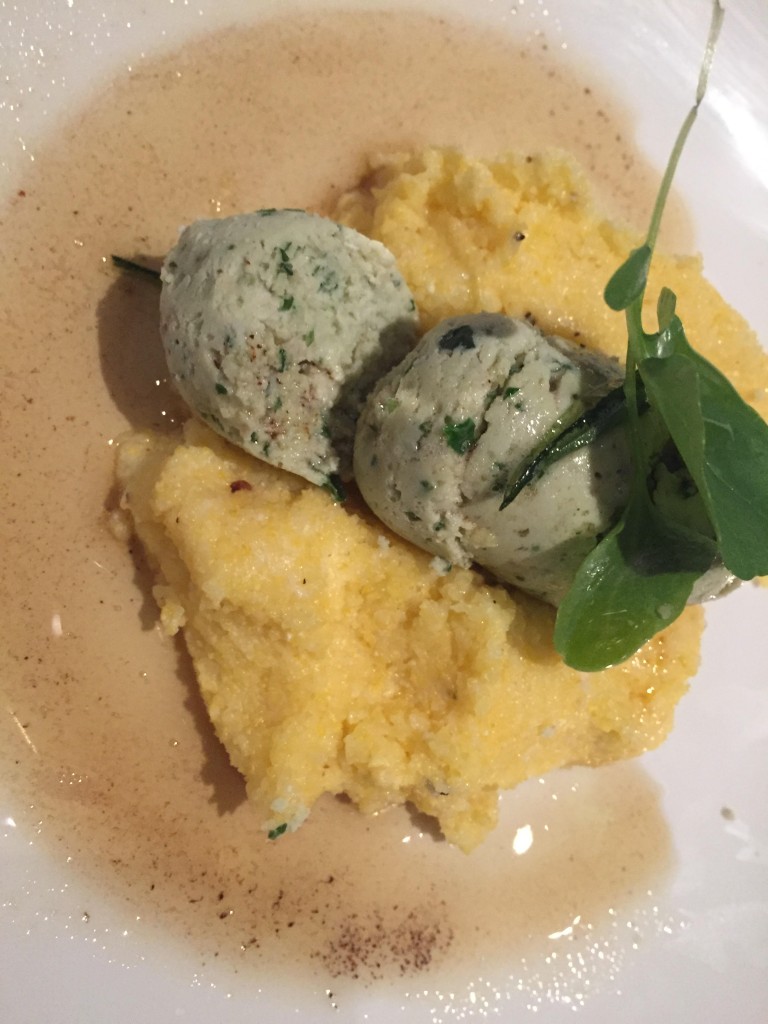 Tiffany challenged her time restraints by creating a housemade ravioli as her follow-up dish, filling the pockets with cobia and crab and accenting the ultra-fresh creation with rich saffron cream sauce. This wholesome and ambitious dish earned rave reviews.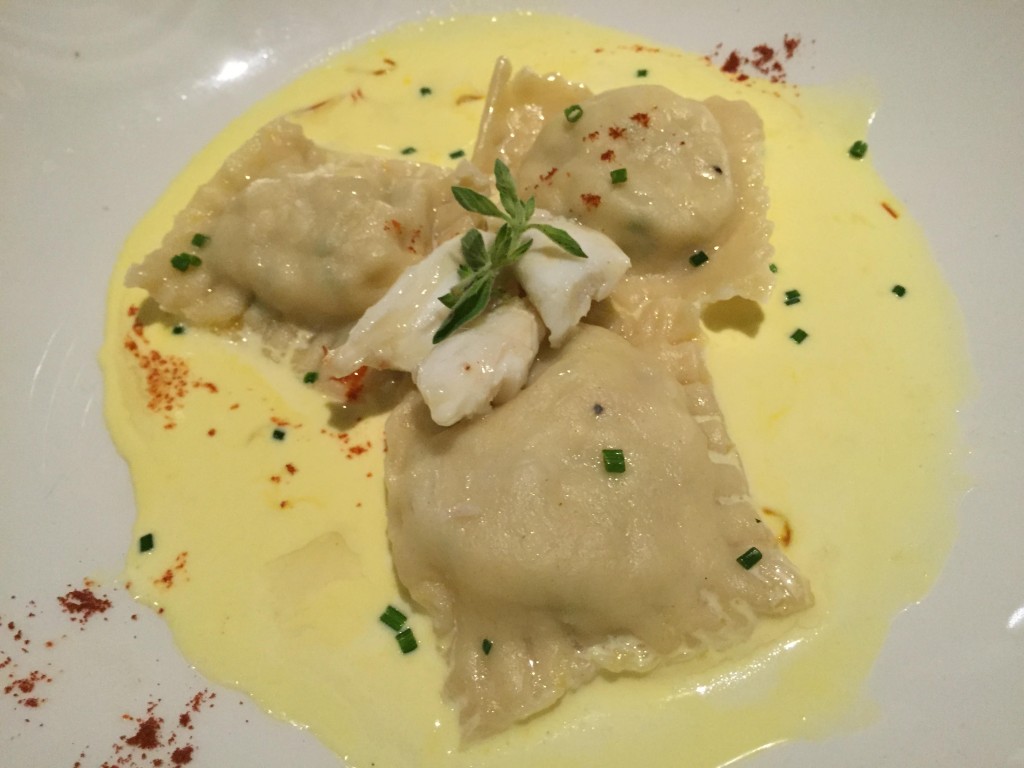 Damion maintained the momentum in the second round by busting out an addictive take on the classic fish and chips. He created the ultimate Oriental-inspired, crunchy-skinned cobia, with fried shoestring diakon as the "chips" and a side of wasabi-malt vinegar for dipping. The judges couldn't stop eating this one!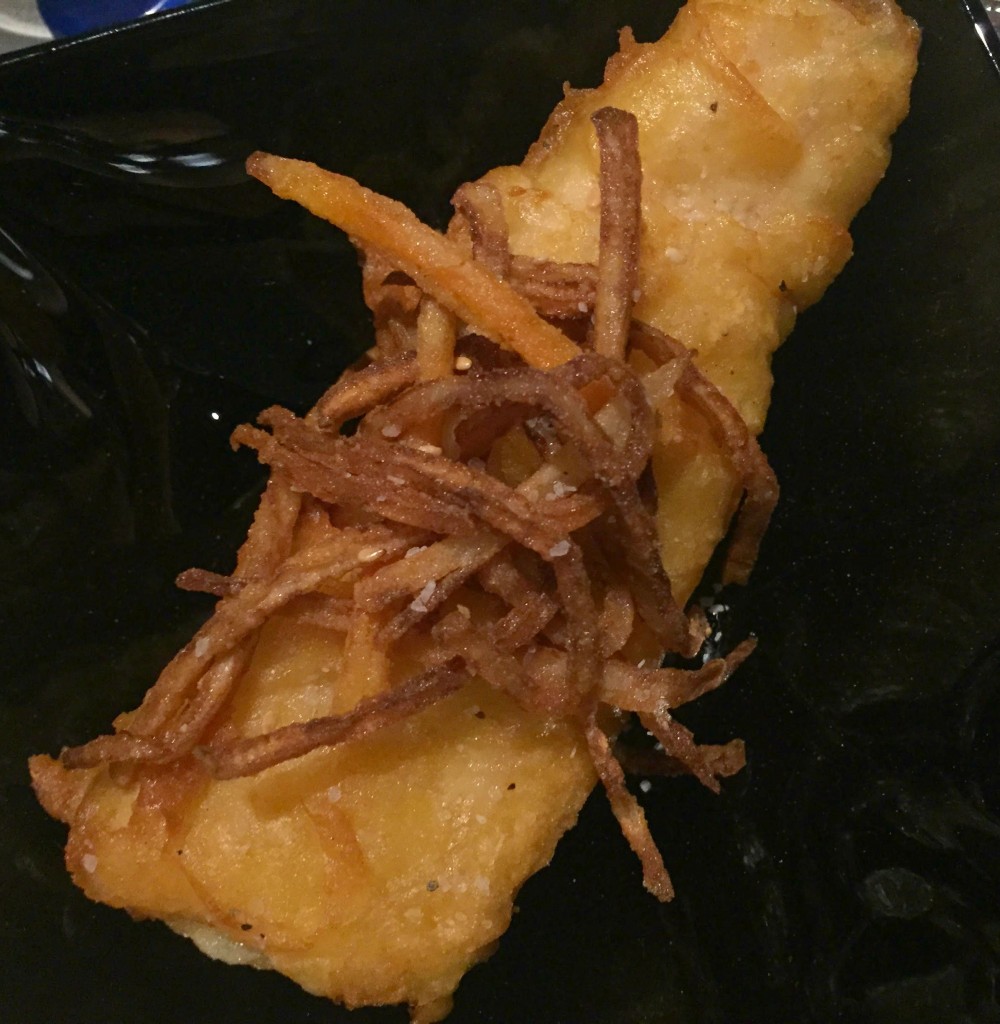 Round Three …
The final round of the heated battle was fierce and just as inspiring as the first two rounds.
Tiffany maintained her elegant, refined approach to the competition by executing a panko- and sun-dried tomato-stuffed pan-seared cobia served with brandy reduction. The fish's crispy skin was perhaps the day's best preparation, making it stand out as the best use of the day's secret ingredient.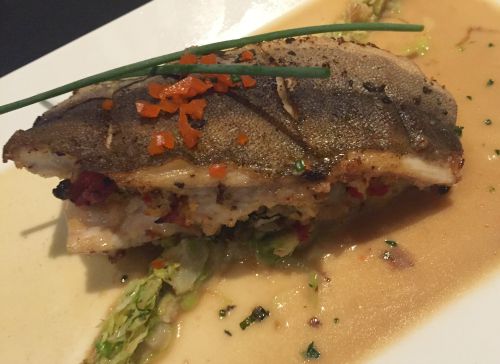 Damion continued his love of Asian-influenced dishes by presenting a ginger-lemongrass foam-topped cobia with a dollop of wasabi-infused mashed potatoes.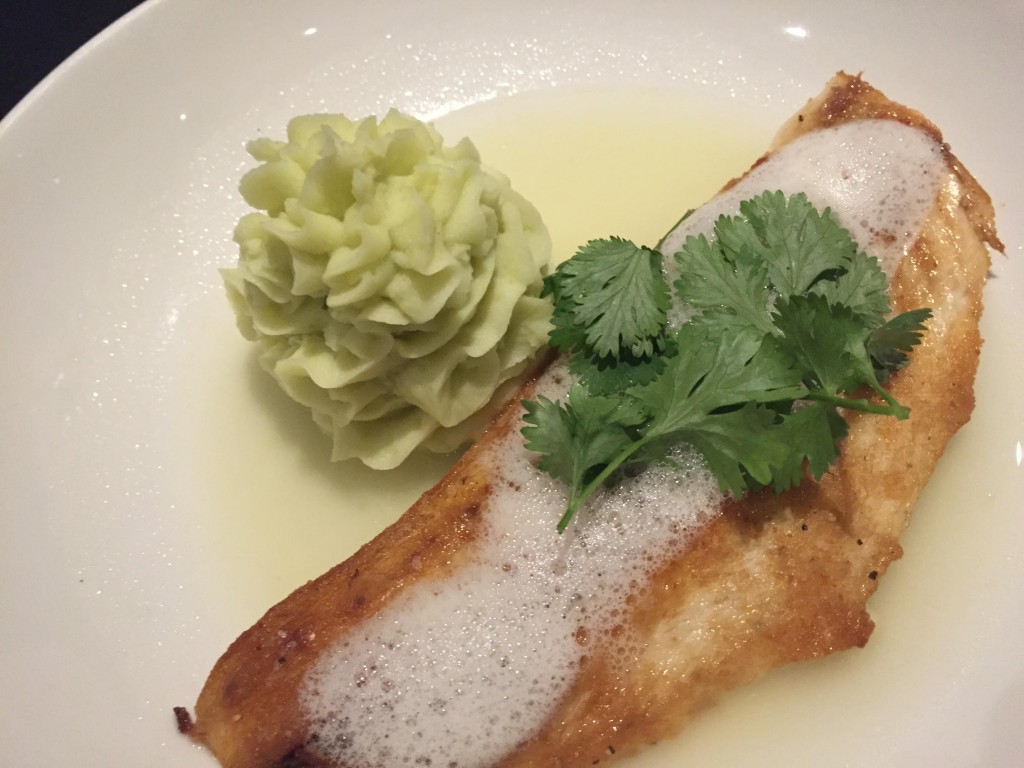 Chef Jon was also on the same page as Damion with similar influences, executing a hearty, visually appealing udon noodle bowl topped with pan-seared cobia and a miso-cobia fume.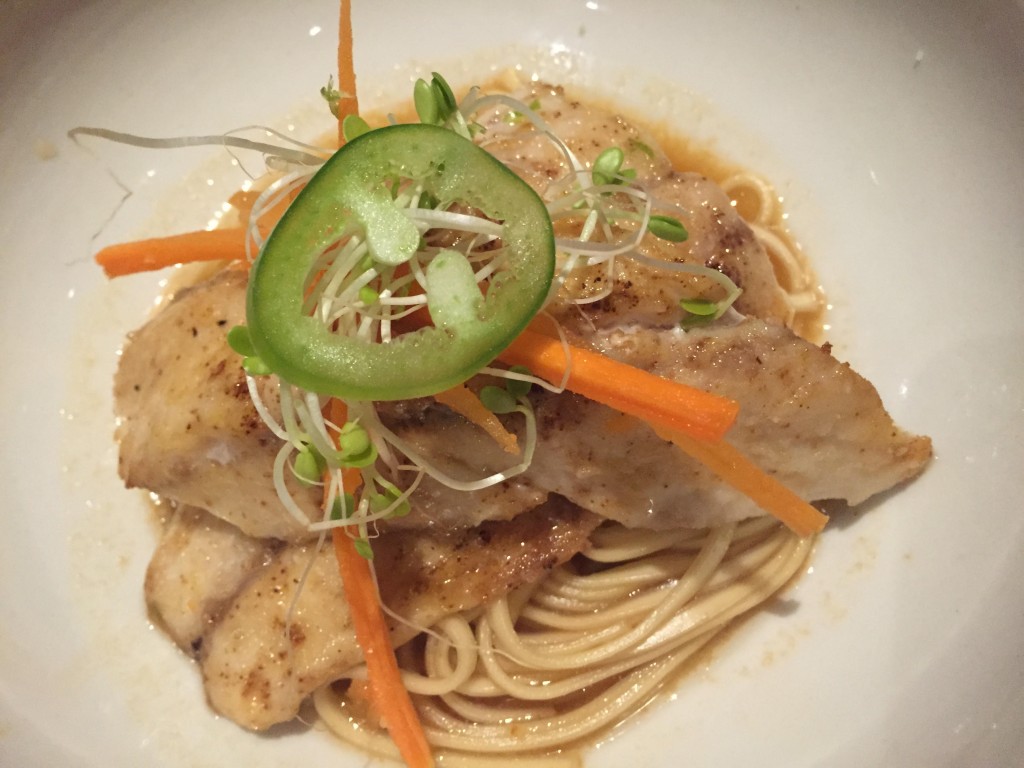 And the winner is …
After battling through the delicious affair of analyzing nine competing dishes, the day's judges (Amy Strauss, Editor-in-Chief of The Town Dish; Rick Drane, owner of Mattes Seafood; and Rich Pepino, Executive Chef of Drexel University Center for Hospitality & Sport Management) pow-wowed—with score sheets and tasting notes—to narrow down the overall champion of 2015's cook-off. With each chef deserving of a blue ribbon for overall showmanship, recipes and presentation, it was daunting task to crown the best in show.
Congratulations to chef Tiffany Giove, who distinguished herself as the leading competitor of 2015's Iron Hill Iron Chef battle. The chef, who you can catch daily at our Voorhees location, showcased her remarkable talents aside her equally talented sous chefs by creating thought-provoking, French-inspired dishes that repeatedly pushed the judges into culinary oblivion. Not to mention, this female chef knows her way around a whole cobia, with the secret ingredient executed with pure grace and elegance.
Bravo chef, you've earned this honor!
With 11 locations in Pennsylvania, Delaware and New Jersey, there's an Iron Hill Brewery & Restaurant near you. We specialize in handcrafted beers and fresh, from-scratch New American cuisine. Monthly releases vary by location, so scout out our beers on tap and visit us soon.
Content provided by Dish Works.