When it came time to celebrate Lucy's birthday, Tom and Margaret Muns knew there was just one place to go: Iron Hill Brewery & Restaurant's outdoor patio.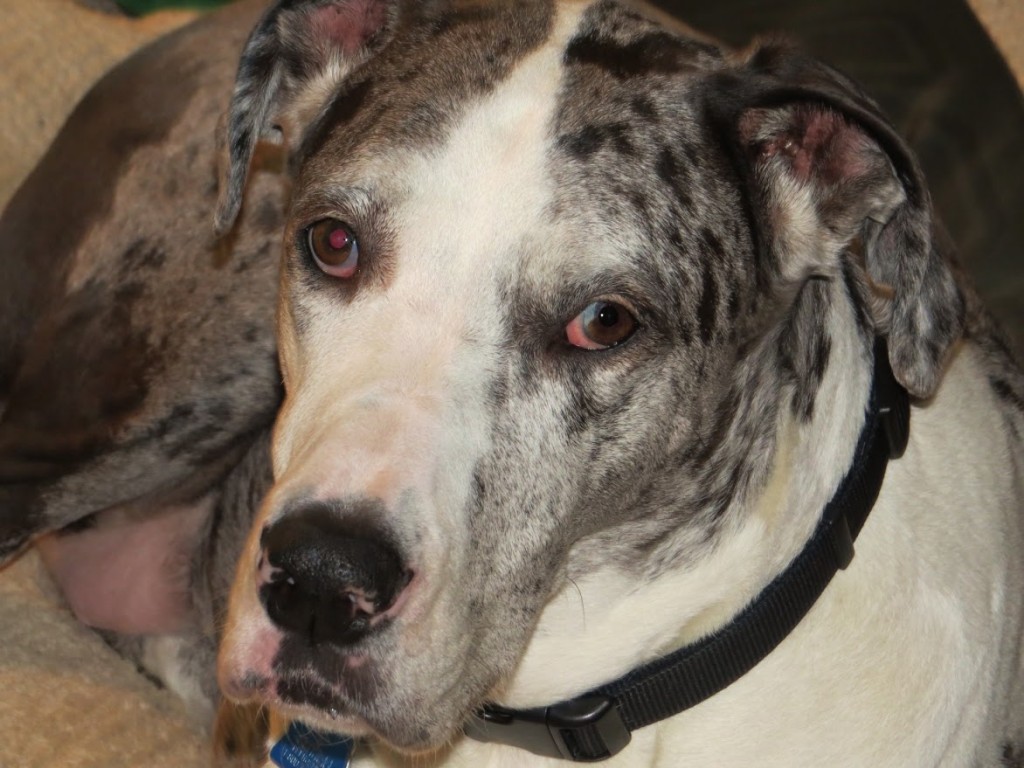 Although many celebrate their special events with our Voorhees team, revelers are usually of the human variety. On that recent warm evening, however, the happy birthdays were sung to Lucy the rescue dog, one of our very favorite customers.
And we really like her human parents, too.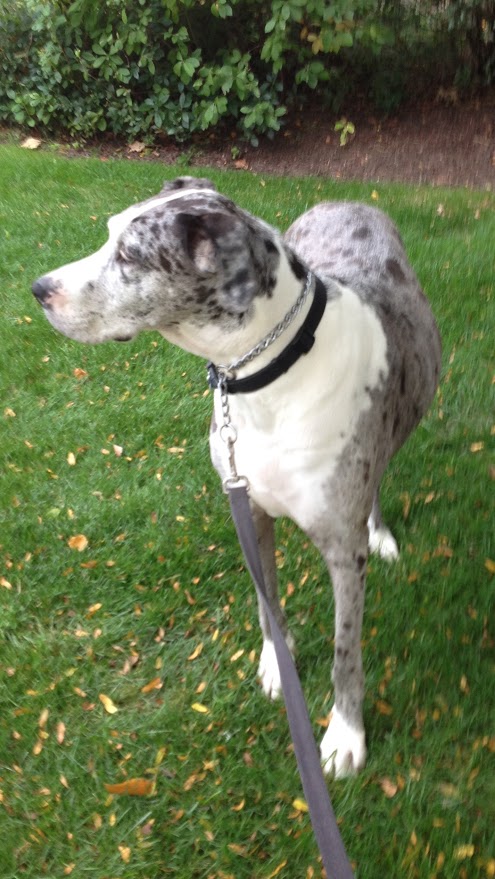 "Lucy became special to us at Iron Hill Voorhees because her parents are in so often—we enjoy great conversations with them," said Assistant General Manager Chad Phillips. "Lucy is such a big dog that she commands attention just with her size alone. But then when you meet her—she's just so sweet."
Lucy is the seventh Muns Great Dane; Tom got his first when living in Texas in 1975. When they moved here and their previous Dane went to the big dog park in the sky, Tom and Margaret decided to look into a rescue dog.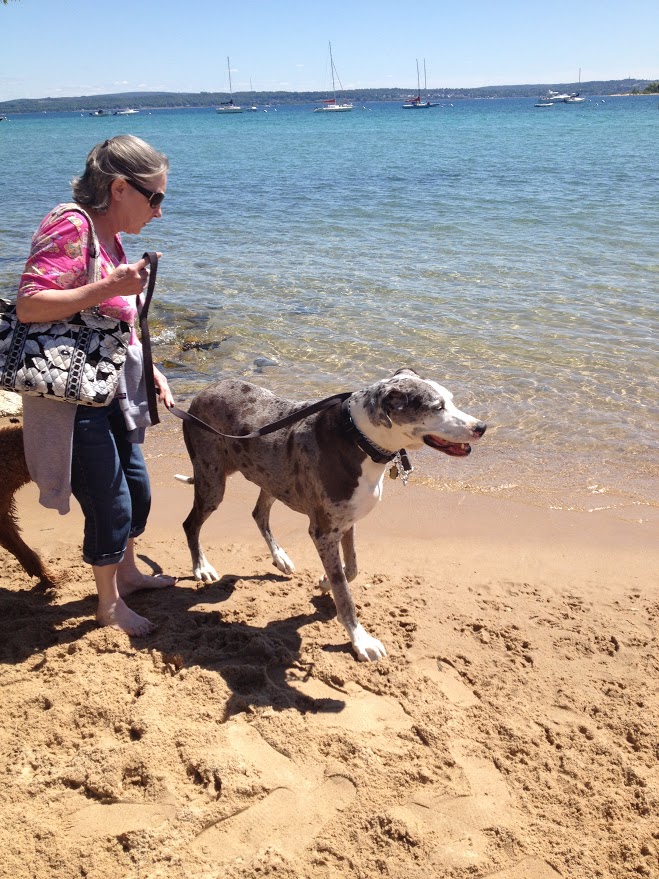 "We love the breed, and we were open to an older dog," Tom said. "We're not really set up for a young dog anymore as our townhouse doesn't have a big yard. Lucy was eight when we got her, so we're all seniors in the same stage of life. We can't believe we got so lucky to get Lucy."
The Muns adopted Lucy from the Mid-Atlantic Great Dane Rescue League and have high praise for that organization and for the woman who raised Lucy from a pup, but could no longer keep her.
"Lucy is very well trained and has the perfect temperament," Margaret added. "The rescue really screens you—right down to a home interview—and we passed the test to get our Lucy. It will be two years in November."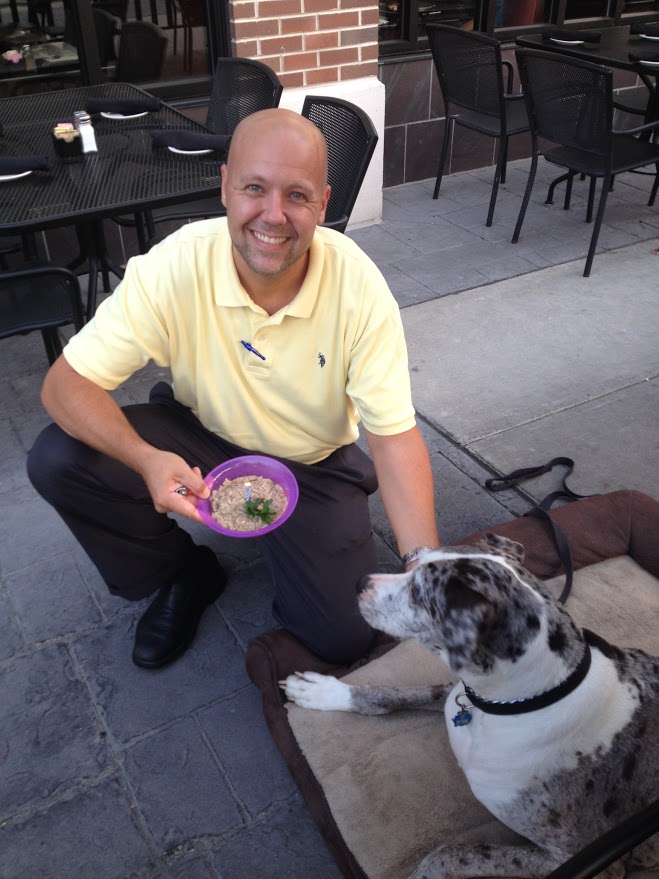 Since then, lucky Lucy has become a regular at our Voorhees location. The Muns say she knows exactly where she's going when it's time for a "car bye-bye." And no wonder Lucy can't wait to get to Iron Hill: the outdoor patio is a gorgeous place for humans and their well-behaved canines.
"I first remember meeting Lucy several months ago on the patio," Chad recalled. "I thought it was so funny and sweet that her parents brought a bed for her to lay on instead of the hard concrete. I knew she was a very loved dog just by that."
Since Lucy is such a rock star at dining out, we asked the Muns for a few pointers. They said their top tip is to bring a bed and a water bowl: those comforts of home provide a safe spot for your pup to relax and take in the sights.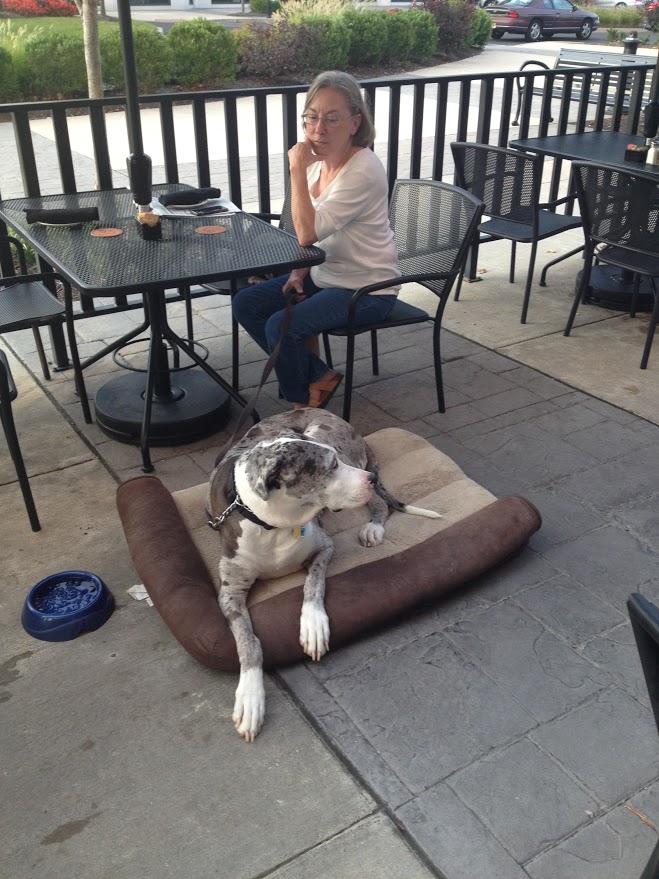 "You also have to consider the dog's personality: not all are good in a restaurant setting," Margaret noted. "If they bark, are afraid of strangers, don't get along with kids or other dogs, then it's best for everyone that you leave your dog home."
Tom concurs and adds, "As owners of a large dog, we're really cognizant of the people around us. Not everyone is a dog person, and even some dog people take a second look at our 135-pound pup. But, Lucy is an exceptional dog. She's quiet and gentle."
And good dogs get treats, like one of the two special meals Iron Hill Voorhees has available for four-legged friends. Our chef reached out to a few vets to find out what was pet-friendly to serve at a charity event we did, and it just took off from there. We offer two selections for pets on a limited basis: Chicken and Rice Meatloaf and Beef and Rice Meatloaf. Both are bland so they don't bother your pooch's stomach. Plus we top them with a sprig of parsley for fresh breath.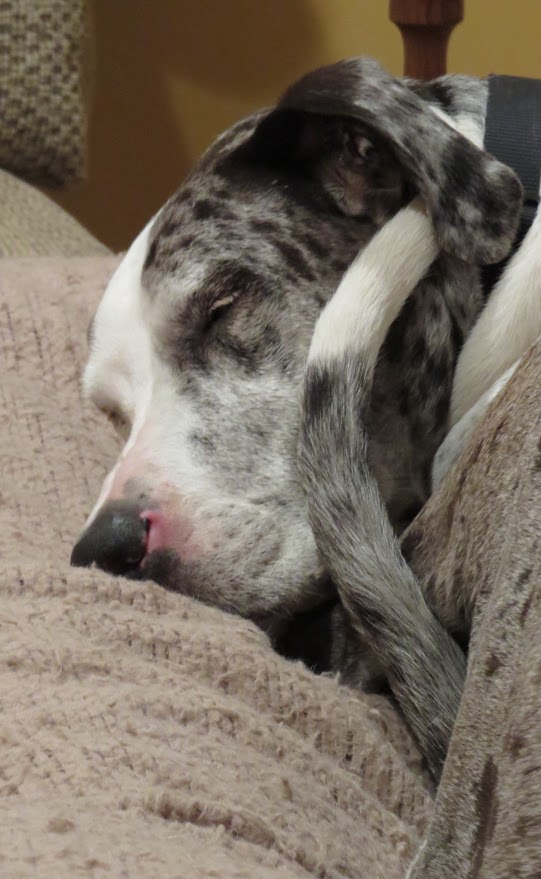 In Lucy's case—it was her birthday, after all—her special dinner was topped with a birthday candle and accompanied by her favorite staff and servers singing "Happy Birthday."
Pets and their humans are welcome to dine on our outdoor patio, weather permitting. Once the patio closes, it's humans-only until Mother Nature graces us with springtime warm weather once again. As the seasons change, it's best to give us a quick bark … err, call … to make sure outdoor dining is available: (856) 545-9009.
With 11 locations in Pennsylvania, Delaware and New Jersey, there's an Iron Hill Brewery & Restaurant near you. We specialize in handcrafted beers and fresh, from-scratch New American cuisine. Monthly releases vary by location, so scout out our beers on tap and visit us soon.