"I cannot tell a lie: Bacon is my favorite vegetable," admitted David Foster, our Wilmington Executive Chef. You know a love affair with all things porcine is real when someone's bursting at the seams to say those words.
Any doubts you might still have about Dave's bacon obsession will fade quickly when you realize he's crafted a bacon-infused cheesecake that also uses bacon fat instead of butter in the crust and bacon in the topping. It makes his Bacon-Brisket Chili almost sound tame.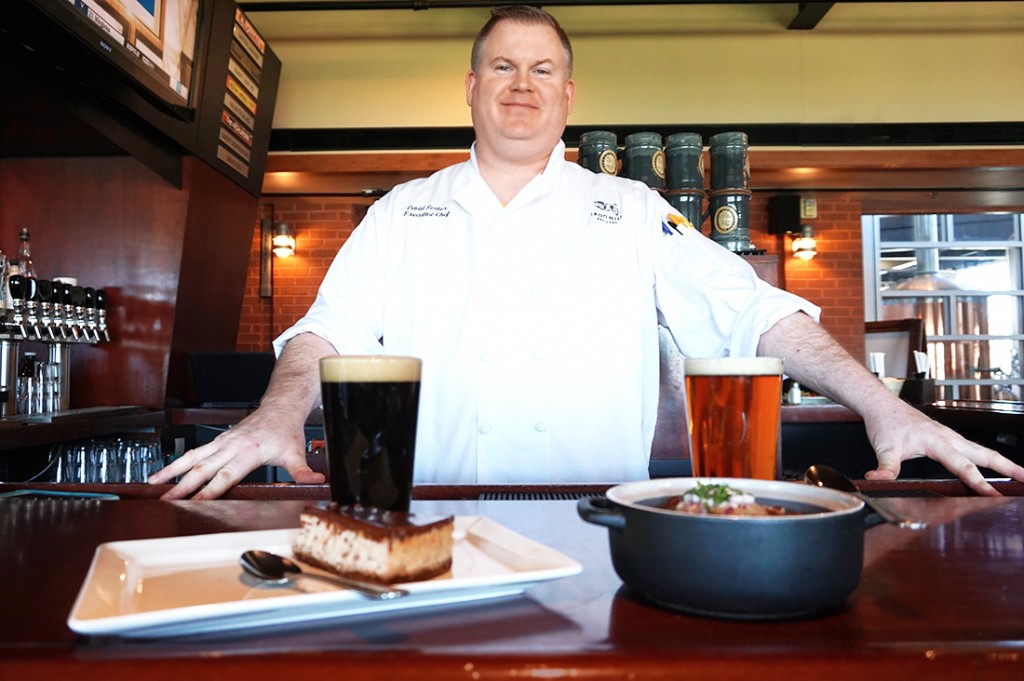 "My adoration for bacon started early; I've loved it as long as I can remember," he added. "I'm addicted to the flavor, the texture and all that saltiness. It's perfect."
Donning his Iron Hill Brewery & Restaurant toque, Dave explains that bacon is a universal product that can go with virtually everything. He cites it as an obvious go-to atop burgers, other sandwiches and salads, thanks to its slight crunch and smoky notes. But Dave is an equal opportunity piggy parts purveyor. Case in point: He pays homage to bacon's upper-crusty side by using roasted pork belly to wrap the filet whenever he makes a Beef Wellington.
"Pork belly is rich, almost buttery, and that makes it a natural with the Wellington's savory mushrooms and puffed pastry," he added with a slight drool.
Back to the bacon-laden cheesecake. Dave spent time as a baker and found it natural to incorporate his favorite "vegetable" into confections. Now, bacon is the darling of the treat scene, showing up candied, dipped in chocolate, nestled in toffee, mixed into brittle and tucked into cupcake frosting.
"Saltiness is a natural partner for sweetness," Dave said. "Chop up bacon and fold it into chocolate brownie batter to taste how bacon's characteristics brings out chocolate's sweet notes."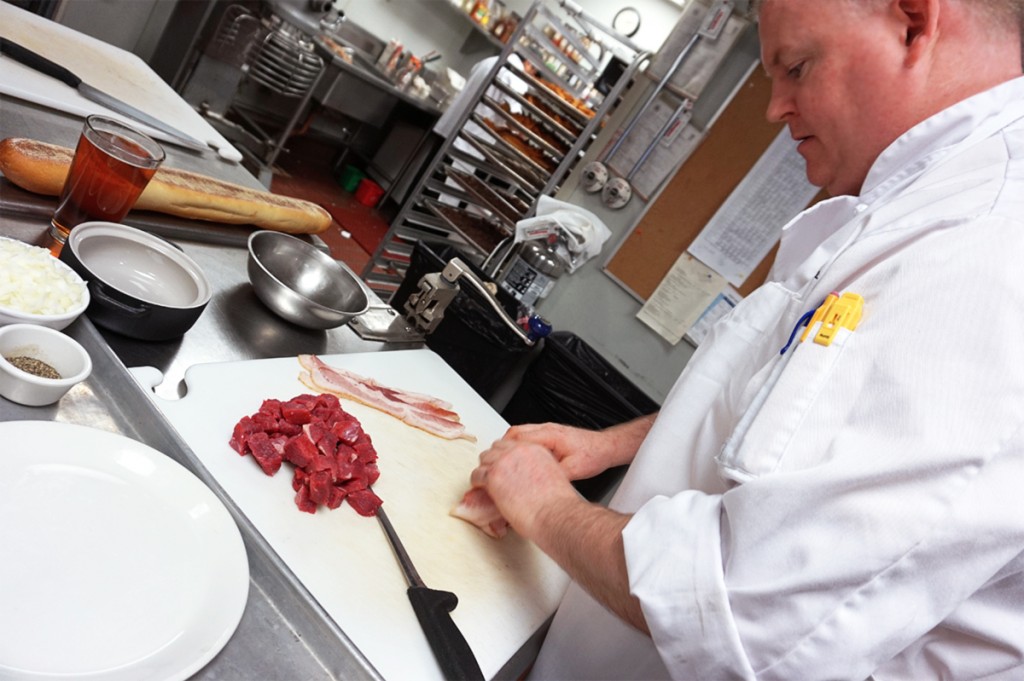 Another natural pairing? Bacon and beer. As a restaurant and brewery, we know a little something about that combo. Iron Hill has had its share of beer-and-bacon dinners (and will continue to offer them) that Dave and his fellow chefs see as opportunities to not only show off bacon's greatness as an ingredient, but also to pair it with Iron Hill beer.
"You open a door when you pair beer with bacon," Dave noted. "You're used to seeing a good contrast (something spicy, like our fiery chipotle chicken wings app with our hoppy Ore HouseⓇ IPA) and a complement (something creamy, like our Triple Chocolate Hill dessert with our malty Russian Imperial Stout). Yet, it's even better when you add bacon. The saltiness and richness we've been talking about cuts through something hearty like a classic chowder, and when you add a less-hoppy beer, like our Vienna Red™ Lager, it further cuts through the cream without overpowering the flavors. Bacon really is the perfect food. Have I mentioned that?"
Dave gets a bit nostalgic when mulling over his versatile, favorite ingredient. "A lot of people think bacon and think grocery store sliced bacon. Some know about pork belly. I invite you to think outside the breakfast menu and try prosciutto and pancetta, and to sample other cuts of meat like rib eye, lamb, goat, duck—you name it!—that have been cured in the style of bacon. Take a risk. You can't go wrong!"
You also can't go wrong with these two recipes, either, courtesy of our Dave "Bacon King" Foster. Stop by your favorite Iron Hill and grab a growler of our Pig IronⓇ Porter and Vienna Red™ Lager so you'll have some for cooking and some for taste testing. Cheers!
Bacon-Brisket Chili
Serves 8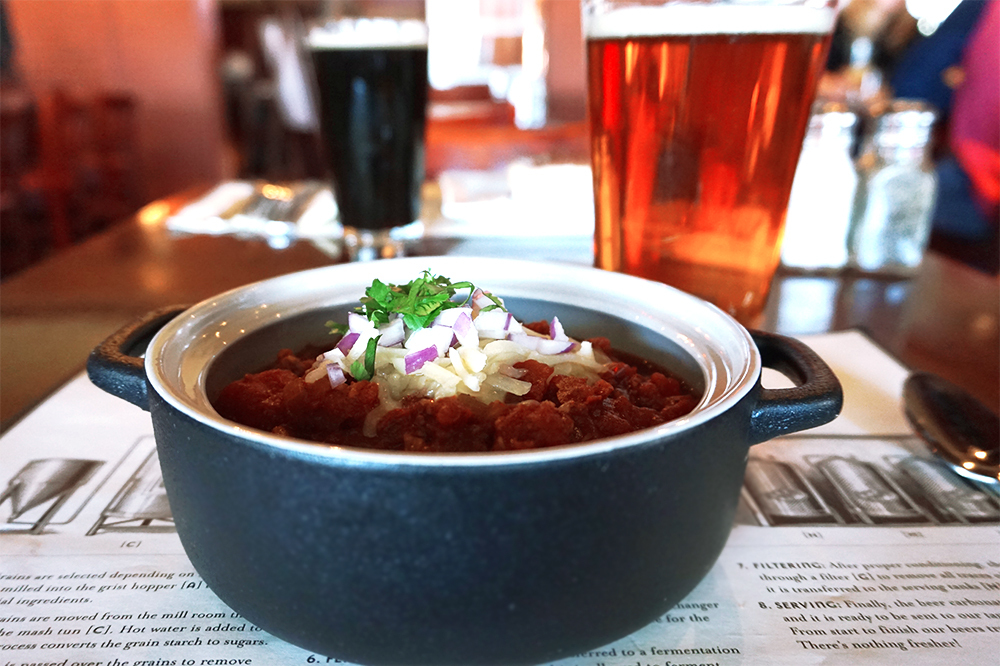 Ingredients:
3 pounds beef brisket, cleaned and cut into 2-inch cubes
Kosher salt, to taste
4 ounces vegetable oil
1 pound bacon slices
1 pound yellow onion, thinly diced
3 tablespoons garlic, chopped
3 tablespoons chili powder
2 tablespoons cumin powder
1 teaspoon dried oregano
2 teaspoon kosher salt
3 10-ounce cans diced tomatoes
12 ounces Iron Hill Vienna Red™ Lager
1 teaspoon black pepper
Optional garnish:
Monterey Jack cheese
Red onion, minced

Method:
Trim and cube beef brisket into 2-inch cubes and season with salt.
In a large pot, heat oil and sear brisket on all sides in batches; don't overfill the pan.
Reserve beef on separate plate.
In remaining oil, cook sliced bacon until crisp.
Reserve bacon on separate plate.
Add onion and cook until soft.
Add garlic and cook until aromatic.
Add all dry spices and cook for 30 seconds.
Deglaze pan with Vienna Lager (this will combine all the spices and loosen items from pan).
Add tomatoes and incorporate.
Add reserved beef and any liquid remaining.
Add reserved bacon and incorporate.
Bring to a simmer and let cook for 2 hours or until meat is tender.
Season with salt and pepper to taste.
Chocolate Porter Cheesecake
Serves 12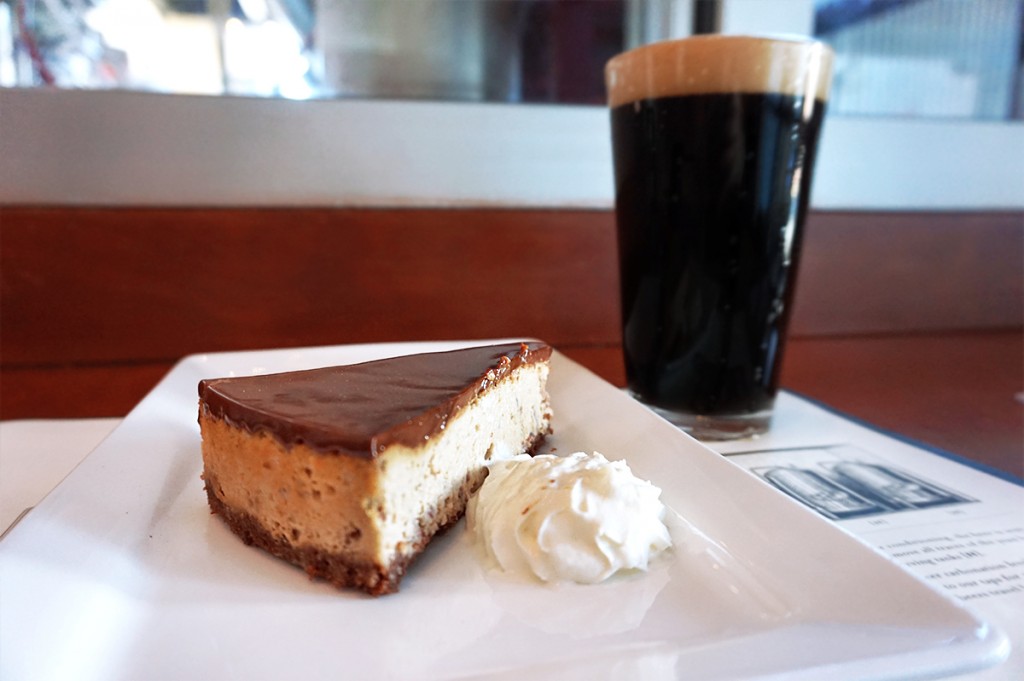 Ingredients:
Crust:
1 cup graham crackers, crushed
2 tablespoons granulated sugar
2 tablespoons cocoa powder
4 ounces bacon grease, melted
Cheesecake:
1 1/2 pounds cream cheese, softened
1 egg
2 egg yolks
3 ounces Iron Hill Pig IronⓇ Porter
1/2 cup granulated sugar
1/2 tablespoon cocoa powder
3/4 cup cooked bacon, chopped

Method:
Mix first four ingredients in mixing bowl. Stir in bacon grease by hand to ensure completely mixed.
Add the mix to springform pan and press into a crust. Place pan in refrigerator for 30 minutes.
Preheat oven to 325 degrees.
In tabletop mixer, cream together all ingredients except for cream cheese.
Add cream cheese to bowl and mix until smooth, about four minutes, wiping down sides often.
Add batter to springform pan.
Place springform pan on cooking or baking tray deep enough so water added covers the bottom of the springform pan.
Bake at 325 for 30 to 40 minutes, checking with toothpick until it removes from cake clean.
Remove cake from oven, place on clean sheet pan and cool overnight in the refrigerator.
Once cold, evenly spread 1 cup Chocolate Porter Ganache (see recipe below) over cheesecake. Cut into 12 pieces.
Chocolate Porter Ganache
Ingredients:
2 cups heavy cream
4 ounces Iron Hill Pig IronⓇ Porter
1 ounce bacon grease
1 tablespoon unsalted butter
10 ounces semi-sweet chocolate chips
Method:
Place chocolate chips and beer into bowl.
Heat heavy cream, bacon grease and butter to a simmer and pour over chocolate-beer mix.
Allow the mixture to sit for 2 to 3 minutes to soften the chocolate.
Mix thoroughly to incorporate chocolate until smooth.
Let cool to room temperature and refrigerate.
Let set overnight so it will be spreadable.
Click here to see our Beer & Bacon Madness menu, available 3/23 – 4/3.
With 12 locations in Pennsylvania, Delaware and New Jersey, there's an Iron Hill Brewery & Restaurant near you. We specialize in handcrafted beers and fresh, from-scratch New American cuisine. Monthly releases vary by location, so scout out our beers on tap and visit us soon.
Photos: Sophia DiPersio, Iron Hill