For the past 20 years, Iron Hill has attended the Great American Beer Festival (GABF) in Denver, Colorado—a prestigious beer festival and competition that boasts "the largest collection of U.S. beer ever served." Each year we send a handful of our employees to the festival to immerse them in the craft brew culture. For those fortunate enough to attend, the three day-long event is a whirlwind of tastings, brewery tours, company outings and more. To put it simply—the entire trip is a damn good time!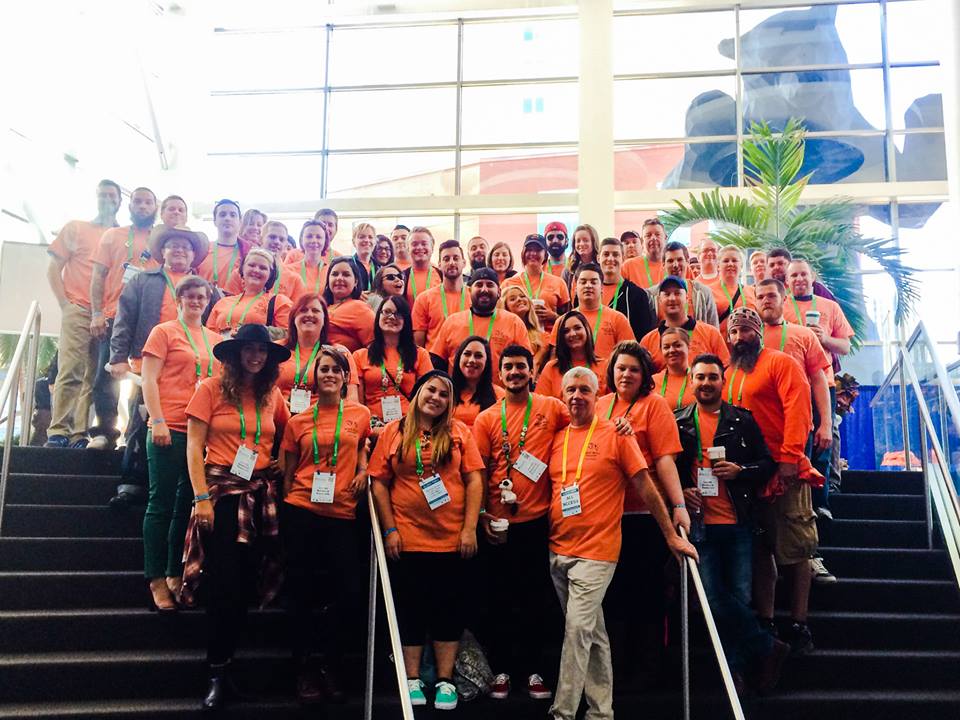 Unfortunately, not every employee gets to make the coveted trip to Denver. (Someone's gotta stay here and serve you the tasty stuff!) So, to include everyone in the GABF spirit, we began hosting a companywide GABF Staff Party. In its 20th year, the 2016 party featured a casino setup, DJ and dance floor, photo booths, a buffet, Iron Hill beer, and a major highlight of the night—a donut wall! You read that right… a donut wall. A wall. Made of donuts. It was as amazing as it sounds.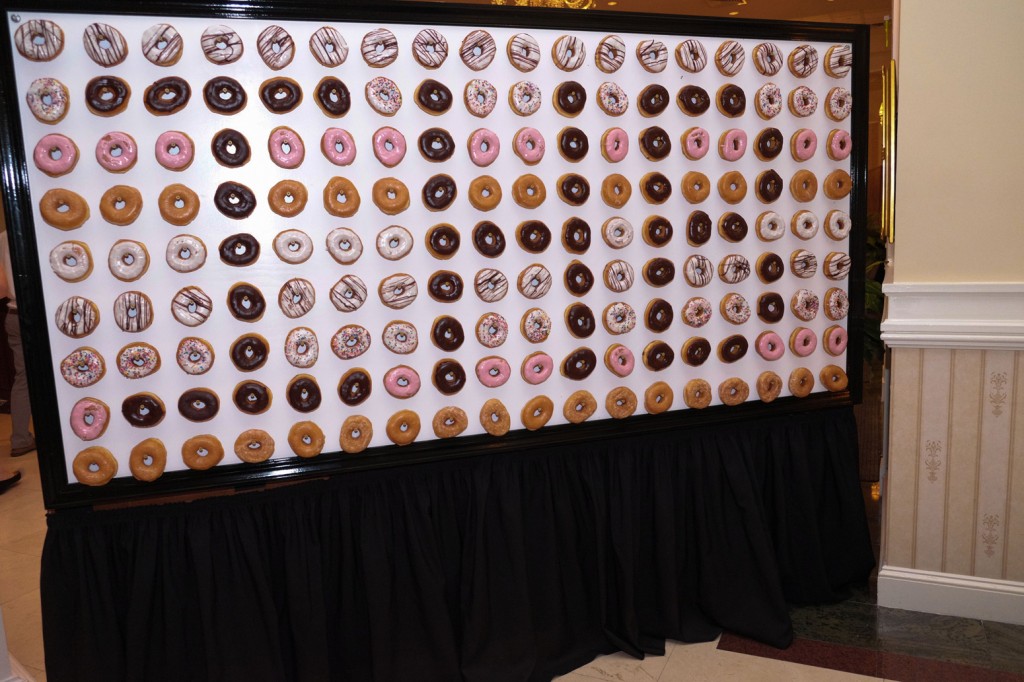 Nearly 600 people attended the festivities, giving employees from all locations and positions a chance to meet and mingle. For Tim Stumpf, Head Brewer in West Chester, this is the best part of the event.
"My favorite part of the GABF party is definitely seeing all of my old friends who I have worked with over the years. I've been with Iron Hill since 1998, and worked for extended periods in the first 6 Iron Hill locations, so it's really great to see how far all of my friends have come. Some are department heads now, others are starting families, it's really great to have a chance to catch up and reminisce about old times."
The evening is filled with dancing, laughter and a sense of camaraderie most companies only dream about. That camaraderie is a result of Iron Hill's core values and something we strive for on a daily basis—to inspire loyalty, not just from our guests, but within the company as well.
To make the party possible, each Iron Hill location shuts its doors a few hours early to allow every employee the opportunity to attend. According to Shannon Mahoney, a manager at our Huntingdon Valley location, this speaks volumes about our culture.
"I don't know many restaurants/companies that are willing to close down all of their locations so that their staff can have a night off and enjoy themselves with one another. It's a huge 'thank you' to all of the employees and I think it continues to build the positive culture that Iron Hill strives and thrives on!"
As Lorraine Serva, Director of Human Resources, sees it, hosting this event each year really highlights the importance of the "People" aspect of our three core values—People, Product, Profit.
"We have a major party where we invite 1000+ employees. We rent a DJ, casino night, photographer, photo booths, this year a donut wall, and we have a full buffet. We even order busses to take away the worry of figuring out transportation. It's quite an undertaking and the fact that we lose revenue by closing all locations for the night is secondary to creating a memorable evening to celebrate our employees and all that they do. If we were only concerned about profit, we'd never be able to have this lavish 'Iron Hill Prom.'"
In addition to all the fun stuff we rent for the evening, we also use the party to hand out a few awards. (This party just keeps getting better, huh?) First of the night is the Brewie, awarded this year to the Phoenixville team. The Brewie recognizes the location that leads the year in categories like sales, safety, customer surveys and more.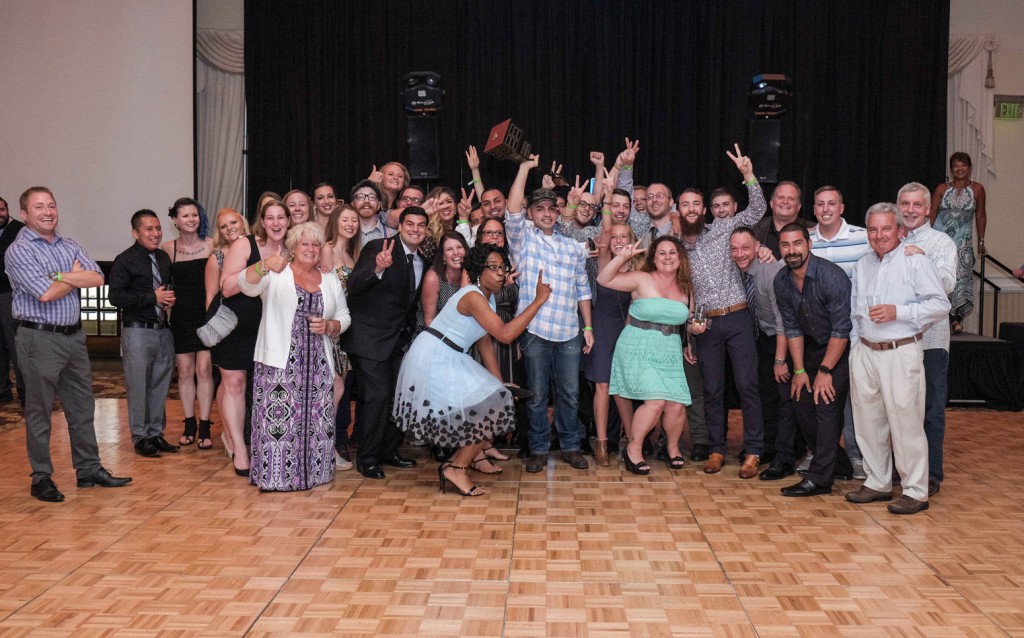 Up next—awarding one person from each location a trip to GABF! That's right, an employee from every restaurant wins a trip to Denver on the Iron Hill tab. Pretty cool, huh? Everyone 21+ is eligible and entries are gained on a points based system, with points being given for things like hours worked, years of service, brewing for a day, bottling, safety committee and more.
For Regional Brewer Kevin Walter, being present when the winners of the Brewie and GABF trips are announced is a major highlight of the evening.
"My favorite part of the GABF party is seeing the reactions from the staff when Mark Edelson, Kevin Finn and Kevin Davies give out the awards. It's awesome to see how excited they are."
Once the awards are said and done, the rest of the night is dedicated to drinking beer, dancing and battling it out over Blackjack at the casino tables. (Oh, and donuts. Can't forget that donut wall!)  As Co-Founder and Director of Brewery Operations Mark Edelson notes, this event gives people who work on typical off-times like nights, weekends and holidays a chance to get together and let loose.
"In the hospitality business, we work when everyone else plays, so it is nice to set some time aside, shut down the restaurants and gather. I think it is great that we can all get together in one place. It is an opportunity for us to give back and throw a big party for staff and celebrate their   hard work."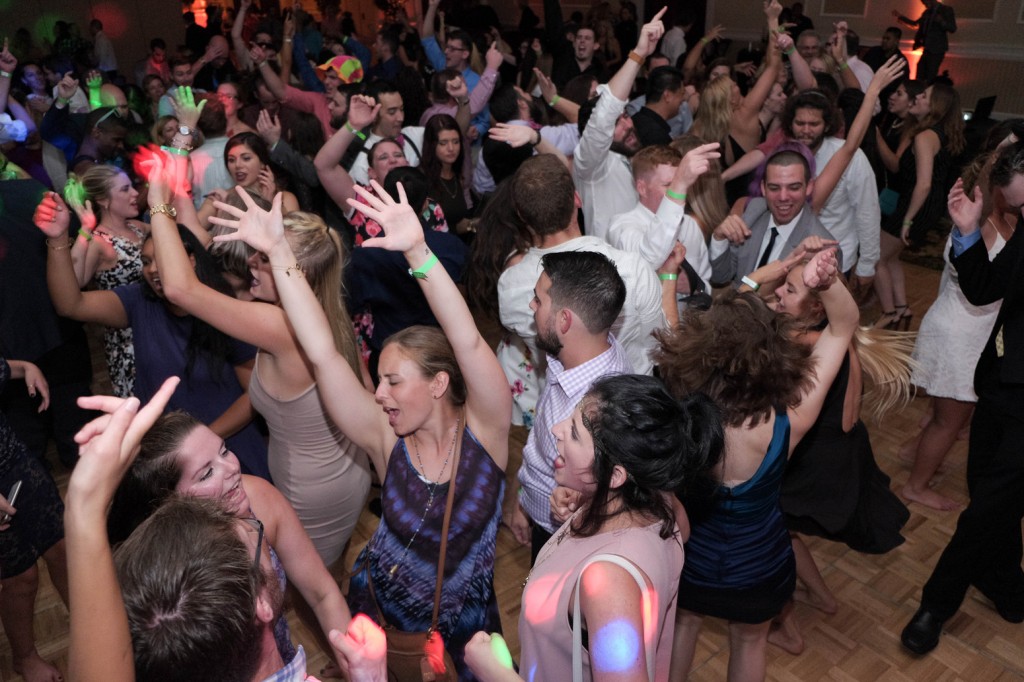 For Kevin Finn, Co-Founder and President, throwing the GABF Staff Party shows our dedication to inspiring loyalty year after year, and is a testament to the Iron Hill culture we've built since day one.
"It's special because it is a tradition and we have stuck to it over the years. More importantly, I find it very fulfilling when so many employees come up and personally thank us for the party. Culturally, it reinforces how important our employees are to our success."
With 11 locations in Pennsylvania, Delaware and New Jersey, there's an Iron Hill Brewery & Restaurant near you. We specialize in handcrafted beers and fresh, from-scratch New American cuisine. Monthly releases vary by location, so scout out our beers on tap and visit us soon.
Content provided by Sophia DiPersio
Photos © Brian Penn