Advice from your local Iron Hill brewers: Raid the Kid's Halloween Candy for a Great Beer and Candy Pairing!
Halloween is one of our favorite holidays for two reasons:
1. You can stay at home, watch horror movies, drink beer and hand out candy to trick-or-treaters.
2. For those of us with kids, we have a steady supply (a week or two at least) of sweets to pair with our favorite fall beers.
Yes, you heard us right, we love pairing Halloween candy with our Iron Hill Brewery fall beers. Here are our favorite beer and Halloween candy pairings…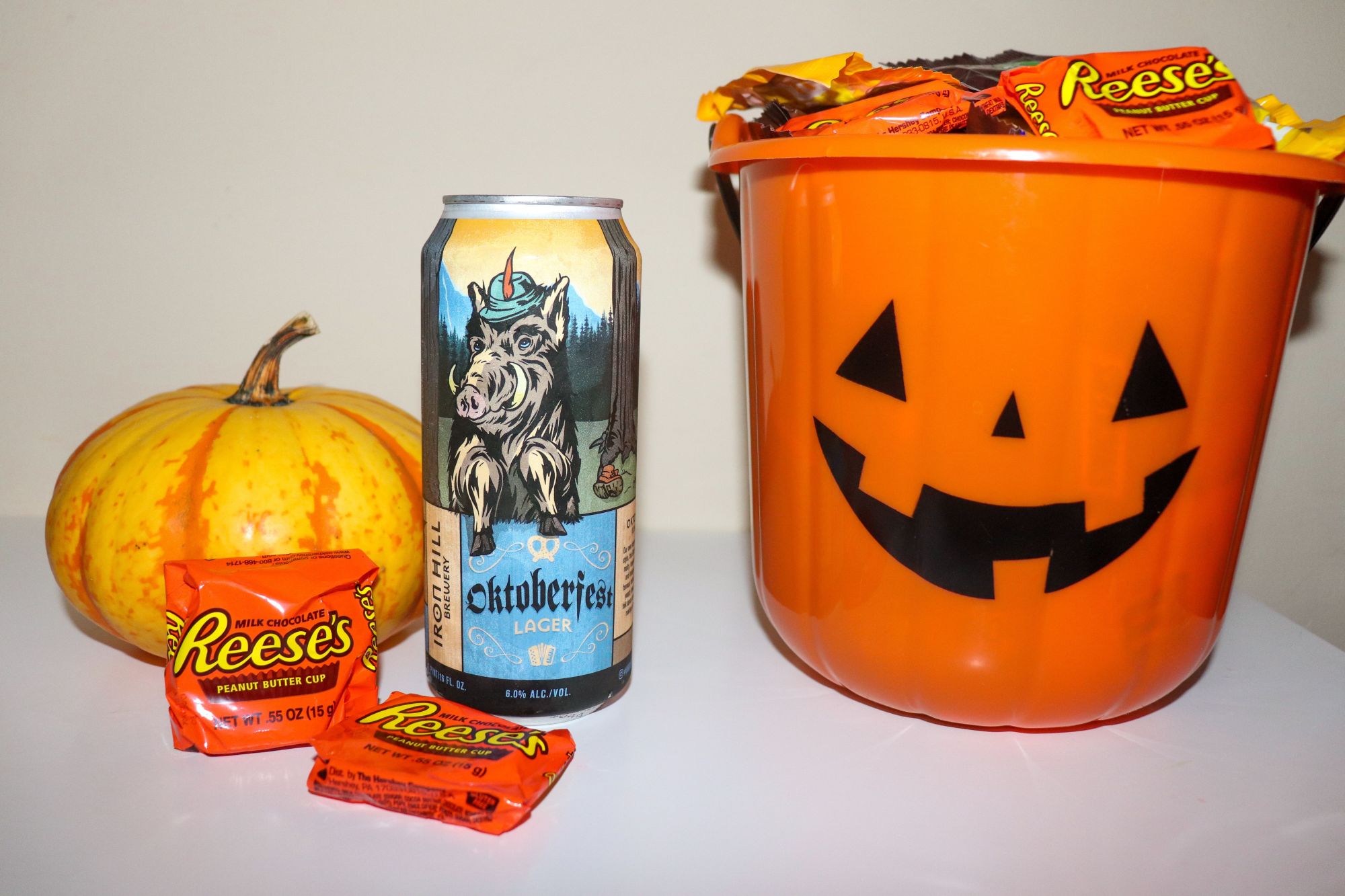 Reese's Peanut Butter Cups & Oktoberfest:
You might not think of a Reese's Peanut Butter Cup as a salty snack, but when paired with Oktoberfest, those roasted peanuts come on strong. Hoist our Oktoberfest lager, full of malt and sweetness, but clean and crisp in the finish to enhance your next bite.
Candy Corn & Pumpkin Ale:
Our Pumpkin Ale is packed with fall flavors like caramel, cinnamon, nutmeg and vanilla. Boost the sweetness of those seasonal flavors with a sweet sugar shot from the marshmallow-flavored Halloween favorite, Candy Corn.
Skittles & Lunchbox Hero:
Skittles are the classic fruit-forward candy of Halloween. Turn up the volume by pairing out slightly-tart and very fruity (pineapple & orange) Lunchbox Hero. The slightly tart Lunchbox Hero helps elevate the fruit flavors in your Skittles, while the pineapple and orange add just an extra layer of fruit flavor to this pairing.
M&Ms & German Pilsner:
What's Halloween without M&M's? Nothing. M&M's are a Halloween candy staple. With their sweet candy shell and chocolate core, a German Pilsner is the perfect addition. Our German Pilsner is lightly hopped, so it won't distract from the M&M's chocolate sweetness, but it still packs a clean crisp finish that cuts through the layers of sugar and refreshes the palate.
Snickers & Pig Iron Porter:
You know what really goes well with a peanut-packed Snickers bar? Our chocolatey Pig Iron Porter. The big malt flavors of chocolate, sweet caramel and light hints of almond and vanilla in Pig Iron Porter mix perfectly with the chocolate, peanut, and nougat from the Snickers bar.
Halloween is just around the corner! Check out what's on tap at your local Iron Hill, because let's get one thing straight: as adults, we might be too old to go trick-or-treating, but we'll never be too old to eat Halloween candy (and drink beer).
This article was contributed by Andrew Johnston. Andrew is a Regional Brewer at Iron Hill.