Throughout the year, you can visit any Iron Hill location and see how we expertly pair our from-scratch dishes with our handcrafted beers. From our beer-inspired menu items like the Ale and Onion au Gratin Soup, to our daily features that list a suggested beer pairing with each special, we strive to provide our guests with the full, integrated Iron Hill Brewery & Restaurant experience. Recently, we even added a pairing guide to our menu so guests know which beers best complement their meals.
But around Valentine's Day, we like to focus on a specific pairing that sometimes goes overlooked—beer and chocolate. Several of our locations have done pairings with local chocolatiers, so we've picked up some tips over the years of how to best combine these two favorites.
"Beer and chocolate is a great pairing if you're creative and a bit experimental," says Jeff Gundrum, the Head Brewer of our Huntingdon Valley location. "A lot of people think the whole idea sounds a bit ridiculous, but we've proved time and again that it's not."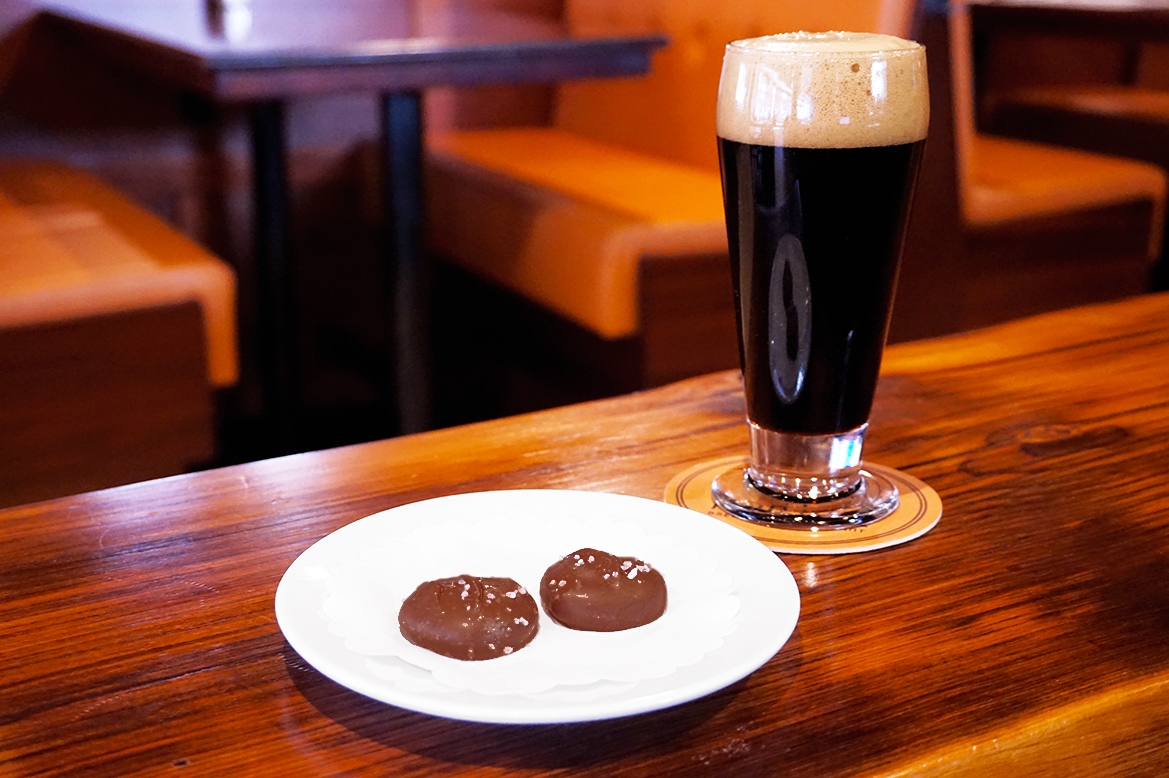 On February 8th, Jeff and the Huntingdon Valley team will hold their second annual Beer & Chocolate Pairing with Dr. Chockenstein of Mueller Chocolate Co. Guests will be treated to four handcrafted beers expertly paired with four delicious chocolates. The event will also feature Jeff's personal favorite pairing—our Dr. Chockenstein Chocolate Stout paired with Mueller Chocolate's Salted Caramel Dark Chocolate Pretzel.
"The beer itself is an English Sweet Stout with tons of actual chocolate added to the beer," he explains. "It's low in bitterness, full in body, and lots of residual sugar in the beer make for a nice sweet flavor."
Jeff then goes on to clarify that pairings, including beer and chocolate, can be approached several different ways. One style of pairing is through complementing flavors, where the flavors of a dish mimic the notes found in a specific beer. Another direction would be pairing contrasting tastes, where the flavors of a dish are enhanced by the opposing flavors of a beer. "An example of a contrasting pairing would be a spicy dish coupled with a sweeter, malty beer with low bitterness to cool things down," he says.
So which style does Jeff's favorite pairing fall under? "Definitely a complementary pairing. The dark chocolate of the pretzel melds together in harmony with the dark chocolate notes of the Stout. However, the salty notes of the pretzel work as a contrast to the sweetness of the beer. Overall, this pairing enhances the entire experience and adds multiple layers of flavor that would not be perceived if the beer and chocolate weren't eaten together."
Tickets to the Huntingdon Valley Beer & Chocolate Pairing are $35 each and can be purchased by calling 610.602.9255. You can even preview the full menu by visiting our website. Can't make it this time? No worries, you can create your own pairing at home—Dr. Chockenstein is on tap at our Huntingdon Valley location and Mueller Chocolate Co. has two locations, one in Rockledge and one inside Reading Terminal Market in Philadelphia.
If you're anywhere near the West Chester area, then you're probably already familiar with the amazing chocolates of our next suggested pairing. For years, Senior Head Brewer Chris "Lappy" LaPierre teamed up with Éclat Chocolate for beer and chocolate pairings at several of our locations—and for reasons beyond that he shares a first name with their Master Chocolatier, Chris Curtin.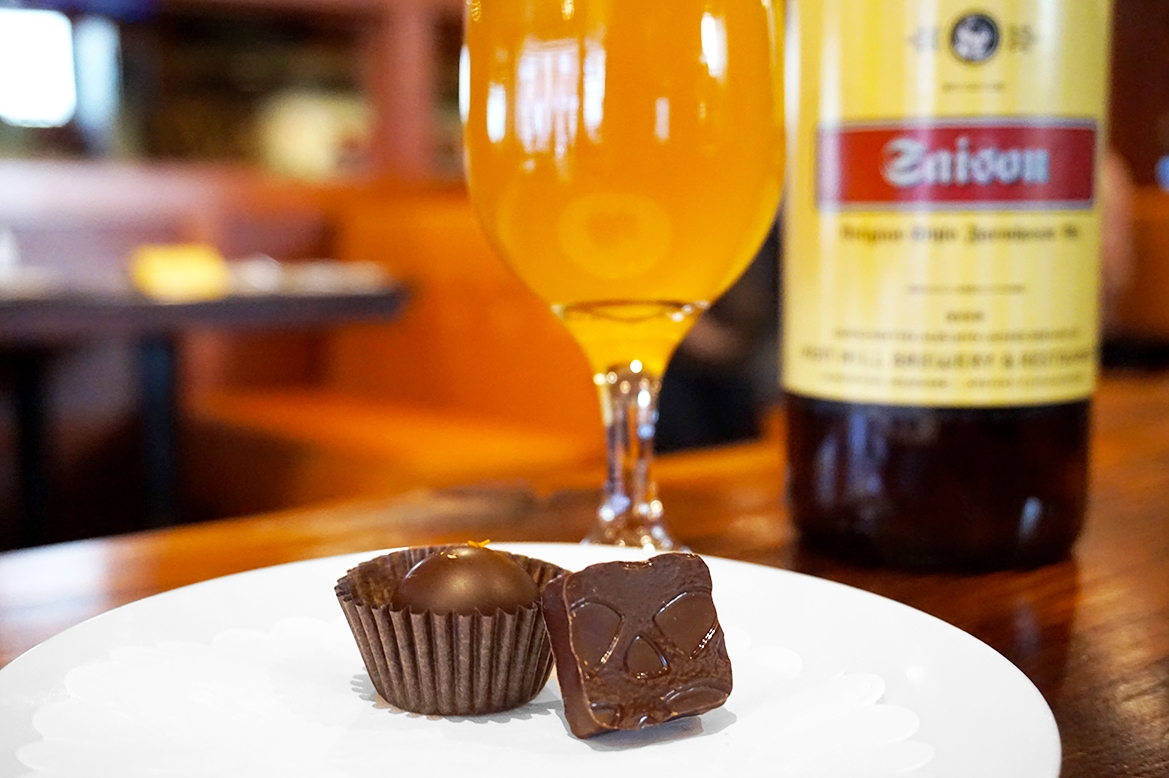 "Chris Curtin of Éclat and I have been pairing beer and chocolate for over a decade now," Lappy explains. "One of my favorites is our Saison de Pennsy paired with Éclat's Sichuan Pepper Chocolate. I think people tend to lean toward rich and roasty or dark and sweet when pairing beer and chocolate, but that's why this pairing stood out for me. Saison is bone dry but complex, spicy and fruity. The heat, fruitiness and overall pepper character of the Sichuan is wonderfully complemented by the spice and fruit aspect of the Saison, while its refreshing dryness and carbonation is a thirst-quenching contrast to the richness of the chocolate. For these reasons, I'd also recommend our Saison Bottled Reserve with Éclat's Aleppo Chili Truffle."
For Senior Head Brewer Tim Stumpf, our Ore House IPA is a perfect match for the Grand Orange Truffle from Bridge Street Chocolates, just a few doors down from Iron Hill in Phoenixville, PA. "With the Grand Orange Truffle, our Ore House is really playing a contrasting role," he explains. "The hop bitterness accentuates the chocolate notes by cutting through the richness and refreshing the palette for the next bite."
Even though that was the original intention of the pairing, Tim also acknowledges that the orange notes in the chocolate find a common friend in the beer's citrusy flavor and aroma imparted by the use of Citra hops. "These two flavors bring the otherwise contrasting tastes together," he concludes.
In addition to the above pairings, Iron Hill has also previously partnered with local chocolatiers like Mike Collins of Reily's Candy in Medford, NJ, Greg Orth of Craft Tastings in Lancaster, PA, and more.
So, if you're looking for something special and out of the ordinary to do this Valentine's Day, why not create a few pairings at home? Stop by your local chocolatier for something sweet and then head to any of our 12 locations to use your newfound pairing knowledge to pick up some Iron Hill beer to go along with it. Still need a little help deciding on a pairing? Not a problem! Don't hesitate to reach out to your local Iron Hill brewer for tips.
With 12 locations in Pennsylvania, Delaware and New Jersey, there's an Iron Hill Brewery & Restaurant near you. Each brewpub has their own craft kitchen and scratch brewery, allowing individual chefs and brewers the creativity to pair the freshest ingredients with the highest quality grains and hops. Monthly releases vary by location, so scout out our beers on tap and visit us soon.
This article was contributed by Sophia DiPersio. Sophia is the Social Media & Marketing Coordinator at Iron Hill Headquarters.