On Saturday, January 27, Senior Head Brewer, Matthew Gundrum, General Manager, Amanda Lober, and Head Brewer, Benjamin Schamberg will host Iron Hill's 13th annual Belgium Comes to West Chester celebration at Iron Hill in West Chester, PA. This year's line-up is among the most exciting in the festival's history, with a who's-who of top local breweries sending their Belgian-style best. This is the area's largest and longest-running celebration of Belgian beers, highlighted by more than 55 pours from the best local breweries, as well as Allagash Brewing Company, and two beers straight from Belgium.
As always, beer lovers can choose from four carefully-curated flights containing eight 4-ounce tasters each, or opt for 12-ounce or 16-ounce pours on a pay-as-you-go basis. There will also be a special Belgian-inspired menu prepared by Iron Hill's forward-thinking culinary team, with a heavy emphasis placed on food and beer pairings.
This year, King of the Hill (KOTH) members will have exclusive access to a private Brewer's Lounge, where they can mingle with their favorite brewers from all 26 invited breweries, plus the head brewers from each of the 12 Iron Hill locations. Inside the lounge area, guests will be treated to a VIP sampler of four different versions of Bedotter–Iron Hill's crowd-pleasing Belgian that took home a gold medal at the 2016 World Beer Cup in the Belgian-Style Tripel category.
"This event has become the ultimate showcase for the most interesting Belgian ales being produced in the Philadelphia area," says Gundrum. "Despite competing against each other at various beer competitions and tasting festivals throughout the year, the local beer community loves coming together for Belgium Comes to West Chester. We look forward to a fun day of collaboration with our brothers and sisters in beer." Iron Hill takes immense pride in having their own Belgian brewer on premise, as Head Brewer Ben Schamberg was born in Belgium, and has a great affinity for Belgian beers.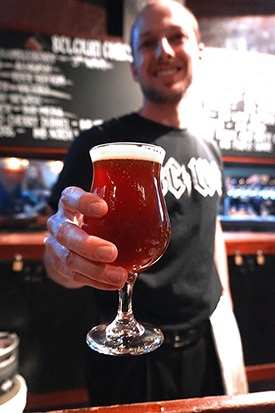 Festival goers can expect top-notch offerings from the following local breweries: 2SP, 3rd Wave, Allagash, Big Oyster, Boxcar, Brewery Techne, Conshohocken, Denizens, Evil Genius, Free Will, Hidden River, La Cabra, Levante, Manayunk, Neshaminy Creek, Philadelphia Brewing, Root Down, Saint Benjamin, Second District, Sly Fox, Stable 12, Stickman Brews, Tired Hands, Victory and Yards.
In addition, each Iron Hill location will contribute a Belgian-style beer of their own, including:
• Abbey Dubbel (Wilmington) – Brewed in the original style of a Belgian monastery, this mahogany ale has the sweetness of dark Belgian candi sugar paired with the distinct aroma of plum and pear (6.9%)
• Fool's Gold (Ardmore) – This elegant Belgian pale ale has notes of tropical fruit and spice from the use of our special yeast strain complemented with spicy European hops (5.4%)
• Honey Tripper (Chestnut Hill) – Belgian Tripel with a complex aroma and notes of plum, spice and banana made with 20 pounds per barrel of Pine Barrens wildflower honey (9.0%)
• Funkaster '17 (Lancaster) – Lancaster sour beer project aged in red and white wine barrels for 2 ½ years. Smooth caramel notes are complemented by flavors of oak, hay and funky tartness (6.0%)
• Ruby Slippers (Maple Shade) – Deep ruby-colored French-style farmhouse ale with hints of dark stone fruit and malt sweetness (7.0%)
• The Cannibal (Maple Shade) – A golden Belgian-style ale, with complex flavors and dry finish, accented by a nose of tropical fruit and dry spice (7.8%)
• The Traveller (Media) – A Belgian-inspired Grisette brewed with oats, wheat and rye malts to complement the peppery Belgian yeast, then aged with Brettanomyces to lend a dry, tart finish (4.4%)
• Lychee Golden Ale (Newark) – A golden Belgian ale infused with Lychee, giving it a sweet and tart herbal fruity balance (6.5%)
• Blame the Dog (North Wales) – Belgian-style strong ale brewed with orange blossom honey and chamomile (9.2%)
• Phoenix Rising (Phoenixville) – A ruby red Belgian-style ale, brewed with Montmorency tart cherry juice (6.7%)
• Saison (Huntingdon Valley) – Classic Franco-Belge-style farmhouse ale; unfiltered, bright and light bodied. The yeast gives us an earthy, fruity and spicy character with a refreshing finish (6.0%)
• Saison de Pennsy (West Chester) – A pale, light-bodied Saison with flavors of stone fruit and citrus with a dry, hoppy and spicy finish (5.9%)
• The Watchtower (Voorhees) – This blend between The Cannibal and The Watcher, both aged in red wine barrels, is dosed with Brettanomyces to exhibit a tart, citrus and slightly woody aroma, with a refreshingly dry finish (7.0%)
Check out the full lineup here.
Gundrum guarantees that no taste preferences will go unsatisfied. "We have a huge spectrum of beers being offered as well, everything from a light-bodied hoppy Witbier to a coffee and chocolate aged Quadrupel, and everything in between. Light beers, dark beers, sour beers, barrel-aged beers, fruit beers, you name it."
For in the moment updates, follow Iron Hill Brewery on Facebook, Instagram and Twitter and use hashtag #BCWC2018 .
With 12 locations in Pennsylvania, Delaware and New Jersey, there's an Iron Hill Brewery & Restaurant near you. Each brewpub has their own craft kitchen and scratch brewery, allowing individual chefs and brewers the creativity to pair the freshest ingredients with the highest quality grains and hops. Monthly releases vary by location, so scout out our beers on tap and visit us soon.
This article was contributed by Addie Orrison. Addie is the Events & Communication Coordinator at Iron Hill Headquarters.