Beer lovers know January is the real "most wonderful time of the year" because that's when Belgium Comes to West Chester (BCWC) brings one of our favorite beer styles—and lots of our brewer friends—to Iron Hill Brewery & Restaurant.
Circle Saturday, January 28, from 1-6 p.m., on your calendar and plan to be at our West Chester location, where 32 (and counting!) Belgian-style beers will be there for the tasting. According to West Chester Head Brewer Tim Stumpf, Belgian beer can be "almost anything and brewed any way the brewer chooses." This tickles thirsty beer drinkers' palates, thanks to spontaneous fermentation or barrel-aging, unique ingredients and so much more.
"I've had dandelion and mustard seed beer," Tim said. "A lot of American brewing traditions are steeped in German beer styles, which have historically been very strict and specific. There's a place for this, and it has its merits, but it can be limiting. For those who celebrate distinct and interesting flavors that satisfy, Belgian beers will not disappoint!"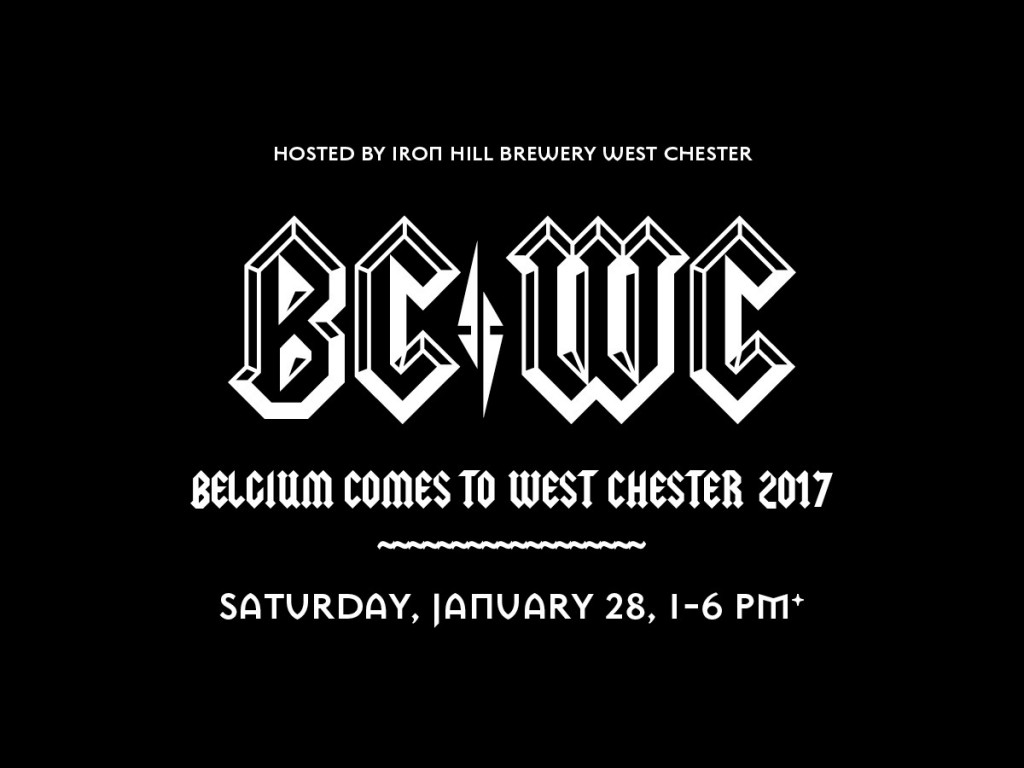 Let's take a moment to give a nod to BCWC's creator, Iron Hill Chestnut Hill Head Brewer Chris LaPierre. He launched what has become an annual pilgrimage in 2007, based on his love for Belgian beers' range of flavors and complexity. Tim said he carries on this tradition because "those who love beer tend to love more flavorful beer, and Belgian beer is the apex of satisfying flavor."
It's not just beer drinkers who flock to West Chester every January—our brewer friends can't wait to bring their best to this annual fest. Belgian-style beers flow in from around the East Coast.
"This is one of the few times where we can all get together to share some beers," Tim added. "My favorite part of BCWC is partying with the brewers and our friendly competition! This industry is like no other. Can you imagine if Apple called Microsoft and asked to borrow some technology? In the beer world, there's tons of collaboration. Seven of the brewers coming to BCWC worked here, and I have been helped by almost everyone else. Brian O'Reilly from Sly Fox recently helped me with a cleaning chemical issue, Tim Roberts from Yards lives down the street from me and helped me move furniture, Tom Baker from Brewery Techne was our special guest at one of our first events, Mike Philbrick from Port Jeff brewed with me in Phoenixville before starting his own brewery, and this list can go on. I love these people very much."
The love runs both ways, as evidenced by the feedback we've received:
Evan Fritz, Head Brewer, Manayunk Brewing Company
"The best component of this event is to see old friends and other local brewers. With so many uninteresting beer events and festivals these days, I enjoy how well Iron Hill puts together a fun day of amazing beers. We'll be bringing Cuvée de Yunk, our Belgian-style sour ale fermented with ripe apricots. We chose this beer because it is delicious and refreshing, while complex and exciting. I'm thrilled to get the chance to try the St. Ben Dubbel and the Iron Hill Tawny Port Barrel-Aged Brett Old Ale."
Andrew "Ruby" Rubenstein, Head Cellarman, 2SP Brewing Company
"This will be the second time 2SP Brewing has participated in BCWC. We're sending Best Wishes, a 9.5% ABV dry-hopped saison. I always look forward to this event because it's such a great group of people all in one room. Iron Hill always brings its best beers, and it's fun to see the creativity and diversity of its brewers all on one list."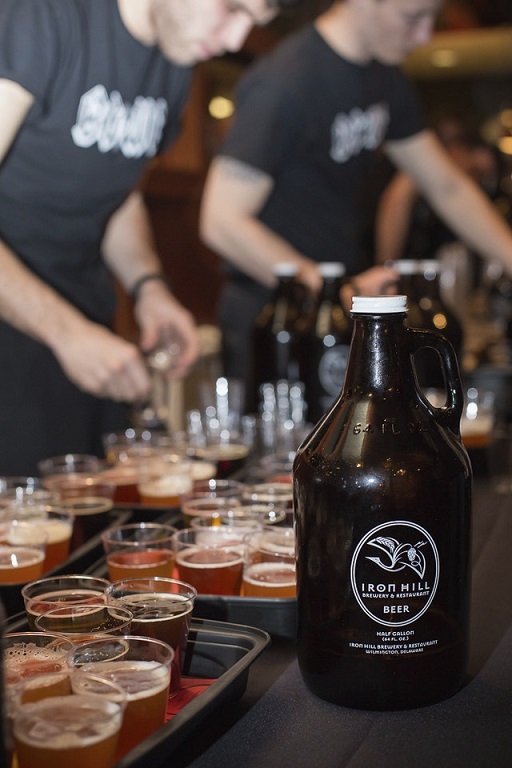 Tim Patton, Proprietor, Saint Benjamin Brewing Company
"This is our first year. I'd heard of it before but was waiting until we were sending more beer into Chester County. Now that we're doing that, it seemed like a great time to participate. We're sending Franklin's Abbey Dubbel—it's one of my favorite Belgian styles. We've been to other Iron Hill events, so we know it's going to be well organized and filled with attendees who are really into trying new beer."
As for our own Tim, can't wait to sip Denizens' Oud Boy. "Jeff Ramirez, Head Brewer at Denizens, was once an Iron Hill brewer, and I know he is very creative. I can't wait to try his beer. It's a tough choice, though; I've never had most of these beers, and can't wait to try them all! The Dogfish Head and Allagash beers sound very unique, and they are two breweries I really respect."
Drink in the goodness from some of our favorite breweries (including other Iron Hill locations, of course!):
Big Oyster Brewery – Arya
Port Jeff Brewing Company – H3 Tripel
Sly Fox Brewing Company – Valor
Saint Benjamin Brewing Company – Belgian Dubbel
Stewart's Brewing Company – Stumblin' Monk
Brewery Techne – Bone View
Troegs Independent Brewing – Mad Elf
Denizens Brewing Company – Oud Boy
Vault Brewing Company – Belgian Blonde
Weyerbacher Brewing Company – Berry Monks
Yards Brewing Company – Trubbel de Yards
Manayunk Brewing Company – Cuvee de Yunk
Dock Street Brewing Company – Barrel Aged Bubbly Wit
Dogfish Head Craft Brewery – Siracusa Nera
Stickman Brews – Beer from a Farm
2SP Brewing Company – Super Saison
3rd Wave Brewing Company – Jessop's Brambleberry
Rock Bottom Restaurant & Brewery – C'est la Vie
Allagash Brewing Company – James Bean
Victory Brewing Company – Sour Monkey
Iron Hill Newark – Fe20
Iron Hill Media – Sucker Punch
Iron Hill North Wales – Barrel Cherry Dubbel
Iron Hill North Wales – Blame the Dog
Iron Hill Huntingdon Valley – Akuma
Iron Hill Phoenixville – Honey Saison
Iron Hill Wilmington – Millennium Falcon
Iron Hill Chestnut Hill – Double Witbier
Iron Hill West Chester – Kabouter
Iron Hill Media – Funkadelphia
Iron Hill Media – Tawny Port Barrel-Aged Brett Old Ale
Iron Hill Maple Shade – The Cannibal™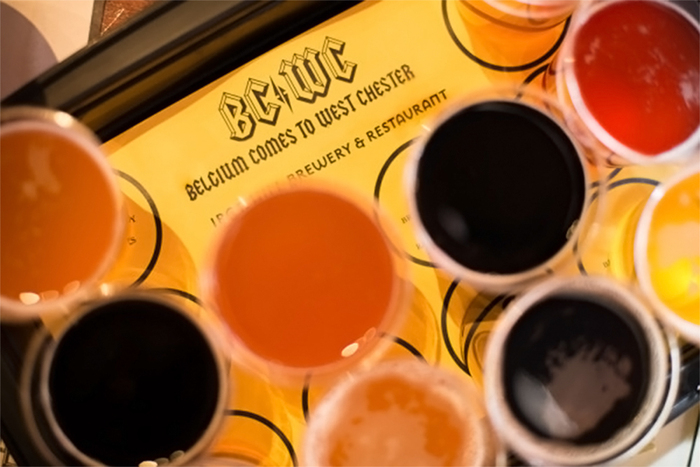 Last, but certainly not least, here are Tim's top tips for making the most of BCWC:
Come as early as possible.
Be responsible and plan for your transportation. If snagging a DD is an issue, make a reservation with Restaurant Valet: (877) 721-6155. Or you can take a page from the playbook of our Philly-area friends, who rent a bus to port them to and fro. Nice!
Take advantage of convenient parking. If you're in charge of driving, you can check out the convenient and inexpensive parking practically across the street from Iron Hill in the Chestnut Street Garage. Lot full of revelers? Hit the Bicentennial Parking Garage a few blocks away on High Street. Bonus: We'll provide two hours of parking validation!
Plan to eat something—throughout the day. Your best bet for grabbing a table at Iron Hill and noshing on our regular menu plus the day's Belgium-inspired fare (see that below!) is to make a reservation well ahead of time. Use OpenTable or call us at (610) 738-9600.
Sip on a sampler! It's the best way to try a variety of beers. Samplers are eight 4-ounce beers for $20. The pro move: Each friend gets a different one to share.
Attention King of the Hill Rewards Club members: You, our most loyal customers, may enter BCWC at noon.
One last tip: make sure your phone is charged so you can blow up your social media with the hashtag #BCWC2017. We can't wait to welcome you to #BCWC2017!
With 12 locations in Pennsylvania, Delaware and New Jersey, there's an Iron Hill Brewery & Restaurant near you. We specialize in handcrafted beers and fresh, from-scratch New American cuisine. Monthly releases vary by location, so scout out our beers on tap and visit us soon.