It was a brew day like any other brew day … until a giant yellow fire truck pulled up at 8:30 a.m. and a group of firefighters descended upon Iron Hill Media.
Thankfully, this time when Media Fire & Hook & Ladder Company No.1's brave firefighters showed up it was to brew beer, not to extinguish a blaze, as they'd done this past July. As thanks for their swift work to save our restaurant, we invited them to help us out one more time and join in brewing Hook & Lager.
We sat down with Iron Hill Media's Senior General Manager Warren Sewell and Head Brewer Andrew Johnston to get the 411 on that 911 call and how it turned into a delicious German lager.
What was it like when the fire broke out?
Warren: Only staff members were in the building at the time of the fire, and everyone made it out safely! Staff and managers handled the situation very well. Most of us didn't know how serious it was until we saw the firefighters take saws to the roof to get to the source of the fire.
And it was a roof fire, easily contained?
Warren: The fire began in our pizza chimney and spread to the roof. The firefighters responded quickly and did a great job containing it.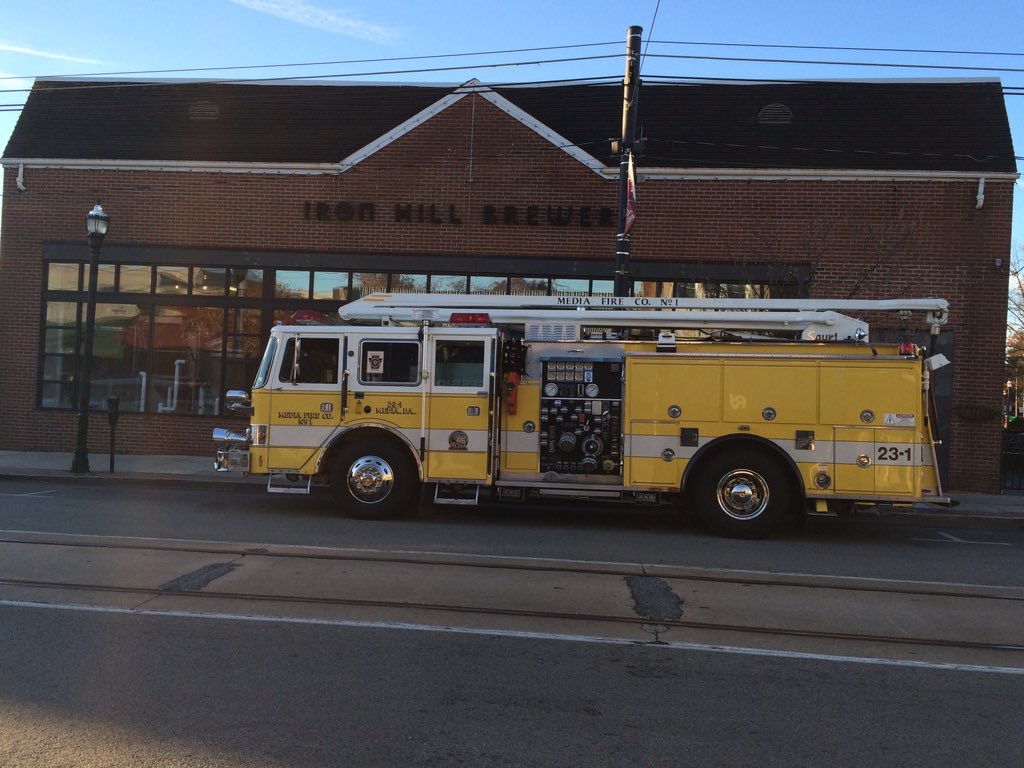 Describe the damage to the roof and its impact.
Warren: The fire moved fast, so the damage was substantial enough for us to close for 3.5 days. However, if the firefighters hadn't responded as quickly, the fire could have spread and we might have lost the whole building. They really did a great job.
How did you cook up the idea to brew with firefighters?
Warren: After watching the effort these guys made putting out the fire, we knew we owed them one. The days that followed were filled with scheduling contractors to begin the repairs and cleaning up the restaurant. We had a lot of downtime between speaking to guests who arrived at the restaurant and were not aware of the circumstances and making repairs.
President & CEO Kevin Finn, Andrew and I spoke about brewing an appreciation beer. Naturally, we wanted to involve the firefighters in the process and connect it with the community and a local charity.
How did you decide on a German lager?
Andrew: We asked the company what they tend to drink when it comes to beer, and it was mostly lighter stuff. So, seeing as we already have a light lager on tap, we decided to brew something a little different that's just as refreshing. We wanted to brew something you'd drink after a long, hot day fighting fires.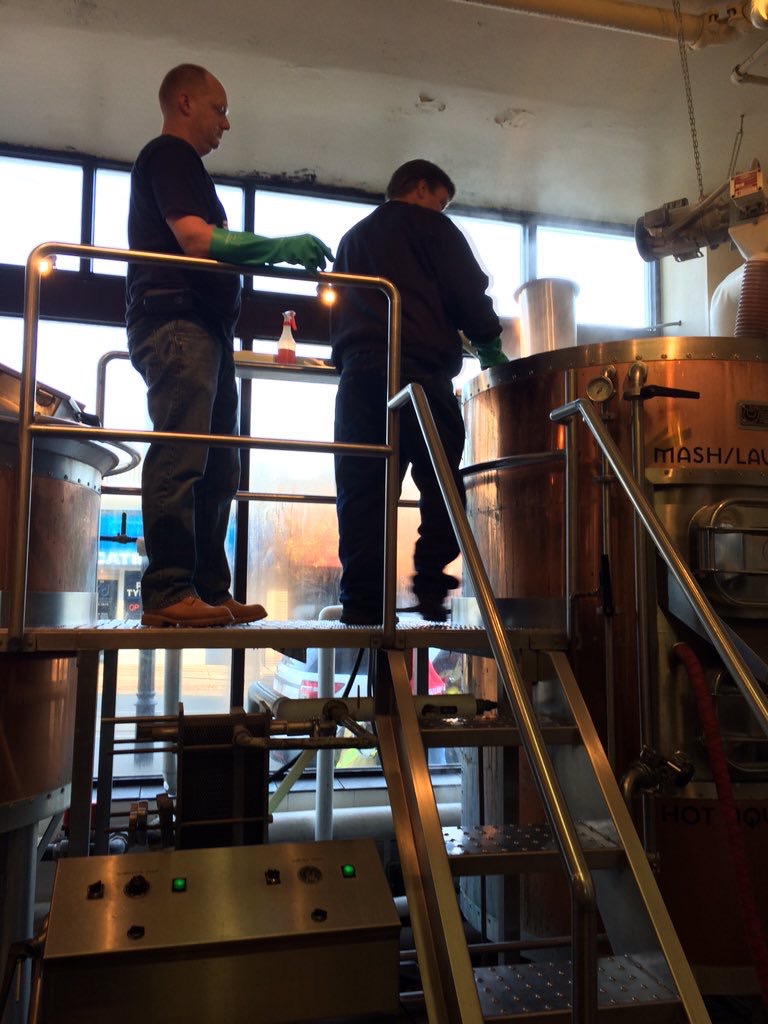 How'd brew day go?
Andrew: It was a good day and smooth sailing. I will say that firefighters showing up on a fire truck was amazing. Pedestrians on the street stopped to watch, and I can only assume they were thinking, "Oh no! Iron Hill is on fire again! Now where can I get my Wednesday meatloaf fix?" We did have a few customers ask if something had happened again as they began filtering into the restaurant for lunch.
What sticks with you about brewing with the firefighters that day?
Andrew: The firefighters' eyes lit up when I asked them if they wanted a beer at about 9 a.m. And they were more than excited to go through the fermenters to taste beer in fermentation, as well as to pop open a couple of bourbon barrels to taste some of our beers aging in the barrels. It's always fun to see how much people enjoy the brewing process.
What can customers expect on release day, Tuesday, December 1?
Warren: Our King of the Hill Rewards Club members—and firefighters—can start sampling Hook & Lager at 4 p.m. The rest of the event runs from 6–9 p.m. We're donating 20 percent of food sales on December 1 and $1 per pint of Hook & Lager sold during the event to charity.
Andrew: Yes, these community-minded heroes chose The Burn Foundation in Upland, Pa., to receive the proceeds.
Come raise a pint with us on December 1 and show your appreciation for our community's good guys as you support a great charity. Hook & Lager is a traditional German lager with a light straw color. It's delicately balanced with a firm bitterness and a dry, crisp finish. It'll put out the fire from any of our spicy dishes and complement the rest of our menu.
Cheers to you, Media Fire & Hook & Ladder Company No.1!
With 11 locations in Pennsylvania, Delaware and New Jersey, there's an Iron Hill Brewery & Restaurant near you. We specialize in handcrafted beers and fresh, from-scratch New American cuisine. Monthly releases vary by location, so scout out our beers on tap and visit us soon.