WE ENTHUSIASTICALLY CONTINUED THE CELEBRATION OF INTERNATIONAL WOMEN'S DAY by joining in this year's Pink Boots Collaboration Brew Day, AND BREWING OUR BEER–GIRLS JUST WANNA SAISON (click here for more information on the creators of this event, Pink Boots Society!) As excited as we are to release this beer on April 16th, we are even more excited to have the opportunity to highlight two of our incredibly talented brewers – Avery Hookey and Whitney McLain, the bold women brewers of iron hill!
Avery brews at the Iron Hill production brewery in Exton, PA. She is a 2019 recipient of the Yuengling Women in Brewing Scholarship, funded by Yuengling and the Pink Boots Society. She is a grad student in the Brewing Science Program at the University of the Sciences, and a 2011 alumna of Franklin & Marshall College.
Whitney is Head Brewer of the soon-to-open Iron Hill location in Perimeter, GA.
---
How this year's Pink Boots Collaboration Brew came to life, from the eyes of Avery & Whitney…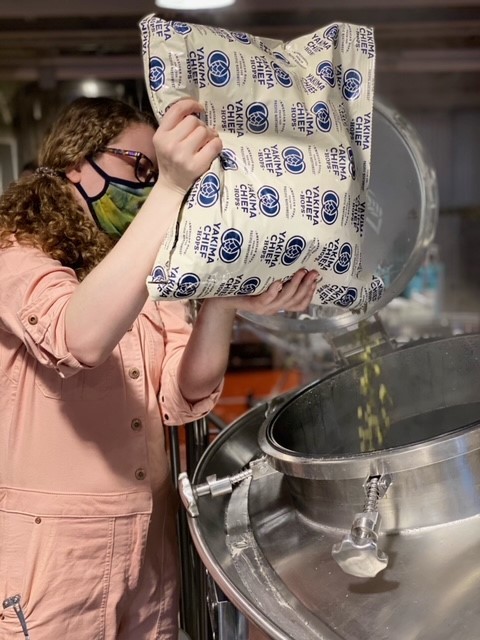 2021 has been a year unlike any other, to say the least, so it makes sense that our annual Pink Boots Collaboration Brew would have to adapt to the new ways of life. This year, after Whitney moved south with Iron Hill's Georgia expansion, geography kept the ladies of Iron Hill from being able to physically come together to brew a beer as we have in past years…but we still found a way to make it happen.
Over a few video calls and a beer or two, we (Avery in Pennsylvania and Whitney in Georgia) worked together to write a brand-new recipe using the annual Pink Boots Hop Blend, created by Pink Boots Society members and produced by Yakima Chief. The hop bouquet in this year's blend included Loral, Cashmere, Ahtanum, Citra, and Sabro. The 2021 blend was chosen virtually, with Pink Boots chapters participating from all around the world. Yakima Chief donated three dollars per pound purchased to Pink Boots.
We've called this beer "Girls Just Wanna Saison" in honor of one of our idols, and as a nod to one of our favorite songs to mash in to. Girls Just Wanna Saison is a dry-hopped saison with prominent fruity esters, accentuated by the citrus and tropical fruit characteristics of the 2021 Pink Boots Hop Blend. It is delicate and complex with a dry finish, but not shy on flavor. We decided this year's brew would be a dry-hopped saison, as we both have a deep appreciation for classic styles with a bit of modern flair. Saisons were originally brewed in the French-speaking part of Belgium as a low-alcohol refreshment for the farm workers. Dry-hopping adds a contemporary twist to this beloved farmhouse style.
Avery brewed a batch in our brand-new production facility in Exton, PA with some members of the Philadelphia Chapter of the Pink Boots Society, while Whitney was brewing a batch in our new Buckhead, GA brewpub with four of our servers. We'll be releasing this beer company-wide on April 16th, just in time for National Saison Day on the 17th!
One dollar from each pint sold will be donated to the Pink Boots Society to support women working in the fermented beverage industry. Both Avery and Whitney have been members of the Pink Boots Society for years, with a few collab brew days under our belts. Avery was awarded the Yuengling Women in Brewing Scholarship via the Pink Boots Society in 2019. Donations to the Pink Boots Society directly fund scholarships for women in the brewing industry. Being a part of the Pink Boots community means a lot to us. We're really excited to be able to share this beer with you, and to be able to give back to Pink Boots again this year.
Have a pint then sing with us, "When the working day is done, oh girls, they wanna saison. Oh, girls just want a saison."
---
But wait! There's more! We even got an inside look into how Whitney paved her way into the brewing industry – complete with priceless advice, tips, and tricks for those eager to do the same…
"My brewing career officially started over three years ago, but tracing my beer roots to the beginning takes us back about seven years to my first beer focused job at an Irish pub in OKC who boasted 60 taps and a selection of 500 bottles. Because of the variety of foreign and American craft beer we carried, I was able to try examples of nearly every style I could imagine. It was at that Irish pub that I really began to fall in love with beer history and the craftsmanship that goes in to creating a great beer. At some point in the three years I spent there I realized I was supposed to be a brewer. I took a few homebrew classes at the local brew shop, and started reading every book I could get my hands on. I moved on from the pub to a local liquor store and continued to try every beer I could get my hands on, and I think it was here that my love for German beer really took off. Life took me to New Jersey and that's where I found Iron Hill, and with that, my entryway to professional brewing. I was hired on as a server, and within a few months I worked my way in to the brewery. In my time as an assistant brewer I worked in three different Iron Hill breweries and was able to train under brewers I still look up to. I spent three years with the company before moving back to OKC for a year, but I'm very excited to be back with Iron Hill as head brewer of an upcoming new location in Dunwoody, GA. I really enjoy being able to create new recipes and bring my ideas in to reality, while also having the ability to brew classic, award winning, Iron Hill beers. If I could give any advice to other women who want to brew, it would be to read every thing you can/listen to podcasts/sign up for tastings- do everything you can to immerse yourself in the world of beer, and don't let anything get in your way. Tenacity is necessary. There have been a lot of obstacles along my path, but it has always been worth it."
---
To stay up to date on information about our Girls Just Wanna Saison brew as well as its release at our TapHouse, follow our social medias below:
Instagram: @ironhilltaphouse
Facebook: @IronHillExton