As a chef, I am around delicious food every day. Working in the kitchen exposes me to so many different foods and so many healthier alternatives, but I always found myself gravitating towards the more convenient, unhealthy options.
Recently I decided to make a lifestyle change. I started putting more effort into what I ate and by sticking to it, I lost over 80 pounds! I work hard every day to find tasty foods that are high in protein, low in sugar, and contain lots of good vitamins and minerals.
Working at Iron Hill, I can't help but enjoy incorporating beer into my recipes. I've chosen Light Lager for this recipe because its subtle hop and malt flavors balance with spices to create the perfect barbeque sauce. Barbecue is one of my favorite go-to's, so my goal was to make a sauce without excess brown sugar and molasses. I chose to include cauliflower because the vegetable is loaded with vitamin c, vitamin k, protein, and magnesium. Red potatoes are packed with vitamin b6 and potassium. They are a healthier alternative to regular French fries, and taste even better than fries when coated with fresh herbs and garlic.
Grilled Salmon & Veggies Recipe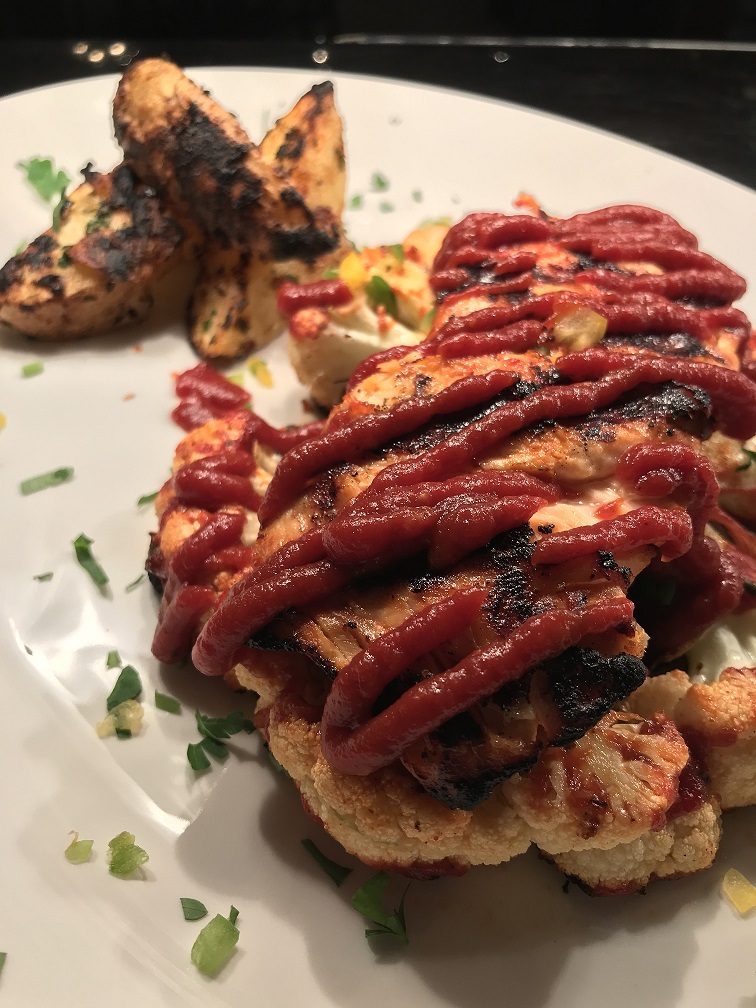 Salmon
I like using salmon on the grill because it is higher in good fat content so it holds up well to the grill and stays moist. Mahi-mahi also works great in this recipe, if you prefer.
• 4 salmon filets
• ½ cup Light Lager Barbeque Sauce (see below)
Toss the fish in the barbeque sauce to coat evenly and allow to marinate up 12 hours. I like to do it the night before. Leave in wrapped bowl or covered container. Grill or bake your fish to desired temperature. I prefer 150-155 degrees internal temperature on salmon. Leaves it a little juicy but firm. If grilled spray your grill grate with oil so fish does not stick. Cook roughly 3 minutes, then rotate and cook 3 minutes, flip and repeat. If baking in oven at 350 degrees, remove from oven after 12-15 minutes depending on thickness of filet.
Light Lager Barbeque Sauce
• 1 cup Iron Hill Brewery Light Lager
• 2 oz. tomato paste
• 4 oz. tomato puree
• ½ cup no sugar added applesauce
• 2 oz. molasses (unsulphered is the best)
• ½ cup apple cider vinegar
• 1 oz. raw honey
• 2 oz. minced white onion
• 1 oz. minced garlic
• 1 tsp dry mustard
• 1 tsp kosher salt
• Optional: 1 tsp liquid smoke and/or 1 tsp cayenne pepper
Add all ingredients to a small sauce pot. Bring to a boil, stirring occasionally with a wire whisk. Turn down to low simmer and allow to reduce slightly until desired thickness is obtained. The sauce should coat a spoon (nappe consistency). When sauce reaches desired thickness, turn off and remove from heat. Allow sauce to cool and store in air-tight jar.
Potatoes
• 2 lb. potato (I prefer red, medium sized) cut into wedges
• ½ cup grapeseed oil (sub oil of preference)
• 1 oz. minced garlic
• 1 tsp dry mustard
• 1 tsp fresh herb of choice
Toss all ingredients in a large mixing bowl until evenly coated. Place on sheet pan and bake in oven until potatoes are 80 percent finished. This will take about 15-17 minutes at 350 degrees. Remove from oven and hold until ready. Finish the potatoes on the grill and let them get some charred markings. Cook until potatoes are finished. Roughly 3-5 minutes on the grill. If not grilling, then finish in the oven.
Cauliflower Steak
• 2 heads of cauliflower, cleaned, remove stem and slice into ¾ inch slices
• 2 oz. olive or grapeseed oil
• 2 oz. Light Lager barbeque sauce, if desired, to brush onto cauliflower
• ½ tsp cayenne pepper
• ½ tsp smoked paprika
• ½ tsp garlic powder
Toss sliced cauliflower and all other ingredients into a large mixing bowl until evenly coated. Grill or bake in oven the same time as the fish. The cauliflower should have a little crunch after being cooked.
If you are looking for some green vegetables instead, substitute the cauliflower with asparagus or broccoli and follow the same steps as above.
Garnish with any fresh herbs, minced bell pepper or lime zest to add an extra twist. Make sure to pair this dish with a cold glass of Light Lager; the beer's crisp, refreshing notes perfectly complement the dishes' bold barbeque flavors.
Enjoy!
This recipe is made with Iron Hill Light Lager which is on tap at all Iron Hill locations and available via growler for take-out.
Looking for more great recipes? Check out this Spicy Peanut-Coconut Noodles recipe made with Rising Sun IPA.
With 12 locations in Pennsylvania, Delaware and New Jersey, there's an Iron Hill Brewery & Restaurant near you. Each brewpub has their own craft kitchen and scratch brewery, allowing individual chefs and brewers the creativity to pair the freshest ingredients with the highest quality grains and hops. Monthly releases vary by location, so scout out our beers on tap and visit us soon.
This article was contributed by Scot Seher. Scot is the Head Chef at Iron Hill Maple Shade.