Working at Iron Hill Brewery & Restaurant is like being part of a family. Or, in some cases, it turns out your fellow brewer is family. Such is the case with Matt and Jeff Gundrum, two brothers-in-brewing who are real-life bros, too. Matt is West Chester's Head Brewer, and Jeff is Huntingdon Valley's Lead Brewer.

How did two siblings who are 13 years apart end up in the same profession at the same brewery? Read on to find out how Jeff survived being the little brother and grew up to follow in Matt's footsteps. Spoiler alert: There are noogies involved.

Let's start with the basics. How old are you?

Jeff: I'm 25 years young. Gundrum the younger.

Matt: I'm 38 years old. Gundrum the elder, wiser, smarter and more handsome.

Where did you grow up?

Jeff: I was born in Pottstown, and grew up in the small town of St. Peter's Village near Bucktown. St. Peter's Village is an old mining town with buildings hundreds of years old. It's got hiking trails everywhere, boulders the size of trucks, swimming holes and a big quarry that has about a 75-foot drop that I used to jump in. It was a great place to grow up.

Matt: I grew up in Cedars, a small little village near Skippack. Our family didn't move to St. Peter's until I was a little older.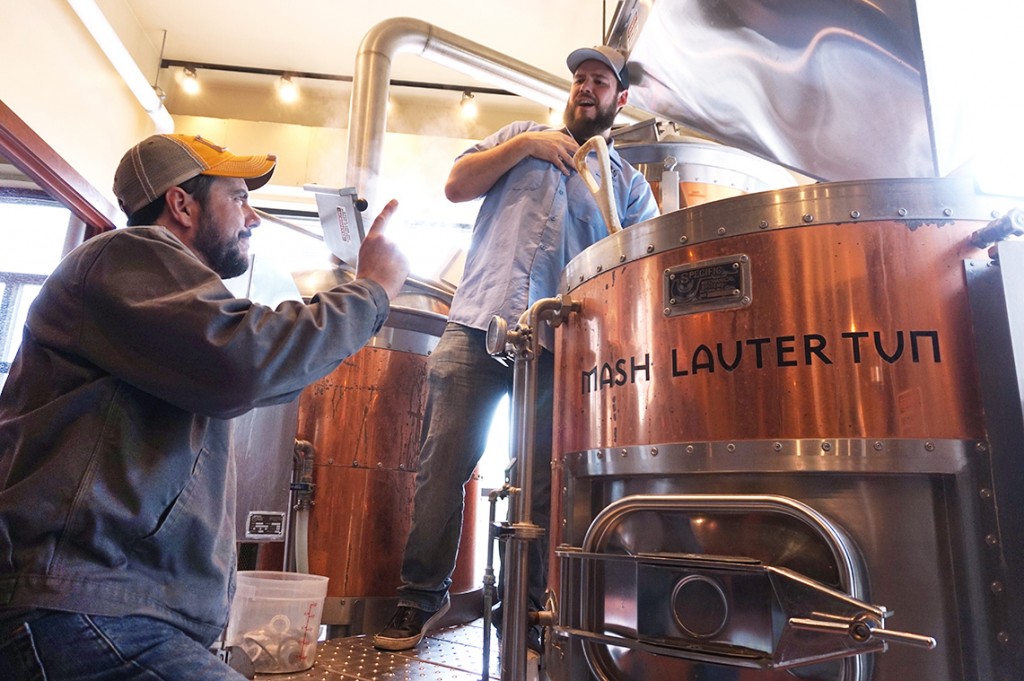 How did you get into brewing? Jeff, was it Matt's influence?
Jeff: It was never a path I thought I would have any part of, but I always loved beer so perhaps it was destiny. I never had the advantage of homebrewing experience, either. As a kid, I wanted to be a firefighter, then an oceanographer and then a park ranger. I found myself on this path when I was hired as an Iron Hill server assistant (busboy) in 2011. My brother was an assistant brewer in Phoenixville at the time, so I did a "brew for a day" with him and Senior Head Brewer Tim Stumpf. That changed my life. It was an awesome experience and I wanted to be part of it. That's when I started looking for every opportunity to get into the brewery. I would always walk by the brewery in the morning and say hello to Tim. I'd hear him blasting old-school rap, so I would make it a point to talk to him about Ultramagnetic MCs or Gang Starr—any reason to stop in. Long story short, I bugged Tim for a few years about getting in the brewery. After annoying him for a long time (and being turned down twice), I got the call. That's where all this truly began. August 2017 will mark three years of having the coolest job in the world.
Matt: I started at 21 as a server for Valley Forge Brewing Company in Blue Bell. My first legal beer was actually a flight of great craft beer, and from that moment I was hooked. I became a bartender shortly thereafter and bounced around from place to place until I finally landed at Iron Hill in Phoenixville in 2006. After about a year of serving and bartending, an opening for an assistant brewer became available and I jumped on the opportunity. Unlike Jeff, I only had to interview once. What started as one day per week cleaning kegs and scrubbing floors for Tim evolved into a full-time job, and, ultimately, a career. I took a brief detour in 2013 when I moved to Port Jefferson, N.Y., to work as the Head Brewer of Port Jeff Brewing Company. When I returned to Iron Hill in 2016, I came back as Phoenixville's Head Brewer. I definitely have Tim to thank, as he taught me everything I know about brewing.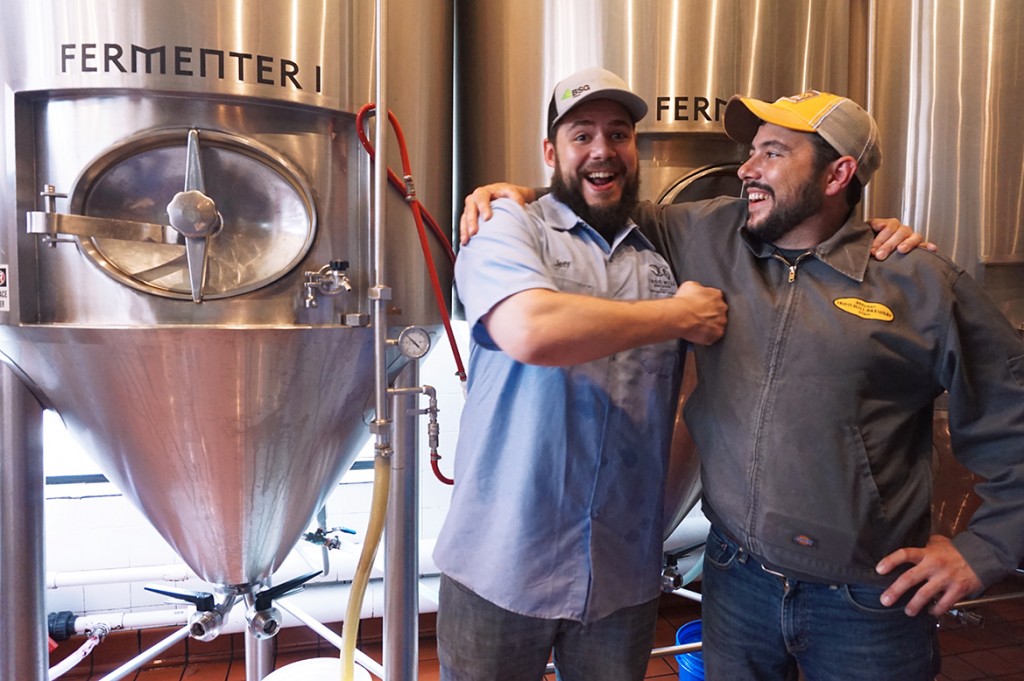 Have the Brothers Gundrum ever worked at the same Iron Hill location?
Matt: I got Jeff hired as a busboy at Phoenixville with my glowing endorsement. I think he's always wanted to be just like me, so he followed in my footsteps and started working at a great brewery. I remember as a bartender making him sit at a table to eat because he wasn't old enough to sit at the bar. I'm pretty sure I made that rule up just for him.
Jeff: Yes, my brother referred me and I got the interview. I was cleaning up his tables and running glassware for him as a server assistant. We've never worked in the same location as brewers, however.
What was it like to briefly work together in Phoenixville?
Matt: I got to boss my younger brother around at work. It was awesome! He probably still doesn't realize I used to make him bring me things I didn't actually need ….
Jeff: Ha ha, very funny. He did tell me what to do quite a bit since I was a young busser learning the ropes. This was not out of the ordinary—I was used to him bossing me around since I'm 13 years younger. He would babysit me sometimes when I was a youngling.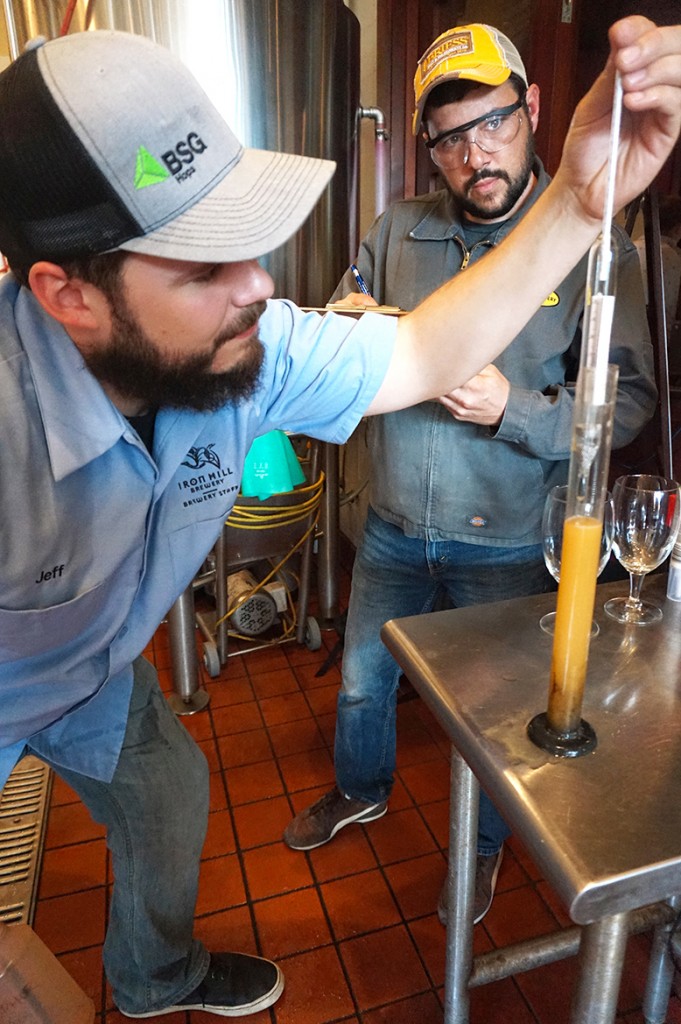 What did you do before Iron Hill?
Jeff: I was a cook. I worked at St. Peter's Inn as a grill cook when I was 18. When I was 19, I worked as a head cook at a Girl Scout summer camp. I was organizing, planning and cooking meals for hundreds of people at a time. On top of that, I would often help my dad roof houses and with other carpentry projects and odd jobs. I also worked for a physical therapist and for a drywall delivery company.
Matt: I had various jobs before Iron Hill, mainly as a bartender. I also worked on a paving crew and as a general contractor. I actually had zero brewing experience before Iron Hill, and to this day have never brewed a single batch at home.
How much of an influence was Matt on Jeff's career choice?
Jeff: I know he'll take all credit for this, but he's not entirely wrong. It all started when I was much younger. Let's just say Matt would bring craft beer to family events. So, even as Gundrum the younger, I enjoyed the flavor of hoppy craft beer. It's also fair to say he paved the way at Phoenixville with his good reputation. I guess you could say I followed in his footsteps.
Matt: I take all the credit for Jeff's career. In a way, my being a "bad influence" when he was younger actually turned into a good influence in the long run.
Did you two do much together growing up, considering there's a 13-year age difference?
Jeff: In all honesty, I'm sure Matt had a lot of fun. Me? Not so much. I was the victim of many wedgies, noogies, Indian burns, purple nurples, and, of course, the dreaded skyhooks. I didn't start hanging out with him in an equal way until I was in my 20s.
Matt: I'm sure Jeff wanted to hang out all the time when we were kids; I just wouldn't let him.
Given that, can you give us a fond memory of growing up together?
Jeff: We had great times playing board games like Risk or Monopoly. He would often assure me that I should join forces with him so we could conquer the world. Then I found he was using me for trades so he could betray me and try to conquer the world all by himself. That's how I learned never to give him the Boardwalk property in Monopoly and never to leave the Ukraine defenseless in Risk. Because in Risk, Ukraine is not weak!
Matt: My fondest memory of growing up with Jeff was Christmas right after I turned 21. I stayed up way too late with my dad and other brothers drinking eggnog with extra nog. After about two hours of blissful sleep, Jeff barged into my room at 6 a.m. and jumped on me to wake me up yelling, "Santa came! Santa came!" I can't remember ever being less excited about opening presents.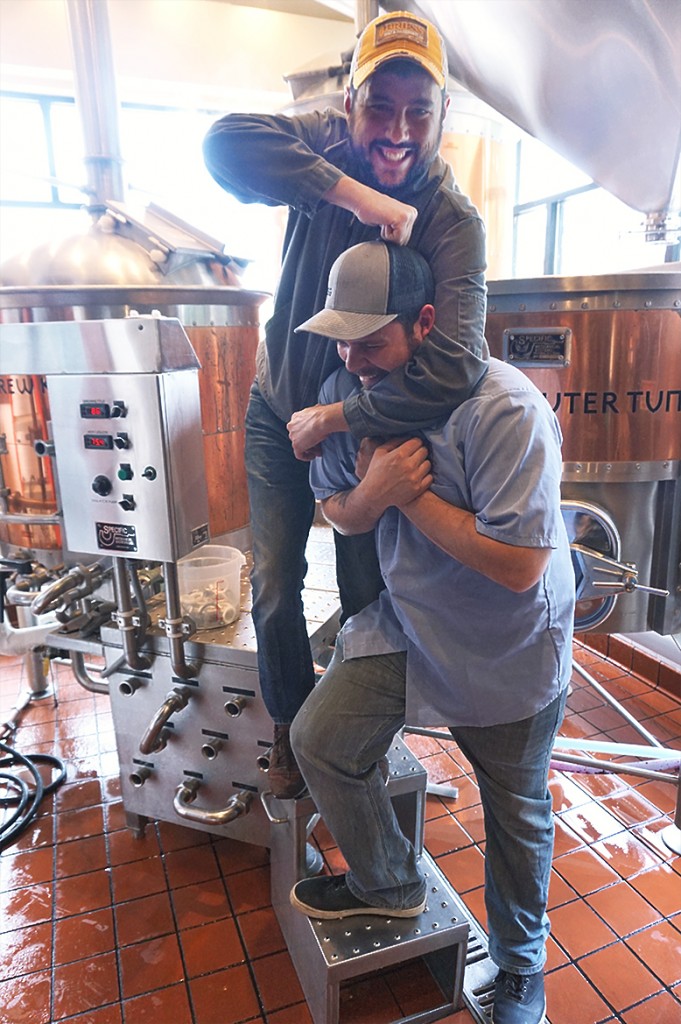 You've got busy jobs, but what do you like to do in your precious spare time? Any hobbies?
Jeff: I have many odd or strange hobbies. When I was younger, I played bass guitar and did some vocals for a band—and would drop the occasional lyrical bomb in rap. When I hang out with my friends in my hometown, we usually shoot guns, ride four-wheelers, build forts in the woods, stoke epic fires to cook meat my friend hunted, drink beer, listen to the heaviest of heavy metal and lift weights. I'm also involved in a semi-competitive arm-wrestling team. When it's just me, I like to cook, hike, play nerdy video games and watch Star Trek. I'm rapping again for the Iron Hill band at the June 25 Band of Brewers: Volume V. Most of my raps are nerdy ones about alien abductions, the zombie apocalypse, beer or the benefits of preserving our wildlife, specifically bears and sloths. Because sloths are like the coolest animals, ever.
Matt: I'm more of an outdoorsy type, and love to go camping and hiking with my son. I also try to get out and golf as much as time allows (which isn't much anymore), play poker, do bar trivia and read. If I pick up a good book, chances are I won't put it down until it's finished. I recently finished the Wheel of Time series by Robert Jordan, a daunting 13-book juggernaut that I'd highly recommend to anyone looking for an epic read.
Back to beer! What's your favorite Iron Hill beer to brew?
Jeff: For me, it's between brewing IPAs or dark beers. I like brewing darker styles because the entire brewery smells like chocolate all day. I like brewing IPAs because it's one of my favorite styles. I love the smell and taste of hops.
Matt: Chocolate Stout, because nothing beats pulverizing a 17-pound bar of chocolate with a hammer before adding it to a brew. I'm also a fan of brewing Honey Saison, because there's always a bit of honey left over for me to taste!
What's your favorite Iron Hill beer to drink?
Jeff: My favorite Iron Hill beer to drink is the freshest IPA we have on tap. I prefer very hoppy and pale IPAs. Sweet Leaf IPA is one of my favorites. Then I would say any traditional German lager. My favorite of that style is a classic Pilsner. And, we can't forget Russian Imperial Stout—best in the world! It's too strong for me to drink it at my store after work due to my long commute home. But I love sipping on that beer when it's cold outside, near a fire in the comfort of my home.
Matt: My favorite Iron Hill beer is whichever one is in front of me when I'm finished working. Nothing beats finishing up a long day in the brewery, walking 20 feet and tasting the fruits of my labor.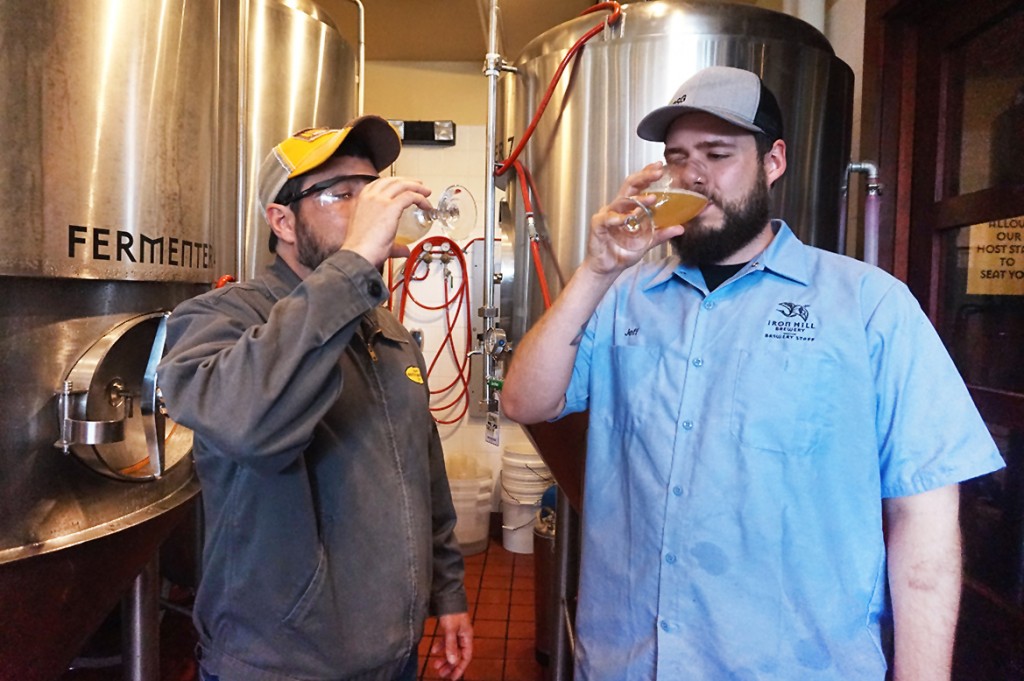 What's your favorite Iron Hill food and beer pairing?
Jeff: I love getting the spiciest dish we have and pairing it with an IPA. If I'm eating pizza, I love to wash it down with a palate-quenching lager. My all-time favorite is our ribeye steak with a Russian Imperial Stout. You just can't beat the Russian's deliciousness paired with the juicy and savory flavors of a well-made steak. Mid-rare is a must!
Matt: My favorite pairing has to be anything at the beer dinners that we offer at various times throughout the year. We hosted one in Phoenixville that featured five courses of Creole cuisine developed by head chef Dave Wassel that we paired with five different beers. Specifically, Dave's crawfish etouffee paired perfectly with our Hopzilla IPA. There's really no other experience like one of these dinners.
Truth time: Tell us something no one else knows about you!
Jeff: Here's a few: I love to bake cookies and desserts. I've also been trying a bit of yoga lately. I've seen every episode of Star Trek ever made, but when I watch other TV shows it's usually history-focused documentaries. I go by my middle name (my given name is Thomas Jeffrey Gundrum).
Matt: I spent over a month at a wilderness survival school learning how to live off the earth with the barest of necessities. That was probably the coolest experience of my life.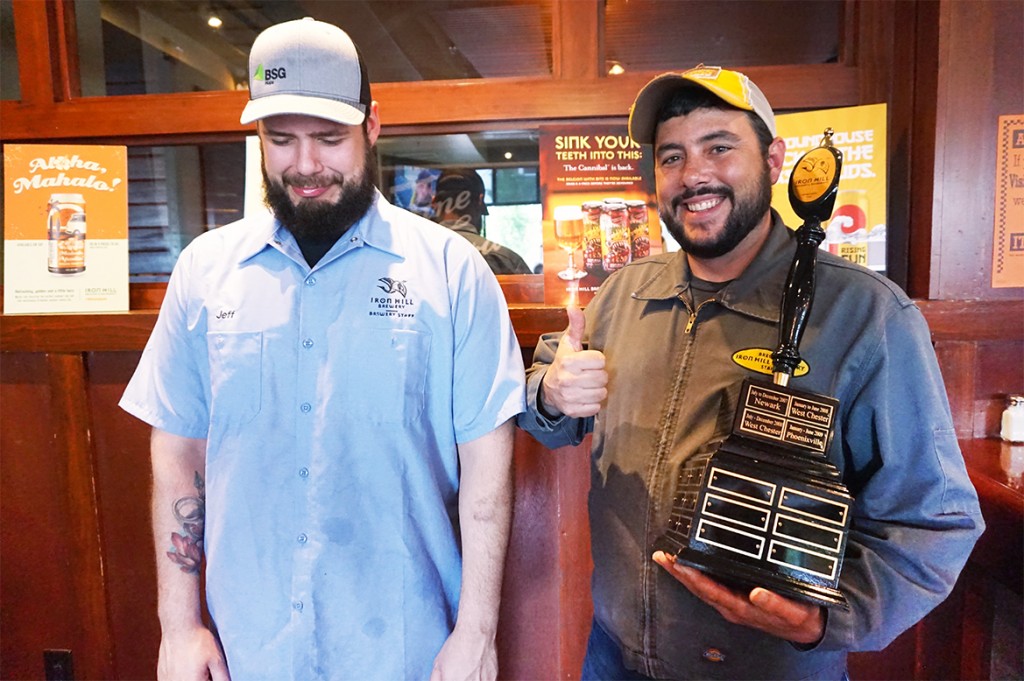 There's just about everything we need to know about these fun-loving, beer-obsessed Iron Hill brewers. Well, maybe one more thing: Matt earned a 2016 Great American Beer Festival bronze medal in the Bock category for Bridge Street Bock. We suspect Jeff's looking to follow in Matt's footsteps in this area, too.
With 12 locations in Pennsylvania, Delaware and New Jersey—and Center City scheduled to open in 2018—there's an Iron Hill Brewery & Restaurant near you. We specialize in handcrafted beers and fresh, from-scratch New American cuisine. Monthly releases vary by location, so scout out our beers on tap and visit us soon.