Let's be honest, we all know when it's Girl Scout cookie time.  Those young ladies are posted up all over the place trying to get you to forget about your New Year's resolution to lose those extra 15 pounds and instead buy a box of cookies.  Personally, my kryptonite comes in the form of Samoas (or Caramel deLites, depending on where you're from) and I just can't say no to a box of them.
I have a place near and dear in my heart for the Girl Scouts as I was part of the organization for 9 years, working hard to earn my Silver Award as a Cadette.  We took a neglected area of a local park and designed, installed, and maintained a butterfly garden for the community to enjoy.  Some of my best memories come from those years, and I learned a lot from my time in the organization. Cue cheesy little kid picture – we participated in the town Halloween parade every year as a troop and this year in particular was "Brownies from Around the World".  That's me, carrying the banner, representing Denmark…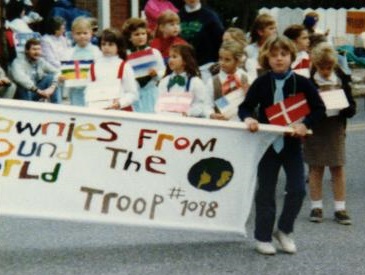 Now, you're probably reading this, wondering to yourself what this has to do with anything.  Beer and cookies, my friend.  They are two of my absolute favorite things and frankly they go pretty well with one another.  So, we're teaming up with the Girl Scouts of the Chesapeake Bay and doing exactly that for the second year in a row.  Saturday, February 27th from 1-5pm we will be pairing 6 Girl Scout cookies with 6 Iron Hill beers at our Newark location:
Abbey Dubbel paired with Toffee-tactics
Cowabunga Porter paired with Samoas (if I don't eat them all first!)
Luca Brasi paired with Trefoils
Om Nom Nom paired with Rah Rah Raisins
Oompa Loompa Chocolate Stout paired with Tagalongs
Russian Imperial Stout paired with Thin Mints
(If you're a King of the Hill member, you're going to be getting an exclusive, complimentary 7th pairing – White Out IPA paired with Savannah Smiles!)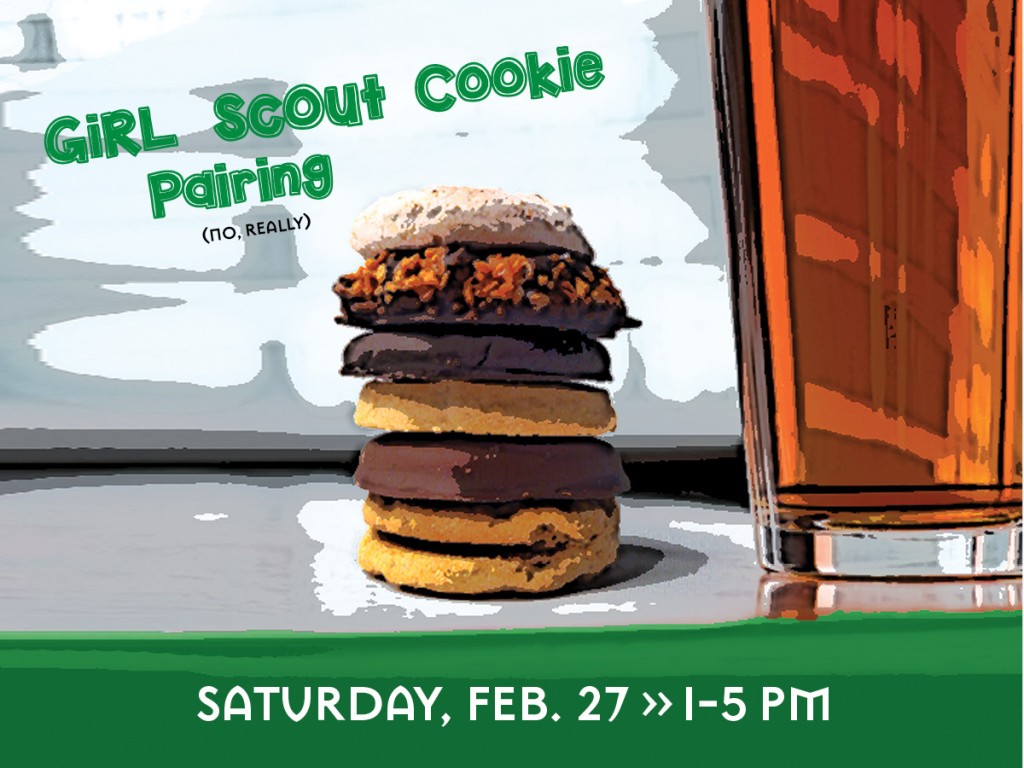 We're also going to be featuring a dessert for that day made WITH Girl Scout cookies – a Savannah Smiles parfait: lemon curd, vanilla bean mascarpone, Savannah Smile cookie crumble, whipped cream and bruleed lemon wheel. To show our appreciation, 20% of the proceeds from all of the featured desserts sold on Saturday will be donated back to the Girl Scouts of the Chesapeake Bay.
A local troop will be setting up shop on the patio and braving the February weather to have cookies available for purchase.  So, when you figure out what your favorite pairing is from the sampler, you can fill up a growler of the beer and grab a box of the cookies on your way out and enjoy them at home.
Beer and cookies – I can't think of a better way to spend a Saturday…
Your brewer and former Girl Scout,
Moriah