Each year, the Craft Brewers Conference (CBC) travels to different cities to set up shop and provide a collaborative environment filled with the latest in brewing education, products and services. The CBC is a unique networking event attended by over 10,000 craft brewing industry professionals and this year we're proud to boast that it's right here on our home turf—Philadelphia, PA.
In addition to being held locally, this year's CBC is also especially exciting due to its coinciding with the World Beer Cup, a bi-annual global competition that recognizes brewing excellence in over 90 style categories. Since it began in 1996—the same year our first location opened—Iron Hill has won 25 awards.
This and every year, we put our brewers and their beers through an extensive tasting and elimination process. Each location submits samples of various styles of beer to be judged based upon the beer style guidelines provided by the Brewers Association. The tasting panel—made up of brewers from all Iron Hill locations—then evaluates almost 100 samples from a mixture of house and seasonal beers.
The brewers convene in the conference room at Iron Hill headquarters and are presented with 13 rounds containing 4 to 10 samples each, every round defined by a style category—Russians, Belgians, Sours and so on. The samples are kept anonymous so that no one is aware which beers came from which brewer or location. During each round, all participants are presented with 2-3 ounces of any beer that has been entered for that style. The brewers are also provided with water, buckets for disposing excess, matzah to cleanse the palate, and a pen and paper for notes.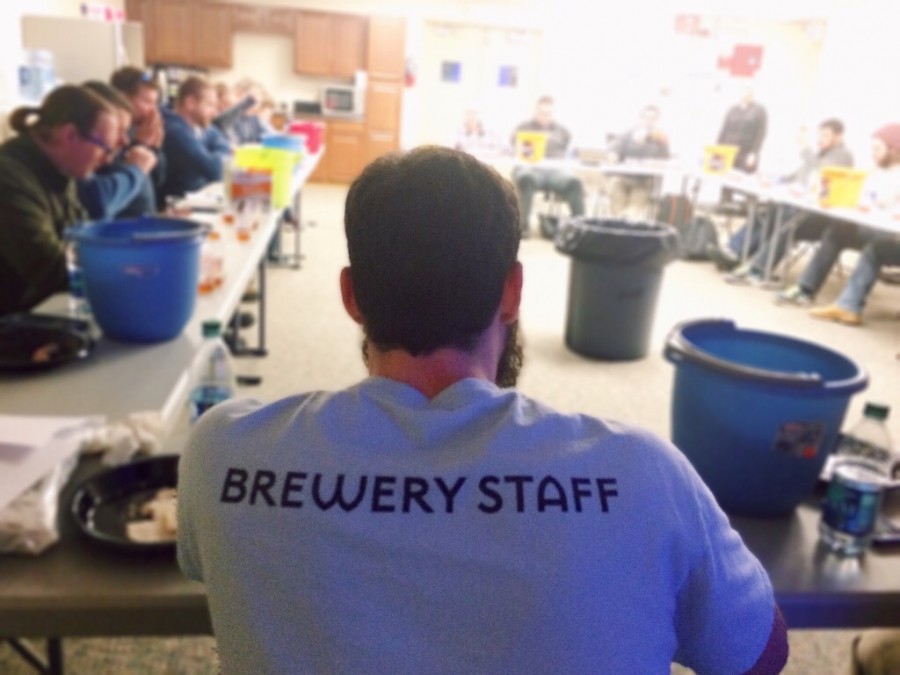 The brewers examine and sip each beer and consider things like color, clarity, aroma, mouthfeel and of course, taste. During this time, concentration levels are high and noise levels are low—the silence only broken by someone's occasional choke on the dry, crumbly matzah. Once everyone has gone through each entry, the conversation begins. Brewers give their notes about each beer, voicing critiques such as, "This one has a good nose but it's flat on the finish," "I like this one but there's better beers on the table," or simply, "Meh." Once everyone talks it out and agrees that a beer will not advance, it is dumped into the buckets. If more than one beer remains on the table once all have been discussed, the brewers will then taste and examine the samples again before taking a final vote to decide which will be sent to WBC.
The process lasts the entire afternoon and the brewers end up sampling close to 100 beers. To maintain their palate and to limit consumption, each person is asked to sit out from at least three tastings, with reasons varying from someone just not liking a certain style of beer and thus not feeling as though they can accurately judge, or because after sampling so many beers, it's sometimes best to pass on a high ABV round.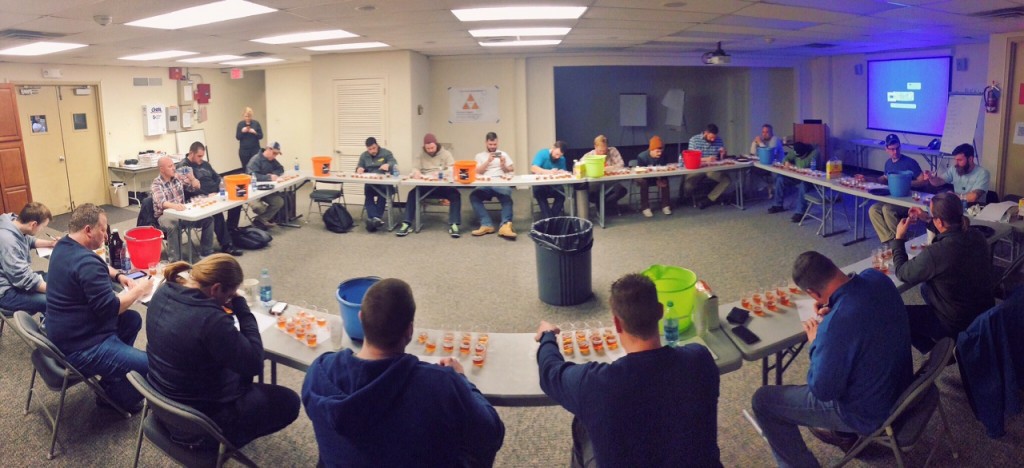 It's a pretty amazing thing to witness, and during certain rounds the intensity is especially palpable. During an Abbey Dubbel tasting, the brewers are presented with their samples and everyone starts sipping and scribbling away. As they make their way through this particular line-up, a few eyes start to look up and dart around the room to one another. It's extremely quiet but you can see the anxious excitement on a few of their faces. Finally, someone speaks out and states, "They're all really, really good…" Everyone nods and mumbles in agreement, and while they're all proud, they realize this means a difficult choice lies ahead. Someone clears their throat and responds—through smiling, gritted teeth—"Yeah, this is going to be a really tough one."
Listening to everyone's notes about each entry really highlights how much our brewers truly know about beer, and the debates back and forth about which should advance shows how passionate they are about what they do. In the end, 16 lucky beers were chosen from the panel as entries into the World Beer Cup. Judging will begin on Sunday, May 1st, and winners will be announced during the May 6th award ceremony at the Pennsylvania Convention Center. In addition to the competition, Iron Hill will also be participating in several other Craft Beer Conference events. We'll be pouring beer during the Opening Reception on May 3rd and at the trade show throughout the week, that same night we will be part of the Brotherly Suds event taking place at Johnny Brenda's, and on May 5th Iron Hill will host a tap takeover at The Industry Bar in South Philadelphia starting at 8:00 p.m.
With 11 locations in Pennsylvania, Delaware and New Jersey, there's an Iron Hill Brewery & Restaurant near you. We specialize in handcrafted beers and fresh, from-scratch New American cuisine. Monthly releases vary by location, so scout out our beers on tap and visit us soon.
Content provided by Sophia DiPersio.