Time to reconsider how you'll be enjoying the holidays. Is beer just as important as the meal itself? Trust us—there's no better crowd-pleasing tablemate than award-winning suds.
At Iron Hill Brewery & Restaurant, one of our strongest relationships is between our brewers and chefs, who perpetually partner up to construct a true craft beer lover's paradise—one that celebrates beer, new culinary experiences and most importantly, the infinite playground that exists between the two.
We surveyed three of our chefs to find out what they'd recommend enjoying in-house for the holidays—paired with the appropriate Iron Hill Brewery & Restaurant beer, of course. Consider the following your foolproof seasonal pairing guide to dining at Iron Hill.
Assistant Director of Culinary Operations Dan Bethard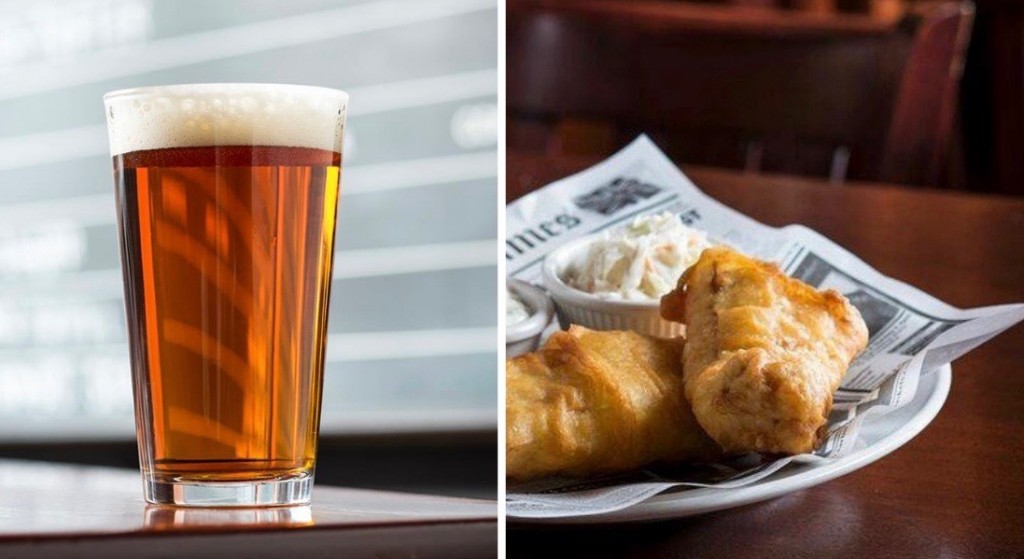 Pairing beers with fish:
Dan busted out quite a few seafood and fish selections to showcase his chosen beers, and vice versa. He pairs Fish and Chips, as well as our Baja Fish Taco, with Vienna Red Lager. Its medium-bodied slight sweetness and clean, crisp finish is perfect for just-right battered cod and its fixings.
Try Ore House IPA's balanced hops and citrus-pine flavors to tame the spice in our Voodoo Shrimp. It's a partnership worth tasting with the shrimp's spicy beer barbecue sauce.
Choose the light-bodied and refreshing unfiltered Belgian-style wheat beer White Iron Wit with Mini Crab Cakes, and the lightest beer of all, Iron Hill Light Lager, with Moroccan Salmon, to contrast with these meals' rich tastes.
And, with dessert?
Sweet tooth? You'll drool over Molten Chocolate Cake and the almost-dessert, roasty-chocolately Pig Iron Porter. No more need be said about this pairing gone wild.
Executive Chef Michelle Wilson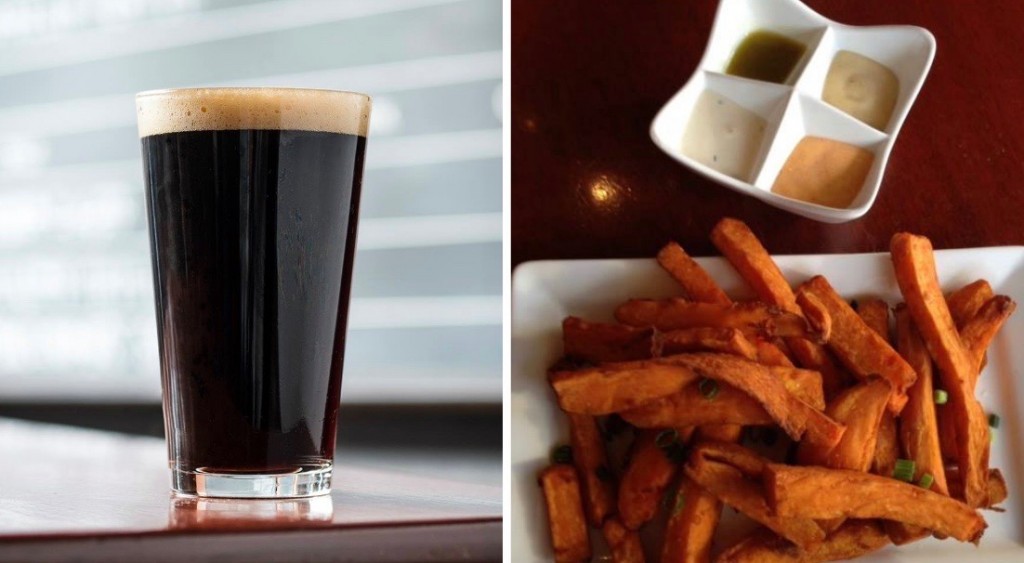 Reinvent the wheel—partner a Porter with snacks …
Michelle starts off with the Hand Cut Carolina Sweet Potato Fries and its four delightful accompaniments: horseradish sauce, bourbon-vanilla cream, smoked paprika aioli and habanero-lime dipping sauce. Match that with the big flavors found in Pig Iron Porter or—sometimes on-tap, always available in bottled reserves—Iron Hill's most awarded beer, Russian Imperial Stout. The classic porter's dark malts and slight bitterness stand up to the sweet fries and sauces, as does the full-bodied, complex malty-sweet, yet hop-balanced, stout.
Or, cut anything spicy with an IPA!
Old Charleston Shrimp is a fine partner for Ore House IPA, cutting through the spicier flavors with its hoppiness and citrus and holding up well to the rich shrimp.
Couple comparable flavors …
Match Pan Fried Chicken Cutlets with refreshing White Iron Wit. Unfiltered and light, with complex orange and spice, it plays off the lemon-herb sauce and complements the lightly fried cutlets.
Chef Anthony "AY" Young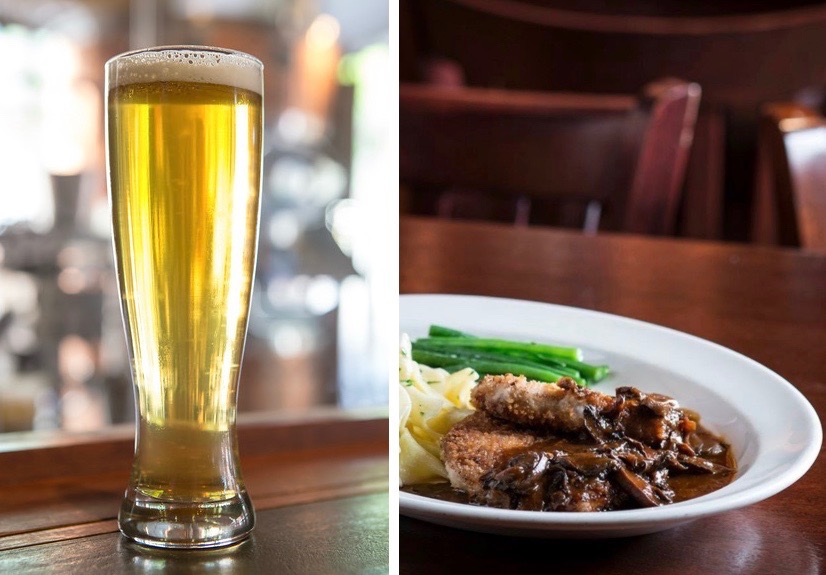 Make Vienna your universal pick …
AY's picks favor dishes that partner up deliciously with Vienna Red Lager. The European amber lager's delicate malt aroma and refreshing finish contrast with flavorful favorites like Warm Bavarian Pretzels and stone-ground mustard, Beef Stroganoff and its exotic sour cream-wine sauce and House Smoked Pork Sandwich in St. Louis-style barbeque sauce. This versatile beer also handles Red Chile Spiced Flat Iron Steak's smokiness and Naked Burger Salad and Grilled Flank Steak Salad's fresh, crisp veggies and dressings.
Or, stick with the Germans …
German Pilsner is on tap right now, so hurry in to taste how its firm bitterness and dry finish balances bold flavors in spicy Buffalo Wings, buttery Jaegerschnitzel and exotically cheesy Garcia Pizza. When those taps run dry, an Iron Hill Light Lager will do the trick.
Another Porter supporter!
Enjoy Pig Iron Porter's chocolate notes and slight bitterness with the hearty Beef Brisket Flatbread. The brisket is porter-braised and drenched in caramelized onions, arugula, sharp white cheddar and horseradish cream.
A friendly reminder from all three chefs: the holidays include New Year's Eve, and all Iron Hill locations will be showcasing unique menus in celebration of 2016. Keep an eye on our events to stay in the know as details unfold. In the meantime, finish your holiday shopping and eliminate the regift with our tasty menu of holiday food and cheer.
With 11 locations in Pennsylvania, Delaware and New Jersey, there's an Iron Hill Brewery & Restaurant near you. We specialize in handcrafted beers and fresh, from-scratch New American cuisine. Monthly releases vary by location, so scout out our beers on tap and visit us soon.