Beer and vegetarian fare—it's a winner! Yet it's something that's often overlooked at beer pairings. Vegetarian dishes give creative chefs more to work with as typically "secondary" ingredients take center stage. Adding the right beer serves to enhance those culinary efforts—just ask those in attendance at Maple Shade's recent vegan beer dinner (a first for Iron Hill), which sold out quickly and left many customers requesting an encore date.
Missed the vegan beer dinner? No worries, Iron Hill Brewery & Restaurant's Scot Seher Jr., Maple Shade's Head Chef, whipped up a vegetarian recipe you can make at home using Rising Sun, now available in 16-oz. cans. "Beer isn't just something to drink with your food," he explained. "It complements and contrasts flavors to turn food into an experience because it pairs with each component of the dish. It elevates ingredients that are normally side dishes to star status."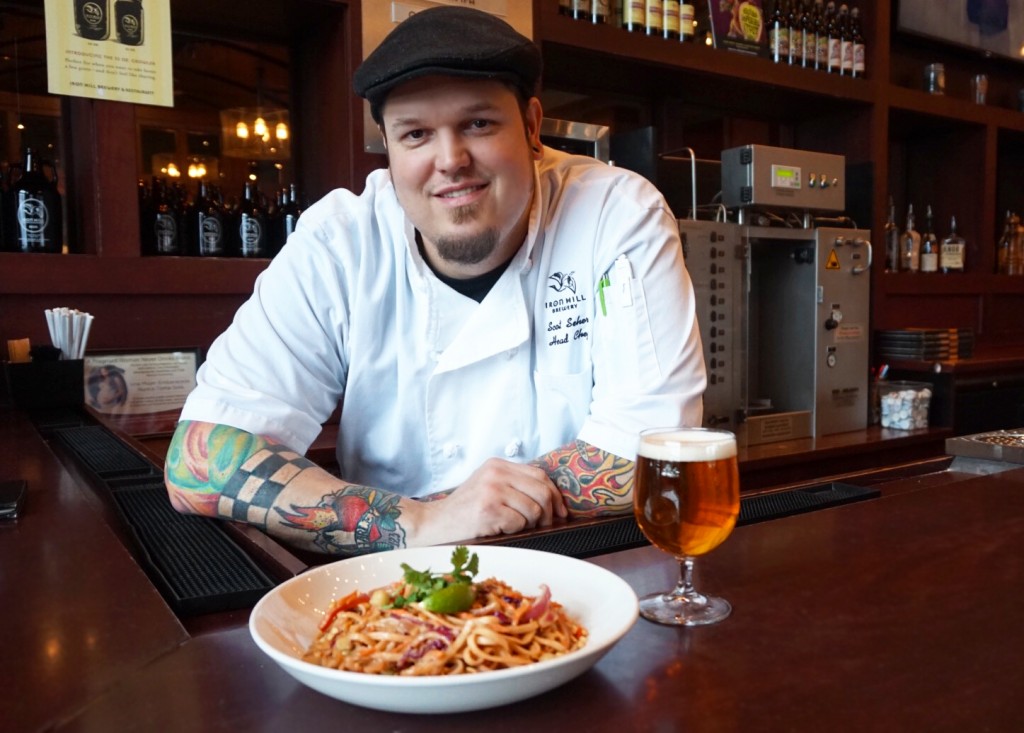 Do you think barbeque, steak or other hearty proteins when you think beer? You're not alone. Yet according to Scot, his recipe, Spicy Peanut-Coconut Noodles with Rising Sun IPA, would not be better with beef, chicken or even shrimp added; it would just be different. Adding American-style IPA Rising Sun, a light, well-balanced beer with notes of lemon and coconut plus a pronounced hop-kick from Japanese Sorachi Ace hops, showcases the recipe's fresh, crisp veggies and complex sauce.
"Rising Sun makes sense for a few reasons," Scot added. "The spice and fruit notes come through nicely with the coconut milk and spices used in the dish. Plus, the Japanese Sorachi Ace hops bring out spice and citrus notes that work well with an Asian dish."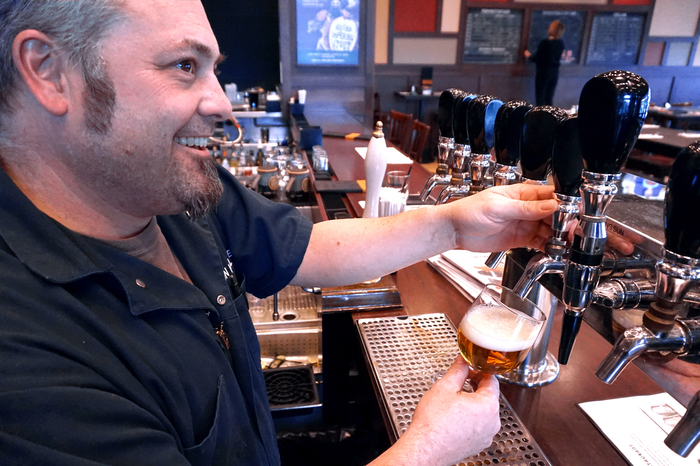 Scot's pleased to note that Iron Hill offers vegetarians several menu options, plus more as daily specials. Those who prefer not to eat meat or fish should check out the Mediterranean wrap, the black bean burger, salads and pizzas, plus a number of appetizers.
"Any salad or pizza can be made without protein," Scot added. "See something else you'd like to customize? Just ask. We also have a special menu for those with gluten sensitivity."
Intrigued? Pop into your favorite Iron Hill, grab a four-pack of Rising Sun, and wow your family and friends with this vegetarian beer pairing.
Recipe for Spicy Peanut-Coconut Noodles with Rising Sun IPA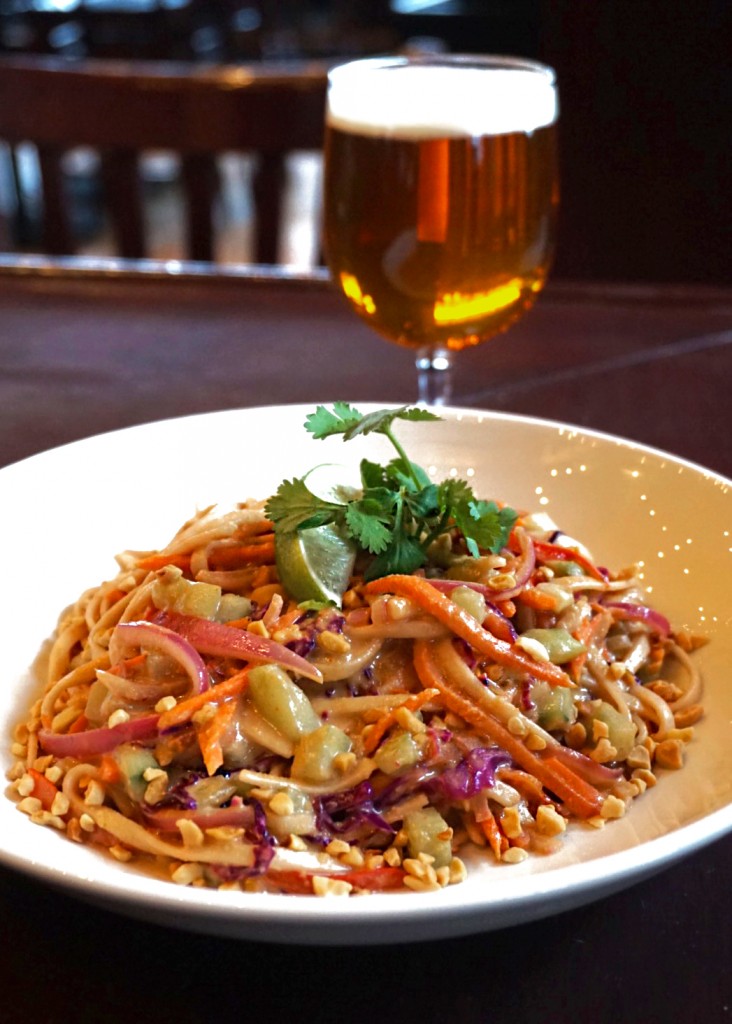 Serves 4
Ingredients
16 ounces spaghetti or buckwheat soba noodles (cook's choice!)
4 tablespoons of your favorite cooking oil
1 tablespoon ginger
1 tablespoon garlic
9 ounces carrots, shredded
6 ounces red onion, sliced
3 ounces peanuts, chopped
12 ounces cabbage, shaved
2 ounces cucumber, diced
Juice of 1 lime
Cilantro as needed
Method
Boil pasta until al dente using directions on package; set aside.
Add oil to hot wok or sauté pan.
Add garlic and ginger, and cook until light golden brown.
Add onion and carrot and cook for 2 minutes.
Add cabbage and peanuts, and cook for 2 minutes more.
Add pasta and toss to mix all ingredients.
Add sauce (see recipe below) to sauté pan and allow dish to simmer for 2 minutes.
Serve in your favorite bowl and garnish the top with fresh cilantro leaves.

Sauce Ingredients
2 tablespoons sesame oil
1 ounce serrano pepper (or any chili pepper)
1 teaspoon garlic
1 teaspoon ginger
5 tablespoons soy sauce
4 tablespoons rice vinegar
2 tablespoons sriracha
2 tablespoons sugar
1 tablespoon salt
1 13.5 ounce can coconut milk
4 ounces Iron Hill Rising Sun beer
2 tablespoons soy sauce
1 teaspoon salt
Sauce Method
Place all ingredients in blender. Blend until mostly smooth.
With 12 locations in Pennsylvania, Delaware and New Jersey, there's an Iron Hill Brewery & Restaurant near you. We specialize in handcrafted beers and fresh, from-scratch New American cuisine. Monthly releases vary by location, so scout out our beers on tap and visit us soon.
Photos: Sophia DiPersio, Iron Hill