On Tuesday, January 12th, Iron Hill Maple Shade hosted Viking Feast—a Beer Dinner that invited guests to enjoy specially prepared dishes based on the Viking diet, along with a complementary Iron Hill beer pairing.
For those seeking a little insight into how a successful Iron Hill Beer Dinner goes down, Viking Feast is a prime example. One of Iron Hill's fastest selling Beer Dinners to date, planning for Viking Feast began with an enticing and well-researched menu created by Maple Shade's Head Chef, Scot Seher, using ingredients that would have been readily available to the Vikings. From there, Seher and Head Brewer Josh Ervine partnered each dish with a handcrafted beer that would enhance the flavors of each course.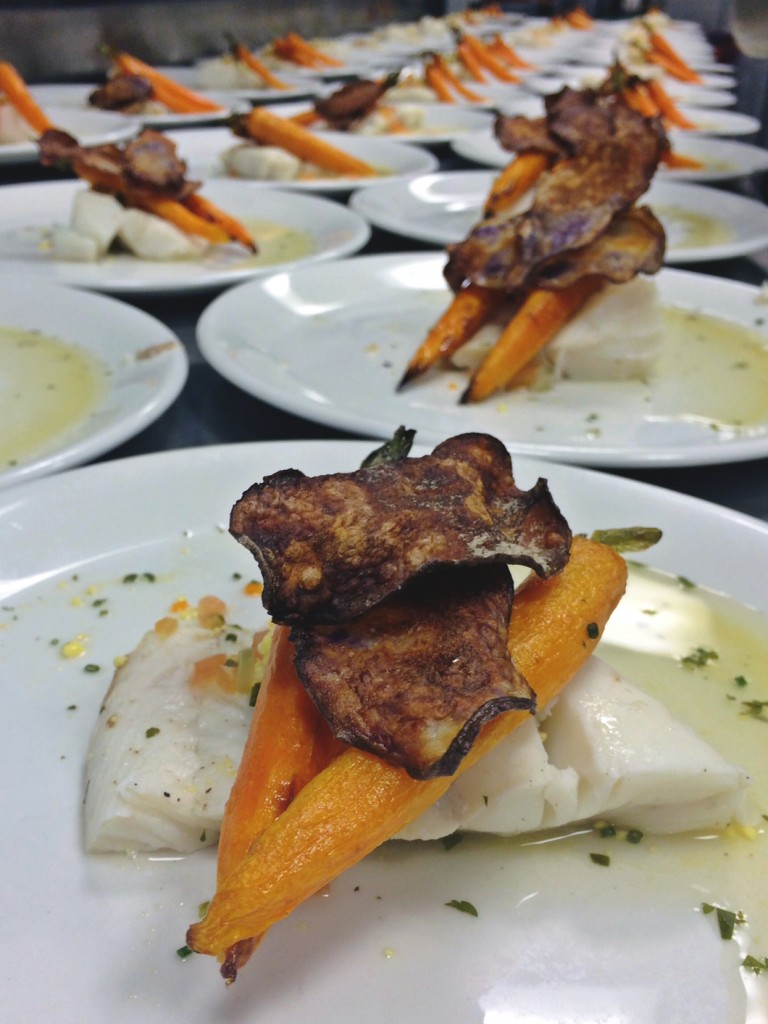 Upon arrival, guests were greeted with a glass of Keller Pils, a German lager whose firm bitterness and dry, crisp finish perfectly balanced the salted and citrusy flavor of the first dish—Torsk Med Eggsaus. Otherwise known as Salt Poached Cod, Torsk Med Eggsaus featured cod poached in salt, lemon, whey and water. To create the eggsaus, Seher combined the poaching liquid with hard-boiled egg, brunoise of carrot, tomato, garlic, chervil, parsley and pepper, and then plated the cod with baked purple Peruvian potato chips and roasted heirloom carrots.
As an added bonus to the meal, between each course Seher and Ervine addressed the guests and explained a bit about the dish choices and how they related to the Viking diet. Interestingly, Seher explained that the Vikings had access to many different sources of food—fish and other seafood from water sources, game meats from the wilderness, and chicken, lamb and pig that they often farmed—which afforded them an extremely balanced diet and very few vitamin deficiencies. Additionally, Seher noted that curing was a typical preserving process back then, so dishes like the Salt Poached Cod really rang true to the Viking Age.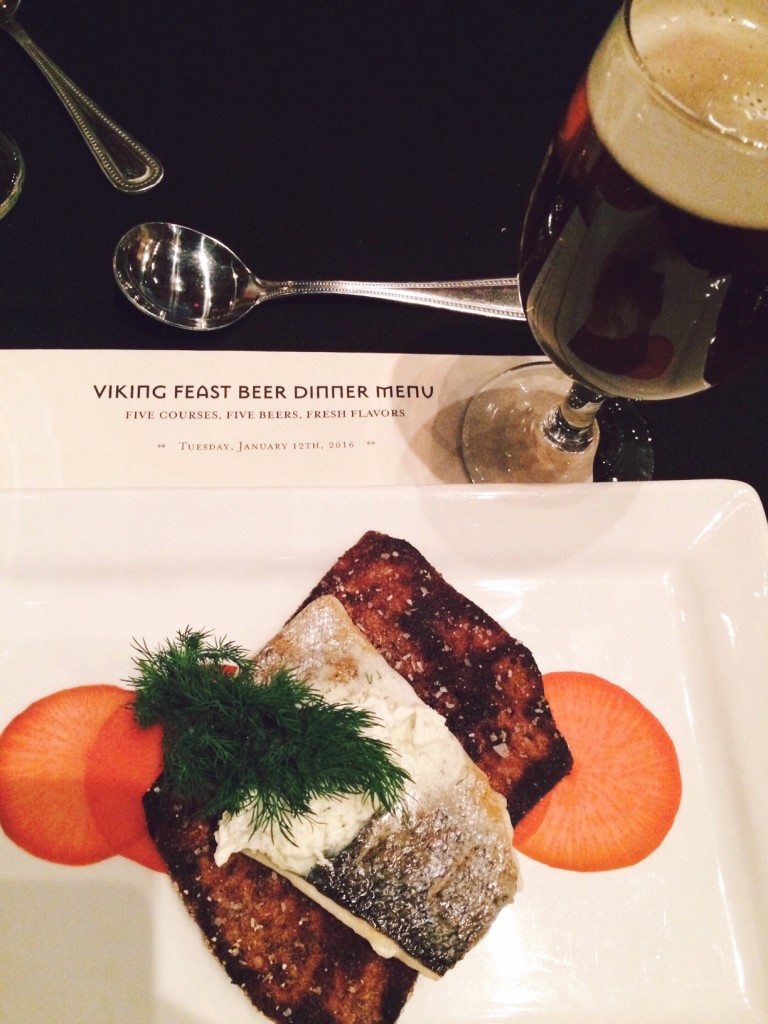 Another common preserving technique would make an appearance during the second course. Known as Rökt Fisk, or Smoked Trout with Barley Flat Bread, Seher cold smoked rainbow trout and then pan seared the fish to keep the skin nice and crispy. The flatbread—made from barley, caraway, and wheat flower—was rolled out and grilled until cooked through. The trout and flatbread were then plated with a delicious whipped dill cream and thinly sliced pickled watermelon radish for some extra color and a little bite. For the beer pairing, Ervine chose Rye IPA to complement the caraway and malt notes found in the flatbread and smoked trout.
The third dish, Lammefrikassé, also known as Lamb Stew, featured a slow simmered leg of lamb with root vegetables, potatoes, lima beans, and fresh herbs simmered together for 12 hours until thick and tender. For the accompanying slice of bread, Seher churned excess lamb in with the butter to create an even more flavorful spread. To complement the heartiness of the stew without overpowering it, Seher and Ervine agreed upon Old Ale—a traditional English-style brown ale with distinct malty sweetness and fruity aromas.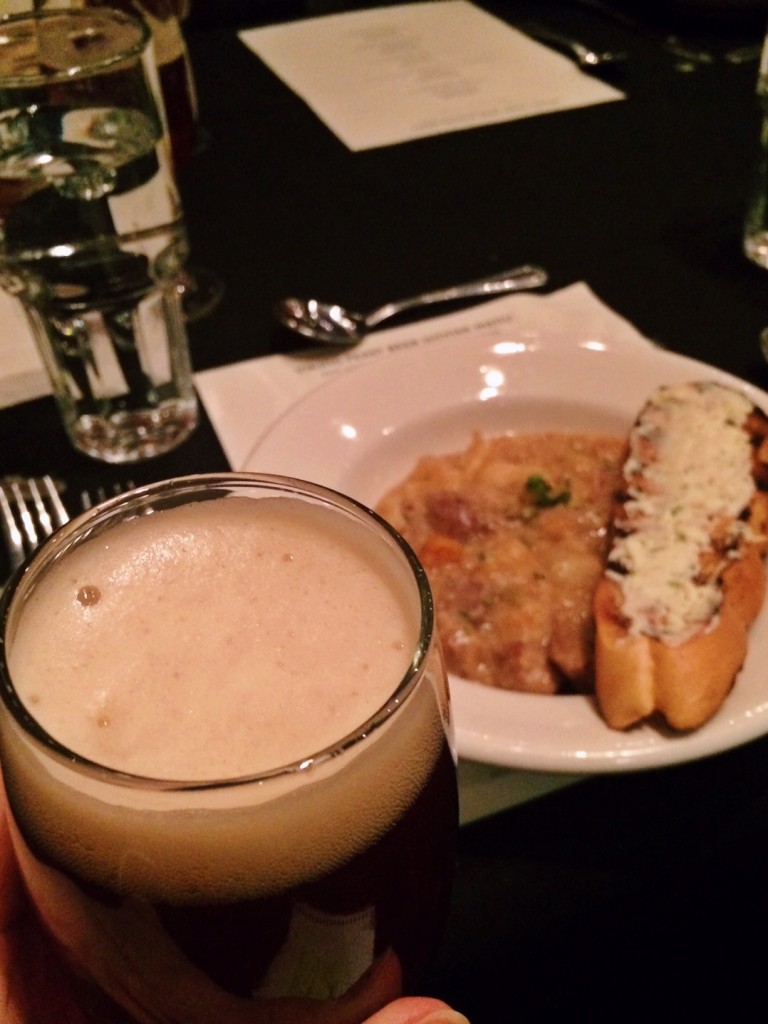 Next, guests were presented with Dyresteg, or Roasted Venison Loin. Dry rubbed and roasted over an open flame, the venison was then lightly smoked, carved and served at medium rare with a sauté of turnips, leeks, garlic and butter. For the sauce, Seher reduced a veal demi-glace down with fresh herbs, garlic and shallots and whipped in extra goat cheese to produce a creamy yet meaty taste and texture. The beer pairing, Iron Hill's award-winning Russian Imperial Stout, was a strong choice to cut the fat in the sauce while subduing slightly against the goat cheese and minimal gaminess of the venison.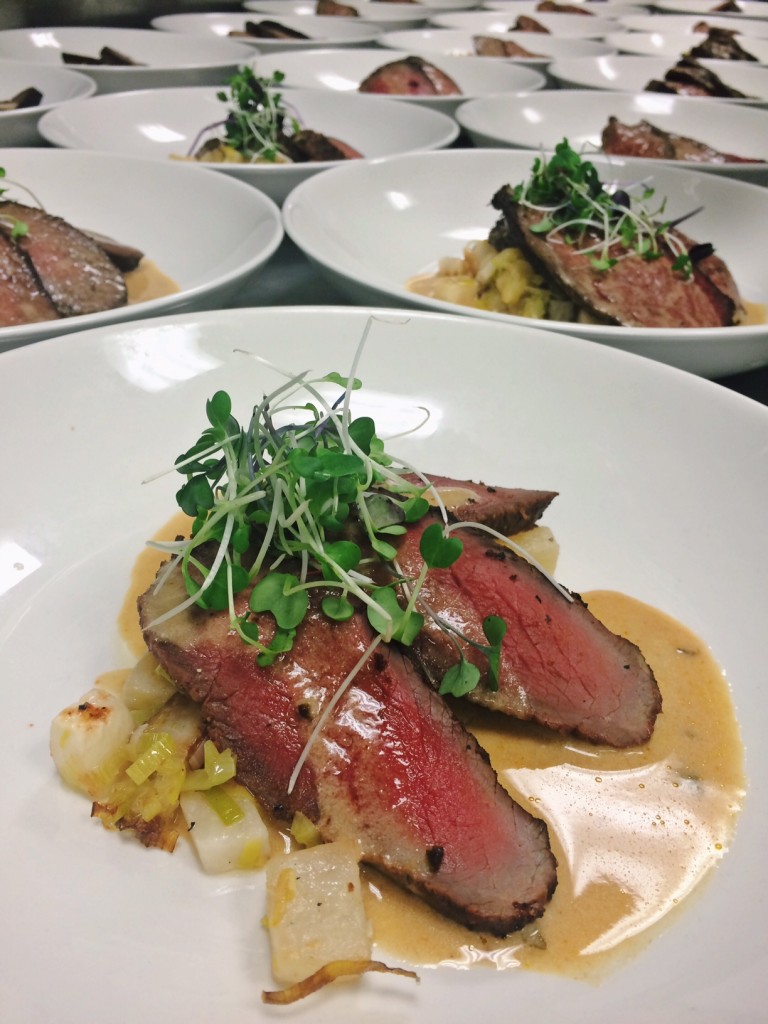 For the final course, Pannekake Og Beries—Wheat Pancake with Berries in non-Viking speak—Seher paired wheat and honey pancakes with fresh berries and housemade skyr, a cultured dairy product he described as comparable to ricotta cheese mixed with Greek yogurt. Because the Vikings used honey instead of sugar, Seher folded in honey and lemon zest to lightly sweeten the skyr, and then paired the dish with Ervine's Bier de Lars, Iron Hill's Bier de Mars recipe with added honey.
In the end, each course was as visually appealing as it was appetizing. Colorful, complex and true to the night's theme, compliments about each pairing flowed as easily and as often as the beer itself. It was apparent from the first bite, and from the hustling and attentive staff, that the entire event was meticulously thought-out and executed with pride. For those who were not fortunate enough to attend Viking Feast, make sure to sign up for your local Iron Hill's e-newsletter to stay in the know about any future Beer Dinners and/or other events.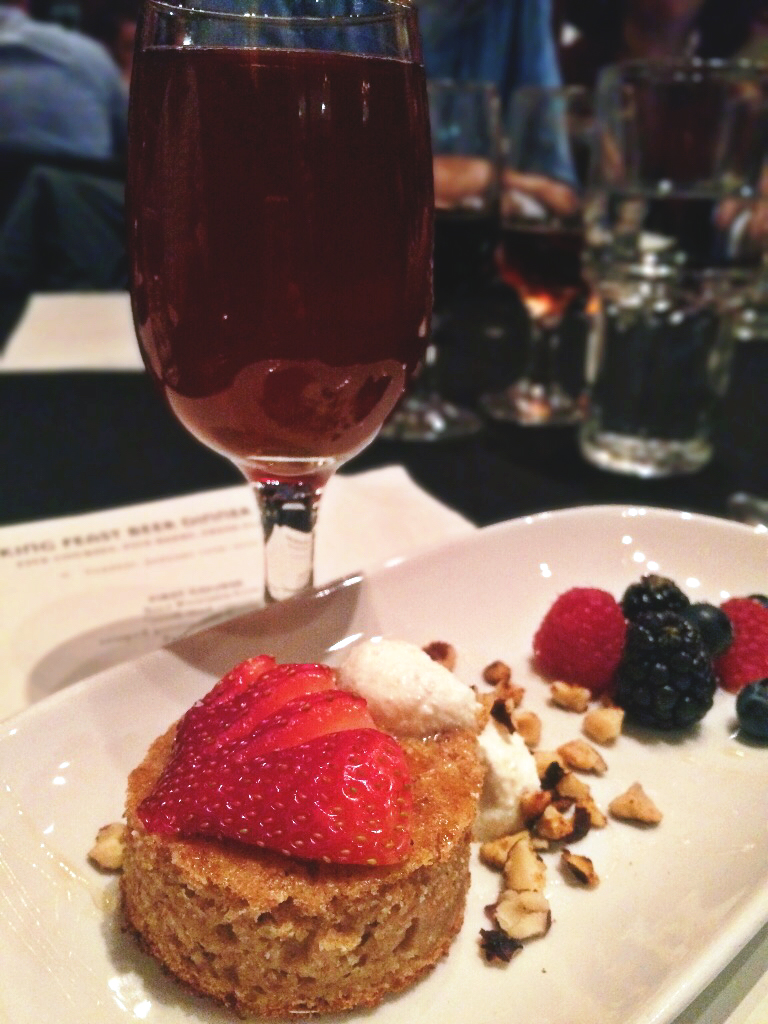 With 15 locations in Pennsylvania, Delaware, New Jersey, and South Carolina, there's an Iron Hill Brewery & Restaurant near you. We specialize in handcrafted beers and fresh, from-scratch New American cuisine. Monthly releases vary by location, so scout out our beers on tap and visit us soon.
Content provided by Sophia DiPersio.