Let's face it—we see growlers going out the door all year long. But there's something about summertime that just screams for an ice cold Iron Hill beer. Thankfully, our growlers are the perfect way to get your refreshment on no matter where summer fun takes you.
We tapped Chestnut Hill Sr. Head Brewer Chris LaPierre for the full growler 411 as he's no stranger to transporting fresh Iron Hill beer hither and yon. He bicycles 13½ miles to and from work and even crafted his own special growler cage for his bike. Our friends at Philly Beer Scene recently shared the full story.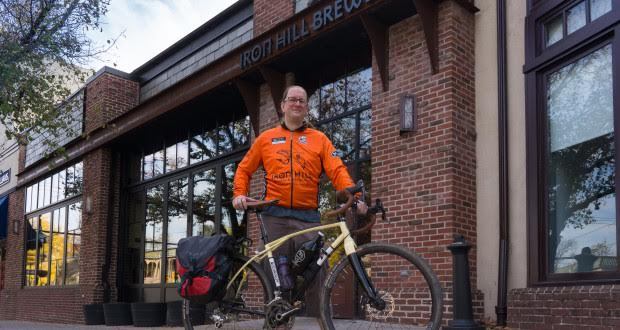 "Summer's a great time to grab a growler because growlers hold beer! All kidding aside," Chris continued, "beer is the perfect libation for summer. It's low ABV so you're less likely to get dehydrated than with other adult beverages. Plus, bitterness and carbonation can be very refreshing. If you're into sours, there's nothing more thirst-quenching."
Chris obviously pops open a growler after he bikes, but he also totes growlers to softball games and outdoor movies and reminds us they're just-right for "good old stoop sittin'!" Let's not forget trips to the beach or your favorite lake, picnics, sports tailgates, BBQs … really the list is endless because our warm-weather beers are a great go-to with summer-inspired fare.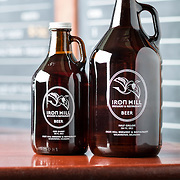 "My favorite Iron Hill growler fills right now are German-style pilsners like our Das Boot, Kölsch or anything with wheat in it," Chris shares. "Back to the sour beers, there's probably no better thirst-quencher than Berliner Weisse."
Iron Hill growlers come in two convenient sizes: a standard growler at 64 glorious ounces and a baby or half-growler weighing in at 32 oz. Prices vary based on the beer you select, and pretty much any beer (other than those on nitro) is growler-ready.
Ready for Chris' insider pro tip? "Grab two baby growlers instead of one standard size. You get to take home two styles, and two pints is a perfect serving so you don't have to worry about it going flat."
Filled growlers should be kept cold and transported with care. Unopened and stored carefully, a growler should last roughly two weeks. Once opened, it should be consumed within a day or two (and two days is pushing it) … but what are the odds an open growler brimming with cold Iron Hill beer won't be used up with haste?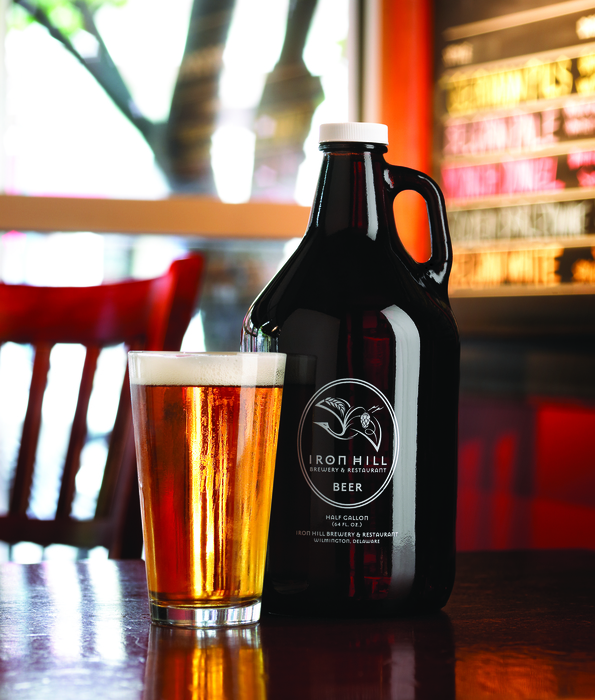 We've also got you covered if you're looking for something to nosh alongside that growler. Try our two pizzas plus one growler deal for just $25. Yup, every day until 10 p.m. you can take out two freshly made hearth-baked pizzas and one growler of house beer for just 25 bucks. Eyeing a seasonal or Belgian beer? There's a small extra charge for those (it's worth it!).
We've got even more tips to share—you don't want to miss 'em. Then, come see our friendly bartenders and grab a growler today!
With 11 locations in Pennsylvania, Delaware and New Jersey, there's an Iron Hill Brewery & Restaurant near you. We specialize in handcrafted beers and fresh, from-scratch New American cuisine. Monthly releases vary by location, so scout out our beers on tap and visit us soon.